The 16F84 is deserves looking at because it is the GranDaddy of PIC Microcontrollers but you should not use it for new designs (see Below)... The PIC16F84 is a the most well known and most well used of all the PIC microcontrollers - it is used in numerous projects that you can find across the web. Even though the 16F84 is getting on a bit, it is one of the most popular of the PIC microcontrollers and there ...
Read more

›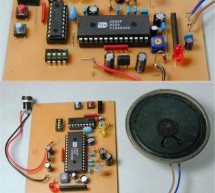 ISD2560 to directly control the PIC16F84A, audio recordings and multiple block will be able to play. LSI can be driven directly speakers also, in view of the lack of volume, only added to the amplifier IC. This volume 10 minutes to drive the speakers. One LSI chip for voice recording playback "ISD2560″ using a simple audio recording and playback unit prototype it ISD2560 is playing this voice recording, in ...
Read more

›
So far I have not seen such a circuit in a web environment could work in mass production programming section has been removed by the original photos used only copying part of an integrated control pic16c64 asm lib, etc. scr. There are resource files (.lzh extension, you can open files with WinRAR) with one source can be copied pic 8 18 volt dc supply voltage is regulated with 78xx series Example of a projec ...
Read more

›
Since I first released this circuit for a serial PICMicro programmer, I have been getting lots of feedback from people that have been building it as their first PICMicro programmer. It has been really nice to hear comments from people about their experiences building the "El Cheapo" as well as questions and comments calling for enhanced capabilities. This is the fourth update to this article with a yet agai ...
Read more

›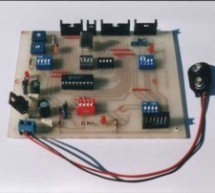 Introduction When I set, some time ago, about working with a PIC 16x84, I had immediately to face the problem to have a permanently and stably working circuit, without mounting the PIC on a prototype board every time. Searching on the net, I didn't find anything really complete for a PIC 16F84 / 16C84; I therefore decided to personally build an Evaluation Board allowing to operate with this microcontroller ...
Read more

›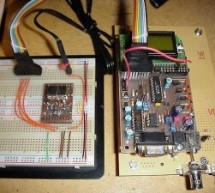 Table of contents Purpose Disclaimer Schematics PCB Pictures of the finished module Notes & comments SSTV Testgenerator Credits Purpose While working on a project I came across the DDS chips from Analog Devices. Especially the AD9835was very atractive to me because of its super simple handling and small size. Normaly you would use such a chip as a VFO or for other, similar functions but I decided to use ...
Read more

›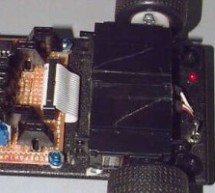 Design Goal: The TechBot1 is a small line following robot designed for for the 1998 Embedded Systems conference in San Jose California. It was built by Jerry Merrill and myself and was designed as a promotional robot that would follow a black line drawn on a dry erase board.   Motive Power: The TechBot1 uses 2 Cirrus CS-70 servos that have been modified for full rotation and have had their controller boards ...
Read more

›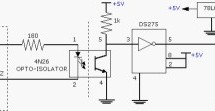 Connect serial transmit bit of the transformerless supply PIC16F84 circuit with COM1 through the use of isolation device. Protect your notebook from direct connected to power line. Another method that helps program development besides a dot LED as the output device is a serial bit. With a serial transmission to a terminal emulator program, developer may then test program running easier than a dot LED. One o ...
Read more

›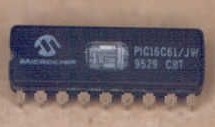 After doing two weeks on LCDs, I thought I'd spend a few weeks focusing on the number one question that I get asked; "How do I start working with the Microchip PICMicro?" The question is asked from a variety of perspectives and goals, ranging from somebody that just wants to become casually familiar with the chip to people who want to learn about the PICMicro to students that have been given an assignment t ...
Read more

›
This electronic project is a very simple thermometer that is based on the PIC16F84A microcontroller, designed by Microchip. Why to use a thermometer that is designed using a microcontroller and not a classic analog thermometer? Because you can design a complex solution using few external components, resulting an low cost application that provide a high precision measurement . This Digital thermometer microc ...
Read more

›