Solar energy measurement using pic microcontroller
In this post we will discuss about the Solar energy measurement using pic microcontroller: The solar energy marketplace is one of the most quickly growing renewable energy advertise in the United States. Currently, we have seen an important enhancement in requirements for remote monitoring and equipment control for different applications of solar energy.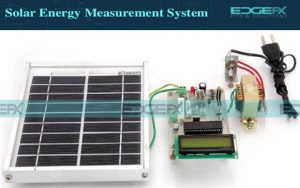 Whether you are assessed a site's potential for solar power generation, monitoring act of accessible solar installations, or superior solar monitoring, consistent and precise measurements are crucial. They help in decision making, development of the product, maintenance of the system and in many other ways. General meteorological measurements with wind direction, wind speed, relative humidity, barometric pressure and rainfall, all have they're applied in solar applications. Of course, the solar energy measurements are particularly significant and sensors are accessible for measuring all features of solar radiation.
Solar energy measurement using Pic Microcontroller:
The main purpose of this solar energy measurement system project is to design a solar energy measurement system for determining the  solar cell parameters like current, voltage, temperature and also light intensity through multiple sensors.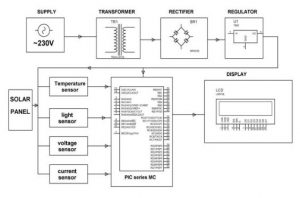 Solar Energy Measurement System Block Diagram
The hardware requirements of this project include the following
Transformer  (230 – 12 v ac)
Voltage regulator  (lM 7805)
Rectifier
Filter
PIC microcontroller (16f877a)
LED
Push buttons
Solar panel
LDR
LCD
1N4007
Resistor
Capacitor
Power Supply:
The power supply consists of a 230/12V step-down transformer, which steps down the voltage to 12V AC. This is transformed to DC with the help of a bridge rectifier. The ripples are removed using a capacitive filter and it is then regulated to +5V using a voltage regulator 7805 which is necessary for the microcontroller operation and other circuits.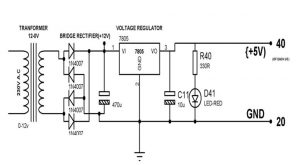 Power Supply
PIC (PIC16F877A):
High-Performance RISC CPU
Only 35 single-word instructions.
All single-cycle instructions except for program branches, which are two cycles.
Operating speed: DC – 20 MHz clock input DC – 200 ns instruction cycle
Up to 8K x 14 words of Flash Program Memory, Up to 368 x 8 bytes of Data Memory (RAM),
Up to 256 x 8 bytes of EEPROM Data Memory.
Pinout compatible with other 28-pin or 40/44-pin, PIC16CXXX and PIC16FXXX microcontrollers.
Read More: Click here to Visit source site
Current Project / Post can also be found using:
pic microcontroller solar measurement
solar energy measurement using pic microcontroller
solar measurement using pic microcontroller pp
Measurement of Solar Energy by Using PIC Microcontroller
Project Ratings:
Related posts
Leave a Comment