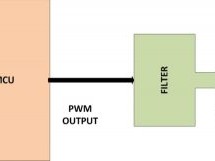 Pulse Width Modulation (PWM) is a technique in which the width of a pulse is modulated keeping the time period of the wave constant. One cycle has a fixed time period called 'Period' and a varying on time called 'Duty cycle'. The entire wave can have two voltages levels either logic 0 or logic 1. The PWM wave is very useful in the digital systems, since this can be used to generate different voltage values ...
Read more

›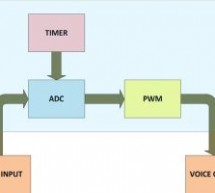 Microcontrollers are purely digital devices which work on logic0 and logic1 voltages; still they are widely used for analog signal processing. There are specialized signal processors chips available which are custom made for particular applications; however a general purpose microcontroller is more than enough for small kind of signal processing applications like audio signal input and output. The microcont ...
Read more

›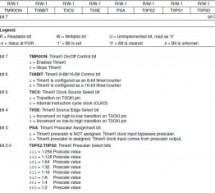 In this tutorial i am going to count the number of rising and falling edges of a square wave signal that is input to the pic microcontroller. The rising and falling edges are useful in generating time delays from external clock sources. They can be used to determine the frequency of the square wave input signal. They can be utilized to pop up an event. We can also use edge detection information to determine ...
Read more

›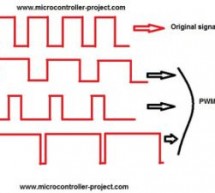 Here is a simple project on how to control fan or dc motor speed with microchip pic16f877 microcontroller. There are numerous ways to control the speed of motor(or fan). Varying current, voltage and resistance etc. But when it comes to controlling the speed using microcontrollers. Then the PWM (Pulse width modulation) technique is most effective one. Pulse width modulation reduces the direct current/voltage ...
Read more

›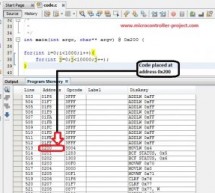 Recently i was working with 8-bit pic16f877 microcontroller and i want to place program code at a specific rom(read only memory) location. I was working with xc8 compiler and mplabx ide.  Previously i did this same thing many times while using c18 c compiler. C18 compiler uses #pragma code directives to accomplish this task. But when i started with xc8 compiler and put the same #pragma code directive in my ...
Read more

›

Here in this post/tutoriqal i am going to teach you how to display images on Graphical lcd using Pic Microcontroller(pic16F877). I am using JHD12864E graphical LcD in my Project. JHD12864E is 128×64 dimension lcd. 128×64 means it has 128 coulombs and 64 rows. So total dots it has is 128×64=8192. You can display an image of maximum size(Dimension = 128×64) with in this range. Some notable things before start ...
Read more

›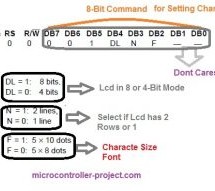 Character lcds can display character of font size 5×8 and 5×10. In 5xn, 5 represents number of coulombs and N represents number of rows. Character lcd's especially which are controlled by Hitachi HD44780 controller can display 5×8 and 5×10 size font character. Some lcd's can only display character in 5×8 font. In this project i am going to teach you how to display characters of font size 5×8 and 5×10 on cha ...
Read more

›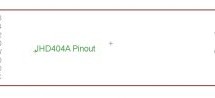 This post covers how to interface JHD404A 40×4 lcd with microcontroller (89c51, Pic16f877, Arduino etc). JHD404A is a 40×4 Character lcd. 40×4 means it has 40 coulombs and 4 rows. On each row of lcd we can display 40 characters/numbers etc. Total characters which we can display on 40×4 lcd is equal to (40×4=160) 160. Like all other character lcd's JHD404A also has a controller in it which controls its inter ...
Read more

›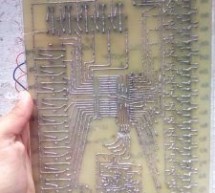 An year ago i made a plc (programmable logic controller) using microchip pic microcontroller. Its a 16 bit digital input and output programmable logic controller. Plc programming is done using a standard ladder logic language. The software that is used for plc programming and ladder logic design is an open source compiler written by Jonathan Westhues called LDMicro. Microchip pic microcontroller t ...
Read more

›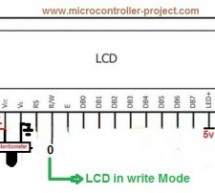 Displaying Text on 16×1, 16×2 or any size of character lcd is not a complex task. Once you know about the internal structure of the character lcd, lcd pin out, registers associated with lcd's and CG-RAM(Character Generated RAM) then its all on your finger tips. If you are really interested in lcd programming, and want to know about how to display text on lcd? First take a small tutorial on the Internal Stru ...
Read more

›