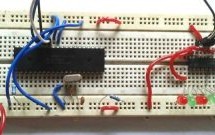 There are possibilities in embedded design where you do not have enough I/O pins available in your microcontroller. That can be due to any reason, may be your application needs multiple LEDs or you want to use multiple 7-segment displays, but you don't have required I/O pins in your microcontroller. Here comes a perfect component, shift register. Shift register accepts serial data and give parallel output. ...
Read more

›
RFID stands for Radio Frequency Identification. RFID module can read or write small amount of data into a Passive RFID tag, which can be used in identification process in various systems like Attendance system, security system, voting system etc. RFID is very convenient and easy technology. To read the Passive RFID cards and tag, we need a microcontroller with UART hardware. If we select a microcontroller w ...
Read more

›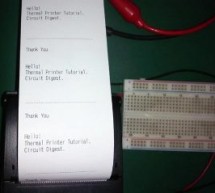 Thermal printer is often referred as receipt printer. It is widely used in restaurants, ATM, shops and many other places where receipts or bill is required. It is a cost-effective solution and very handy to use from the user's side as well as from the developer's side. A thermal printer uses a special printing process which uses thermochromic paper or thermal paper for printing. The printer head is heated a ...
Read more

›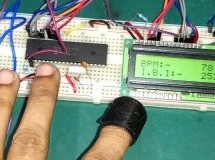 Heart Beat rate is most important parameter in monitoring any person's health. In the modern era of wearable devices, there are lot of devices which can measure heartbeat, blood pressure, footsteps, calories burnt and lot of other things. These devices has pulse sensor inside them to sense the pulse rate. Today, we will also use a pulse sensor with PIC Microcontroller to count heart beat per minute and the ...
Read more

›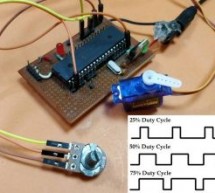 PWM signal generation is a vital tool in every embedded engineers arsenal, they come in very handy for lot of applications like controlling the position of servo motor, switching few power electronic ICs in converters/invertors and even for a simple LED brightness control. In PIC microcontrollers PWM signals can be generated using the Compare, Capture and PWM (CCP) modules by setting the required Registers, ...
Read more

›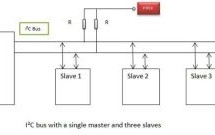 I2C COMMUNICATION WITH PIC MICROCONTROLLER: I²C stands for Inter-Integrated Circuit. It is a short distance serial interface that requires only two bus lines for bi-directional data transfer. It is used for attaching lower speed peripheral ICs to microcontrollers in short distance communication. Low speed peripherals include external EEPROMs, digital sensors, lcd, etc. Page Contents 1 I2C communication PROT ...
Read more

›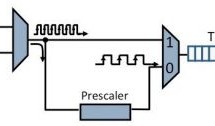 USING TIMERS IN PIC18F452 MICROCONTROLLER:Timers and counters are important as timers can tell the time and count. Counting and timing allows for controlling the brightness of LEDs, controlling the angle of servo shafts and PWM signal generation etc.  All microcontrollers have clocks in them or they use the one that resides outside of a microcontroller. Microcontroller needs clock so our programs can be exe ...
Read more

›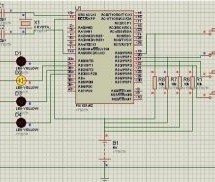 USE INPUT OUTPUT PORTS OF PIC18F452 MICROCONTROLLER: PIC18F452 microcontroller has a number of input/output pins which are used for connection with external devices. It has total 40 pins. Out of these 40 pins, 34 pins can be used as input output pins.These pins are grouped into five which are called PORTS denoted by A, B, C, D and E. Here in this article we will learn how to use I/O Ports of PIC18F452. Port ...
Read more

›
Bluetooth Controlled Robot: This project is used to control robot motion using Bluetooth and android application. User send control commands from android app to Bluetooth which is connected with pic microcontroller. Microcontroller receives commands from Bluetooth and take respective actions to drive two motor. These two motors are connected with microcontroller through motor driver integrated circuit calle ...
Read more

›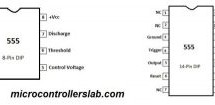 555 TIMER Timers, as the name specified, are the electronics circuits used for measuring time intervals. In this article we will cover about 555 timer. This integrated circuit can be used in variety of ways from which the basic one is to produce accurate and stable delays in electronic circuits. It is available in 8 pin DIP and 14 pin DIP. 555 timers are very popular in electronics projects.  Some they serv ...
Read more

›