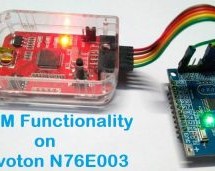 Pulse Width Modulation (PWM) is a commonly used technique in microcontrollers to produce a continuous pulse signal with a defined frequency and duty cycle. In short, PWM is about changing the width of a pulse while the frequency is constant. A PWM signal is mostly used in controlling a servo motor or brightness of an LED. Also, since microcontrollers can only provide Logic 1 (High) or Logic 0 (Low) on its o ...
Read more

›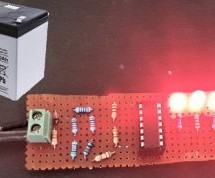 In the modern world, we use batteries in almost every electronic gadget from your handheld mobile phone, digital thermometer, smartwatch to Electric Vehicles, aeroplanes, satellites, and even Robotic Rovers used on Mars whose battery lasted around 700 sols (Martian days). It is safe to say without the invention of these electrochemical storage devices a.k.a. Batteries, the world as we know it would not exis ...
Read more

›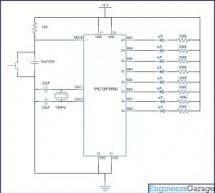 It is necessary to understand basic I/O operations of PIC18F4550 before dealing with its complexities. This article presents a way to take simple output from a PIC microcontroller. This learning would also help in interfacing of external devices with the controller. Here the output from the microcontroller is taken on a set of LEDs which are made to blink in an alternate fashio ...
Read more

›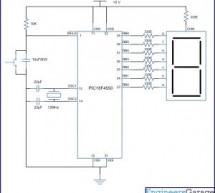 The seven segments are used to display decimal and hexadecimal (0-9, A-F) values. A seven segment is cheapest option for applications requiring numeric value display as output. Calculators, watches, lift's floor indication panel etc. are examples of such applications. The interfacing and operation of a seven-segment display with PIC18F4550 has been explained here. A typical seven-segment ...
Read more

›

Any microcontroller based system typically has an input and a corresponding output. Taking simple output with a PIC microcontroller has been explained in LED blinking with PIC18F4550. This article explains how to provide an input to the controller and get a corresponding output using PIC18F4550. PIC18F4550 has a total of 35 I/O (input-output) pins which are distribute ...
Read more

›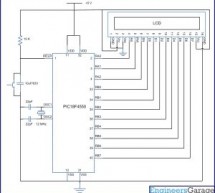 The character LCDs are the most commonly used display modules. These LCDs are used to display text using alphanumeric and special characters of font 5x7/5x10. For basic working and operations of a character LCD, refer LCD interfacing with 8051. Here PIC18F4550 has been used to display a single character on a 16x2 character LCD. For basic details and operations of character LCD, refer LCD interfacing with 80 ...
Read more

›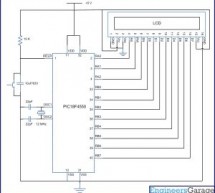 Several automated and semi-automated devices require a message to be displayed in order to indicate their working status. In continuation to LCD interfacing with PIC18F4550, this article explains how to display a message or string on a 16x2 character LCD. Programming steps: · Configure the LCD. · ...
Read more

›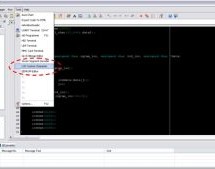 The 16x2 character LCD can also be used to display custom characters other than numerals, alphabets & special characters. Refer LCD interfacing with PIC. Some special shapes like hearts, arrows, smileys etc. can easily be displayed on the 5x8 pixel pattern of character LCD. These shapes are first stored at a special location in LCD's controller and then displayed on the LCD module. This p ...
Read more

›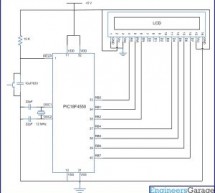 The 16x2 character LCD can work in two modes, namely, 8-bit and 4-bit. These modes basically correspond to the number of data pins used in interfacing LCD. 8-bit mode uses all the data lines and has been explained in LCD interfacing with PIC18F4550. In 4-bit mode, only four data pins of LCD are connected to the controller. This mode, thus, saves four pins of the controller unlike 8-bit mode. ...
Read more

›
Timers as the name suggests pertain to time-related operations. They are mostly used for exact delay generation. Timers are also used in various other operations like PWM signal generation, auto-triggering of several other peripherals etc. The working and configuration of PIC18F4550 Timers have been explained in this article. Timers are the most essential peripheral for a microcontroller ...
Read more

›