It's a fact: our society is experiencing an unprecedented wave of electrification, driven in part by the challenge of decarbonization. And this trend is undeniably growing. In addition to committing to sustainable development, manufacturers are now faced with a major challenge: how to save and optimize the use of electrical current?
The key is to implement a reliable and proven means of measuring energy in electrical systems and then manage its supply, storage, and consumption.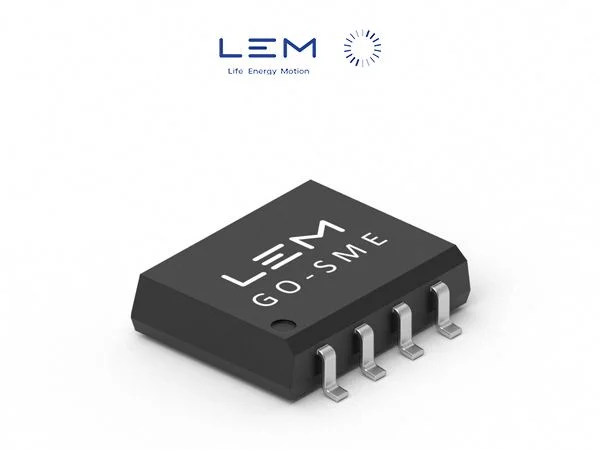 This is where current sensors play an essential role: they are able to measure with great precision electricity parameters wherever it is transported, used, transformed, or converted. Current sensors measure the current reliably and precisely so that it can be used optimally.
So how to select the right current sensor? What criteria need to be considered?
Measuring electrical current efficiently with the GO Series from LEM  
In a world of ever-increasing electrification, it's crucial to optimize energy consumption to save as much as possible. Manufacturers must therefore continuously measure the amount of energy entering and exiting the system, to ensure that electric motors consume only the exact amount of power they need to operate.
This is particularly important for small motors (such as those used on electric bicycles), which rely on a limited energy reserve. Every time the driver presses the pedals, the system needs to pump the right amount of current from the battery and inject it into the electric motor. This is where the GO SME integrated current sensor (ICS) comes in. It transforms the current and ensures that the flow of electricity corresponds with the requirements of the system in which it is located.
GO SME – The SOIC 8 standard package solution for AC and DC current measurement
While numerous current measurement solutions are available on the market, not all are alike. To create GO SME, LEM leveraged its 15 years of experience and expertise in ASIC design. This ICS has now become a benchmark in cost-effective, compact current sensors.
GO SME was designed to meet the ever-increasing needs of many industries for low-cost, compact current sensors.  With its 8 SOIC pins, LEM's GO SME integrates easily into all systems and measures AC and DC current in various industrial and automotive applications such as small motors and electric bikes, but also inverters, DC/DC converters, white goods, and OBCs. Finally, GO SME is automotive-ready.
GO SME is equipped with a differential detection system that enables the sensor to reject an external field from a noisy environment. Patented algorithms offset temperature and voltage variations to guarantee extremely high current measurement accuracy over a wide temperature range.
GO-SME is capable of measuring DC currents from 20 to 50 Amps. Galvanic isolation between primary and secondary eliminates the need for additional insulation and thus reduces the size and cost of the system.
The primary conductor (pins 1 to 4) has a very low electrical resistance of 0.9 mΩ, enabling excellent performance with low power losses.
GO SME's key role in electric current measurement  
GO SME acts as the "police" of an electrical system: this solid-state sensor, only half the size of a nail to adapt to even the most difficult environments, constantly checks that current settings are optimal. GO Series SME will compare up to tens of thousands of times per second what the actual current is in the electrical system in which it operates with the ideal value it needs to function optimally.
If the current sensor detects an anomaly (e.g. excess current), it will automatically send a signal to the system, which will send less power.
With its "smaller, smarter, cheaper" approach, LEM has succeeded in developing ICSs that perfectly meet the needs of OEMs in industrial or residential applications. Thus, current sensing footprints are reduced, and current measurement integration is simplified.
Main technical features:
Open loop multi-range current transducer: 50 A
Low electrical resistance 0.9 mΩ
Dual supply voltage 5 V or 3.3 V
Low power consumption
High bandwidth: 300 kHz
No magnetic hysteresis
Galvanic separation between primary and secondary with 4 mm of dCl and dCp
Insulated test voltage 2400 V RMS
Small footprint with standard surface mount PCB mounting
AEC-Q-100 Grade 1
Applications:
Small drives
HVAC inverters
Appliances
Solar inverters
E-Bikes
Automotive & Industry qualified.
About LEM 
For over 50 years, LEM has built on its core strengths to provide advanced electrical measurement solutions.
However, LEM doesn't stop there. It continues to develop its expertise and know-how in ASIC design, software development, project management, production, and calibration of electrical current measurement systems.
LEM's production facilities can be found in Beijing (China), Geneva (Switzerland), Sofia (Bulgaria), Tokyo (Japan). Soon, LEM will open a new plant in Malaysia.
LEM's regional offices are located close to its customers, which enables the company to provide seamless service around the world. LEM has been listed on the SIX Swiss Exchange since 1986. Its stock symbol is LEHN.