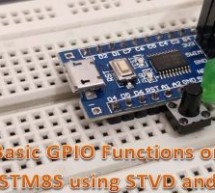 For microcontrollers, an LED blinking program is equivalent to the "hello world" program. In our previous tutorial, we learned how to get started with STM8S103F3 Development Board and how to set up the IDE and compiler to program our STM8S controllers. We have also learned how to use the standard peripheral libraries, and how to compile and upload the code into our microcontroller. With all the basics cover ...
Read more

›
There are lots of microcontrollers available from reputed companies such as PIC, Texas Instruments, ST and the list goes on. But when we differentiate those microcontrollers with form factor vs features vs price, it gets hectic to choose one. However, nuvoton is a Taiwan based semiconductor company that was spun-off as a Winbond affiliate in 2008. The company offers very useful microcontrollers, mixed-signa ...
Read more

›
In our previous tutorial, we used a basic LED blinking program as a getting started with N76E003 guide, we already learned how to configure the Keil IDE and set up the environment for programming the nuvoton microcontroller unit N76E003. It is the time to move a little bit further and use the basic GPIO interface for controlling additional hardware. If you are interested you can also check other microcontro ...
Read more

›
In our previous Nuvoton Microcontroller tutorials, we used a basic LED blinking program as a getting started guide and also interfaced GPIO as an input to connect a tactile switch. With that tutorial, we are fully aware of how to configure the Keil project and set up the environment for programming N76E003 Nuvoton microcontroller. It is time to use an internal peripheral of the microcontroller unit and move ...
Read more

›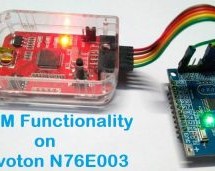 Pulse Width Modulation (PWM) is a commonly used technique in microcontrollers to produce a continuous pulse signal with a defined frequency and duty cycle. In short, PWM is about changing the width of a pulse while the frequency is constant. A PWM signal is mostly used in controlling a servo motor or brightness of an LED. Also, since microcontrollers can only provide Logic 1 (High) or Logic 0 (Low) on its o ...
Read more

›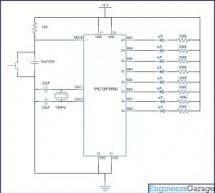 It is necessary to understand basic I/O operations of PIC18F4550 before dealing with its complexities. This article presents a way to take simple output from a PIC microcontroller. This learning would also help in interfacing of external devices with the controller. Here the output from the microcontroller is taken on a set of LEDs which are made to blink in an alternate fashio ...
Read more

›

Any microcontroller based system typically has an input and a corresponding output. Taking simple output with a PIC microcontroller has been explained in LED blinking with PIC18F4550. This article explains how to provide an input to the controller and get a corresponding output using PIC18F4550. PIC18F4550 has a total of 35 I/O (input-output) pins which are distribute ...
Read more

›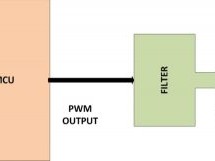 Pulse Width Modulation (PWM) is a technique in which the width of a pulse is modulated keeping the time period of the wave constant. One cycle has a fixed time period called 'Period' and a varying on time called 'Duty cycle'. The entire wave can have two voltages levels either logic 0 or logic 1. The PWM wave is very useful in the digital systems, since this can be used to generate different voltage values ...
Read more

›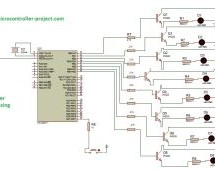 This is a simple tutorial/project on how to interface a transistor (2n2222), led and push button with Pic microcontroller. In the project i am going to switch on and off(blink) an led with the help of a push button. Since transistors are used at outputs we can drive heavy loads with the same circuit. Pic16f877 microcontroller is used in the project. Port-B of Pic16f877 is used as output port. Port-B of pic1 ...
Read more

›
Hello Electronics lovers. After a long hiatus, I wanted to write something again. In this article, software-serial basis (soft SPI) and still other applications I wrote using the name for a project I would... Electronics Projects, PIC16F877 16X16 LED Matrix 74HC595 Graphic Display Project "microchip projects, microcontroller projects, pic16f877 projects, " Hello Electronics lovers. After a long hiatu ...
Read more

›