Introduction
This program is a network power resetter. It controls a solid-state-relay that is in series with 110VAC that supplies power to a satellite internet receiver, various routers, etc. Once every 24 hours it drops power for 10 seconds to allow the receiver and routers to start clean, something that seems to be necessary to keep receivers and routers from "losing themselves" after running too long!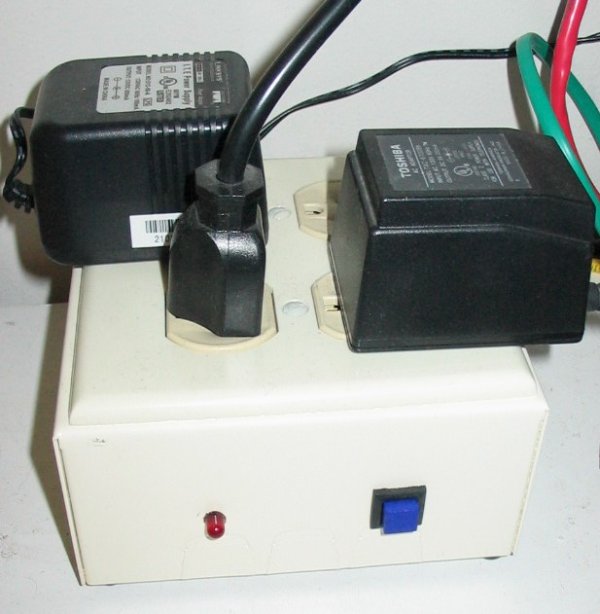 Features
This is simply an electronic solution with a couple of features, but the same thing can be accomplished by the use of a mechanical "home" timer that drops power once per day, as illustrated in the image below.
Operation
Power is dropped automatically for 10 seconds once every 24 hours, starting eight hours after the unit is powered up.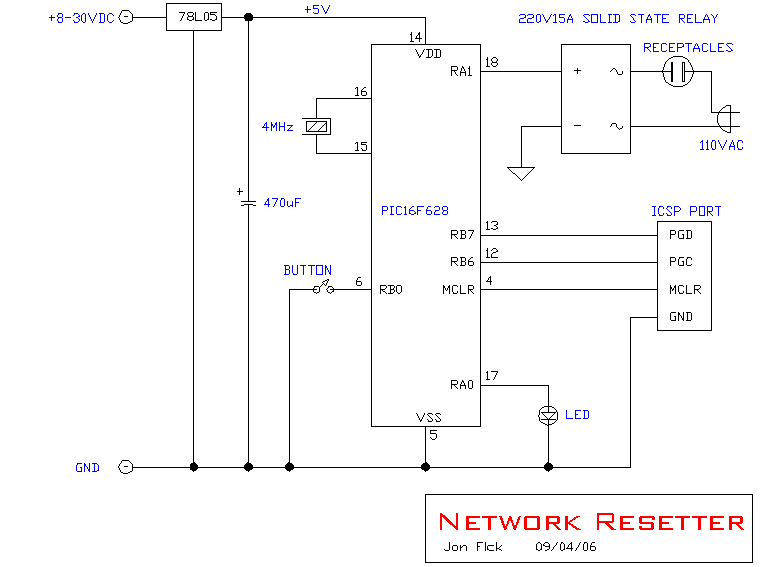 Code:
/****************************************************************************
NETWORK_RESET_01.C

This program is a network reseter.  It controls a solid-state-relay that
is in series with 110VAC.  It supplies power to a satellite receiver,
various routers, etc.  Once every 24 hours it drops power for 10 seconds
to allow the receiver and routers to start clean.

The LED flashes once per second.

The 24 hour reset occurs eight hours from the time the unit is powered on.
If it is desired to changed that delay, decide how many hours (from now)
that you want the unit to reset.  Press and hold the button for
greater than five seconds, and release it.  The LED will stop flashing.
Immediately press and hold the button until the LED starts flashing.  Count
the flashes as you hold the button.  Release the button when the LED has
flashed the number of hours you want to delay.  Normal operation will
occur after three seconds.

To drop power immediately, press and hold the button for two seconds.

                 +5
                  |
                  14
                ----------
     SW  ----6-|          |-17-- LED
               |          |-18-- SSR
               |          |
               |          |
               |  16F628  |
               |          |
               |          |-13--PROG_CLK
               |          |-12--PROG_DAT
  6MHz XTAL-15-|          |-4---MCLR
       XTAL-16-|          |     GND
                ----------
                     5
                     |
                    Gnd

***************************************************************************/
For more detail: NETWORK EQUIPMENT RESETTER using PIC16F628