Alphanumeric LCD generally HD44780 model is very popular display . This LCD use 8 pins for data display and three pin for control and AL together 16 pin . There will be problem on project if we have to connect numbers of components in single micro-controller to make a compact type of device . To reduce number of pin used in this tutorial we are going to make a serial LCD using data shifting technique. In Th ...
Read more

›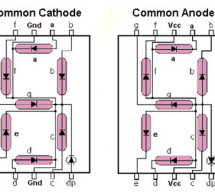 This tutorial describes how to implement decimal counter which will increment from 0000 to 9999 ; in multiplexed seven segment display using PIC18F2550 in PROTEUS ISIS. Multiplexing is required when we want to interface 3 or 4 or even more such displays with MCU ssince it we go for normal way it will require lots of IO port.This means to turn on one at a time, extra brightly, and scan through all the digits ...
Read more

›
This post shows how to connect ST7735S TFT display to PIC18F4550 microcontroller and display different things (numbers, text, lines, circles .....). The compiler used is CCS PIC C. To interface PIC18F4550 with the ST7735 TFT display we need a small library (driver) which can be downloaded from its original post at the following url: ST7735 SPI TFT Display Driver for CCS PIC C compiler Or you can just downlo ...
Read more

›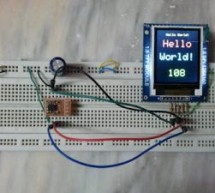 This post shows how to interface PIC12F1822 microcontroller with ST7735 SPI TFT display using CCS PIC C compiler. For this interfacing we need a driver for the TFT display. Driver topic at the following link: ST7735 SPI TFT Display Driver for CCS PIC C compiler Or you can just download it directly from the following link: ST7735 SPI TFT Display Driver Put the downloaded C file in your project folder. Requir ...
Read more

›
This post shows how to make a real time clock and calendar using PIC16F84 and DS3231 RTC. The DS3231 uses I2C protocol to interface with the master device which is in this example the PIC16F84A MCU. In this project software I2C is used because the PIC16F84A MCU has no hardware I2C module. Hardware Required: PIC16F84A microcontroller 1602 LCD screen 8MHz crystal oscillator 2 x 22pF ceramic capacitor 10K ohm ...
Read more

›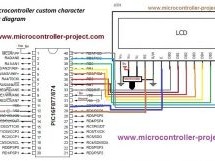 Here is a simple project on how to build/generate/make custom characters in 16x2 lcd and then print/display them on lcd using microchip pic16f877 microcontroller. Character lcd contains a set of ascii characters and some Chinese characters in their controllers. We invoke the ascii characters present in the ram for displaying them on lcd. But if we want to display some special characters, symbols or similes ...
Read more

›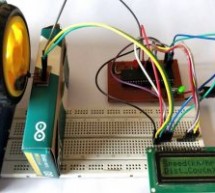 Digital Speedometer and Odometer Circuit using PIC Microcontroller Measuring the speed/rpm of a Vehicle or a motor has always been a fascinating project for us to try. So, in this project we are going to build one using the Industrial ready PIC microcontrollers. We will use a piece of magnet and a Hall Sensor to measure the speed. There are other ways/sensors to measure the speed but, using a hall sensor is ...
Read more

›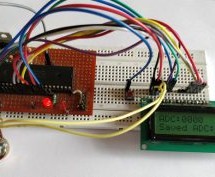 Saving Data using EEPROM in PIC16F877A In this tutorial we will learn how easy it is to save data using the EEPROM present in the PIC16F877A Microcontroller. In most real time projects we might have to save some data which should not be erased even when the power is turned off. This might sound like a complicated process, but with the help of XC8 Compiler this task can be done by just using a single line of ...
Read more

›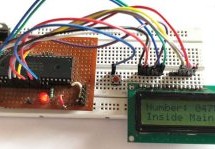 How to Use Interrupts in PIC16F877A Microcontroller In this tutorial we will learn how to use an External Interrupt in PIC Microcontroller and why/where we will need them. This is a part of the sequence of PIC Tutorials in which we started learning PIC Microcontrollers from scratch; hence this tutorial assumes that you are familiar with how to program a PIC MCU using MPLABX and how to interface an LCD with ...
Read more

›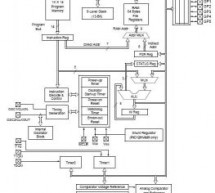 Our efforts in this project were to create a version of a Microchip mid-range PIC microcontroller in verilog to run on an Altera DE2 board.  It was primarily planned to create a machine that would follow a set of pre-determined instructions and perform computation, interpretation, and control of input and output ports.  In order to prove that there was actually a processor under the hood we decided to have ...
Read more

›