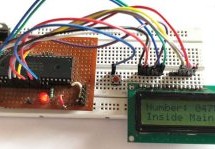 How to Use Interrupts in PIC16F877A Microcontroller In this tutorial we will learn how to use an External Interrupt in PIC Microcontroller and why/where we will need them. This is a part of the sequence of PIC Tutorials in which we started learning PIC Microcontrollers from scratch; hence this tutorial assumes that you are familiar with how to program a PIC MCU using MPLABX and how to interface an LCD with ...
Read more

›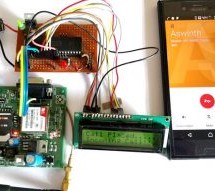 GSM Interfacing with PIC Microcontroller PIC16F877A - Make and Receive Calls GSM modules are fascinating to use especially when our project requires remote access. These modules could make all actions that our normal mobile phone could do, like making/receiving a call, sending/receiving a SMS, connecting to internet using GPRS etc. You can also connect a normal microphone and speaker to this module and conv ...
Read more

›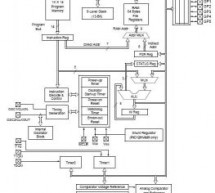 Our efforts in this project were to create a version of a Microchip mid-range PIC microcontroller in verilog to run on an Altera DE2 board.  It was primarily planned to create a machine that would follow a set of pre-determined instructions and perform computation, interpretation, and control of input and output ports.  In order to prove that there was actually a processor under the hood we decided to have ...
Read more

›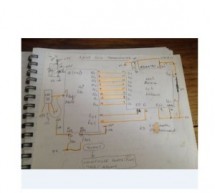 I got to thinking that an interest in hi-fi can be a bit geek ( in a good way ) so I thought one of my latest geek projects might be of interest to some of you. You could build the project 'as is' without learning embedded C programming or you could use the project as a spring board to extra geekiness and weekend fun – I'll leave that to you Learning embedded C can be hugely rewarding and creative. The tool ...
Read more

›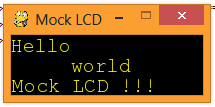 So recently I got a Raspberry pi and a 16x2 character LCD screen , I thought , lets make a simple game that can be played on the lcd. my first instinct was to code directly for the lcd on the pi , but as I started coding I realized that the clutter of having the lcd connected wasn't really necessary while i am programming the game's logic . I decided to make a python module that gives me the lcd output on m ...
Read more

›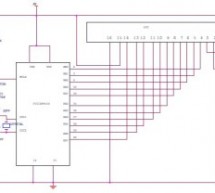 In this session we will see how to interface 16×2 LCD to PIC18F4550 microcontroller which is of family PIC18F. You can get information of 16×2 LCD in the session How to Interface 16X2 LCD with 8051 Microcontroller Features of PIC18F4550: PIC18F4550 belongs to the PIC18F family; PIC18F4550 is an 8bit microcontroller and uses RISC architecture. PIC18F4550 has 40 pins in PDIP (dual in line package) and 44 pin ...
Read more

›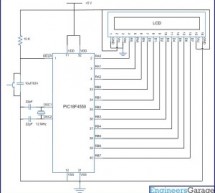 Several automated and semi-automated devices require a message to be displayed in order to indicate their working status. In continuation to LCD interfacing with PIC18F4550, this article explains how to display a message or string on a 16x2 character LCD. Programming steps: ·         Configure the LCD. ·         Store a string in a character array. unsigned char data[20]="EngineersGarage"; ·         Run a l ...
Read more

›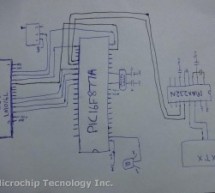 I have designed a PIC18F877A micro controller project to read temperature from an LM35 using ADC, display it on an LCD and transmit it to a serial port. When the program starts, sometimes it shows a startup message - sometimes it doesn't display anything. Also, the serial port connection is not working. Can anyone help - am I missing something? Are there any ground connections missing? My code: #include #de ...
Read more

›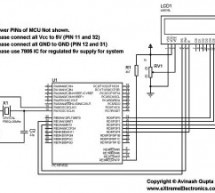 In this tutorial I you show you how to make a very useful expansion board for our PIC development board. It will be a Do It Your self (DIY) LCD Expansion board. The expansion board can be plugged into the PIC development board to add 16×2 Alphanumeric LCD Support to it. Since LCDs are required in many projects and experiments it will be a very helpful board. I recommend you to read the LCD Interfacing Tutor ...
Read more

›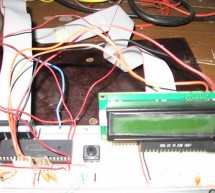 Aim To interface LCD (Displaytech 162A) with PIC16F877microcontroller and to display "IITK" in the Liquid Crystal Display (LCD). Components/Softwares MPLAB IDE (PIC microcontrollers simulator) PIC BURNER 3 with software to load the code LCD (Displaytech 162A) Computer System with Windows operating system and RS 232 cable PIC16F877 Microcontroller +5V D.C Power Supply Resistors - 10K Ω-1,50Ω-1 Capacitors - 2 ...
Read more

›