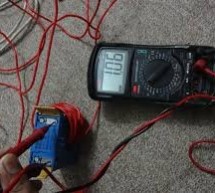 ADC (Analog to Digital Converter) module is available with a number of PIC MCU modules. ADC is an electronic circuit that converts continuous signals to discrete digital numbers. ADC Library provides you a comfortable work with the module. Library Routines ADC_Init ADC_Get_Sample ADC_Read ADC_Init Prototype void ADC_Init(); Returns Nothing. Description This routine initializes PIC's internal ADC module to w ...
Read more

›
A bubble or spirit level meter is a handy tool to find whether a surface is horizontal or vertical. It is often carried by civil engineers, mechanical engineers, surveyors, carpenters, and many other professionals whose work involve precise alignments of horizontal and vertical planes. Original spirit levels had two banana-shaped curved glass vials at each viewing point and were much more complicated to use ...
Read more

›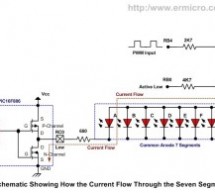 The seven segment display is one of the most popular numeric displays used in many microcontroller applications because it's cheap, robust and reliable. The seven segments actually consists of 8 LED (Light Emitting Diode) and it's come with various sizes suitable for various numeric display application such as digital clock, counter, thermometer, humidity, etc. On this project we are going to show you how t ...
Read more

›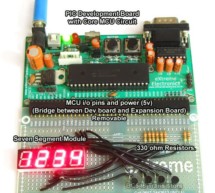 In the last tutorial we learn about the multiplexing technique used with seven segment displays. We learnt how it saves i/o line by using persistence of vision. Only one digit is lit at a time, but to a human eye it is too fast to catch, so we see all four digit lit the same time. In this tutorial we will make a practical use of multiplexed seven segment displays. We will use them to show current room tempe ...
Read more

›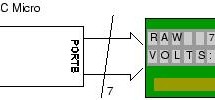 This PIC LCD volt meter project uses a PIC micro and an HD44870 LCD display. The analogue input is taken directly to the analogue input pin of the microcontroller without any other processing. Specification Voltage range 0V - 5V Input signal level TTL Maximum input impedance 2k5 The LCD volt meter uses the microcontroller power supplies as reference voltages and so it is not likely to be very accurate (e.g. ...
Read more

›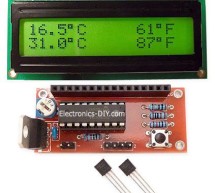 DS18S20 Dual Temperature Meter Component List: 1x 2x16 LCD with Backlight 1x 16x1 LCD Female Header Connector 1x 16x1 LCD Male Header Connector 1x Programmed PIC16F628 2x DS18S20 1-Wire Digital Temperature Sensor 1x 100nF Capacitor 1x 10K Pot (LCD Contrast) 1x 10K Resistor 2x 1K Resistor 1x 10 Resistor 1x LM7805 Voltage Regulator 1x Tactile Switch (Display Modes) 1x 2-PIN Male Header Connector 1x 4-PIN Mal ...
Read more

›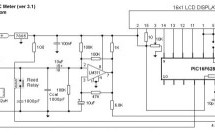 About Accurate LC Meter This is one of the most accurate and simplest LC inductance / capacitance Meters that one can find, yet one that you can easily build yourself. This LC Meter allows to measure incredibly small inductances starting from 10nH to 1000nH, 1uH to 1000uH, 1mH to 100mH and capacitance from 0.1pF up to 900nF. LC Meter's circuit uses an auto ranging system so that way you do not need to spend ...
Read more

›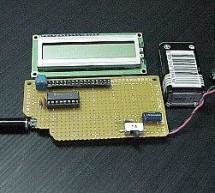 Measure distance while riding bicycle. Direct display in meter unit. Battery operated with Nitron 68HC908QY4, 16-pin MCU. Figure 1: Prototype of Distance Meter. This project demonstrates the use of 16x1 line LCD module to interface with Nitron 16-pin MCU, 68HC908QY4. The original idea came from one evening I went out with my son to the park near my home in Korat. The park has a nice walking way for people t ...
Read more

›
Hello everyone, thank you for checking out my first Instructable. I have enjoyed seeing your creations over the years and love what all of you are contributing. This project is a spin off of one that I recently saw here and I need to give a shout out to Bot1398 because he demonstrated to me in his Instructable that you could use an LED to detect changes in light intensity in the environment and use this to ...
Read more

›
Preparation In addition to the power supply that you created on your breadboard in Lab 2, you will need the following equipment/components to complete your PIC prototype board: (1) multimeter (1) PIC 24HJ32GP202 chip (2) alligator clip leads (1) LED (1) 1K Ohm resistor (1) 2 K or 2.2 K Ohm resistor (1) 10 micro Farad capacitor (2) 1 micro Farad capacitors (1) pushbutton switch (1) power switch (1) 6 pin hea ...
Read more

›