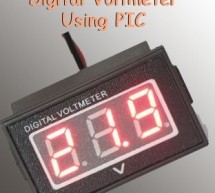 We are all aware of about voltmeters (voltage meter), which is nothing but a device used to measure voltage between given two terminals. Apart from the basic usage digital voltmeters are also employed as panel meters for automation systems and robotics. There are analog and Digital voltmeters are available in the market. Have you ever thought about building a PIC microcontroller based digital voltmeter with ...
Read more

›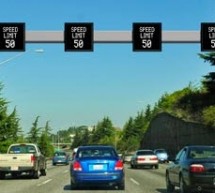 While driving on highways, drivers should not exceed the maximum speed limit permitted for their vehicle. However, accidents keep on occurring due to speed violations as drivers follow their speedometers and control their speed according to them, and reduce the speed if they find it to be exceeding and beyond their control. A highway speed checker comes handy for the traffic police, especially against the s ...
Read more

›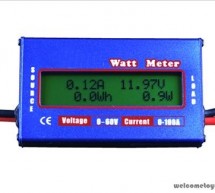 Digital dc watt meter using pic microcontroller is used to measure dc power of dc circuits. Voltage and current sensors are used in this project. Voltage and current sensors are interfaced with microcontroller. Voltage sensor is used to measure voltage across circuit or load. Current sensor is used to measure current passing through load. Voltage divider circuit is used to measure high voltage. because micr ...
Read more

›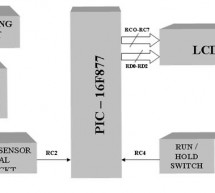 Summary: The speed of the motor is measured in Rotations per Minutes,RPM.The RPM Meter is to read the running speed of Motor like DC MOTOR. Here the speed of the DC Motor is sensed with the help of a speed sensor and it is signal conditioned to have pulses which given as Timer1 clock input of PIC Microcontroller, configured to accept external clock input.The count value in Timer1 for one second represents s ...
Read more

›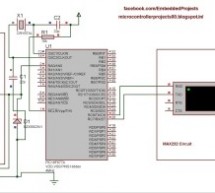 This is a simple voltmeter which measures 0-5V at a precision of 4.8 mV. This is a simple design using inbuilt ADC of PIC 16F877A. PIC 16F877A have 8 channel 10bit ADC. This is a computer interfaced project. Measured voltage is output in serial interface software in computer. There is a serial interface circuit (MAX232) is necessary for interfacing with computer, which is not included in the circuit. Please ...
Read more

›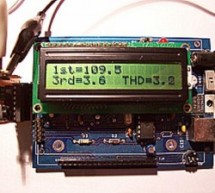 The 3rd harmonic distortion meter has been designed for measuring the quality of AC supply. The meter is built with a PIC18F2550 project board and the full wave rectifier front-end circuit. The AC power line, 220VAC is measured through the step down isolation transformer. The input signal to the 10-bit ADC is full wave rectified. The software performs DFT calculation finding the amplitude of the fundamental ...
Read more

›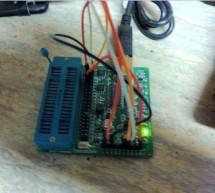 Bluetooth Wireless Voltage Meter using Wiimote + Pic Chip + AutoIt In this tutorial I'm going to be showing you how you can send voltage values to your pc using a Pic chip, Wiimote, and Autoit3 scripting language. The process works by wiring a pic chip to the button pads of a wiimote. Then using the pic chips Analog to Digital Converter, we obtain a 10bit binary value. We will then send that value to Autoit ...
Read more

›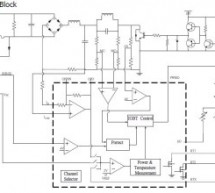 UPDATE 11/7/12 – More pics of device and full disassembly uploaded by Ad.  Thanks!. A user nicknamed "Ad" has taken some pictures of the inside of a new induction cooktop by Better China, see their original comments at this article.  This device is interesting because it appears to be a streamlined version of the Burton cooktop we looked at, with many fewer devices and one big, 20-pin mystery chip as the br ...
Read more

›
AD8307 USB 0-500MHz RF Power Meter Component List: 1x PIC18F2550 Programmed Microcontroller 1x AD8307 RF Power Meter IC 1x RF Power Meter Probe PCB 1x USB IO Board PCB 1x USB Type B Connector 1x 20MHz Crystal Resonator 1x 470K Resistor (yellow purple yellow gold) 2x 10K Resistor (brown black orange gold) 2x 100 Resistor (brown black brown gold) 1x 470nF Ceramic Capacitor 5x 100nF Ceramic Capacitor   Technic ...
Read more

›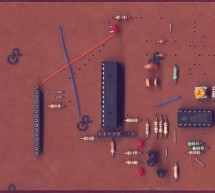 The ESR meter is perfect for any electronics repair technicians, engineers or hobbyist. This handy meter measures electrolytic capacitor equivalent series resistance (ESR) in the circuit. ESR is a very important characteristic of capacitors greater than 1 microfarad. This meter makes measurements which are often impossible to check with standard digital capacitance meters. Working: The capacitance of the De ...
Read more

›