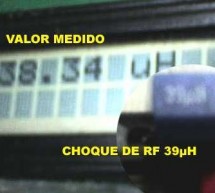 The good and high precision capacitor meter (Capacimeter) inductor meter (inductimeter) auto range lc meter for pic 16f84 or pic 16f628 and display lcd by phill rice Construction of an apparel that allows measure inductors (Inductimeter) and capacitors (Capacimeter), knower like LC meter, using PIC (16f84 or 16f628) and display marries in LCD. Translated of the excellent project inductor and capacitor meter ...
Read more

›
Summary. A design for a simple microwattmeter. Input range -75 dBm to + 5 dBm. Frequency range 2 to 50 MHz. Level resolution is 0.1 dBm, frequency resolution is 10 kHz. Log-output about 0.5 - 3.5 Volt. Output for external counter. The meter uses a AD606 as log-converter, a MAX186 as ADC, a PIC16C84 as controller and a HD44780 type LCD. The PIC measures frequency and level of the input signal and calculates ...
Read more

›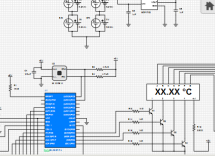 One of the most commonly used medical instruments nowadays is the thermometer. The thermometer is used to monitor or measure the body temperature of a sick person. The idea of creating a thermometer started from a device called thermoscope, a thermometer without a scale. Several inventors developed it until Sir Thomas Allbutt invented the first practical 6-inch medical thermometer able to sense a body tempe ...
Read more

›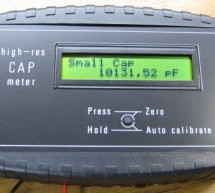 High resolution capacitance meter measures in 0.01pF digits. Total range 0pF to 50uF. - 27th Jun 2011, Updated 25th may 2013. Another PIC based capacitance meter? Although there are a few PIC based "pico" capacitance meters on the internet this design has some advantages over the other designs I have seen; 1. It has very high resolution; from 6 to 7 digits! (Others have 3 or 4 digits) 2. It has a wide range ...
Read more

›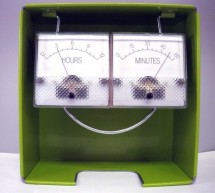 Overview Trinket lends itself very well to building clock projects, its small and easy to hide behind a larger display. And clocks don't need a lot of logic, this example only has maybe 20 lines of code. Adding a digital display via I2C is possible using seven segment or character-based displays (with the library code posted for other projects). This project interfaces Trinket to the the Adafruit DS1307 rea ...
Read more

›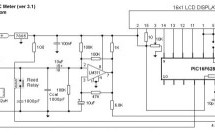 About Accurate LC Meter This is one of the most accurate and simplest LC inductance / capacitance Meters that one can find, yet one that you can easily build yourself. This LC Meter allows to measure incredibly small inductances starting from 10nH to 1000nH, 1uH to 1000uH, 1mH to 100mH and capacitance from 0.1pF up to 900nF. LC Meter's circuit uses an auto ranging system so that way you do not need to spend ...
Read more

›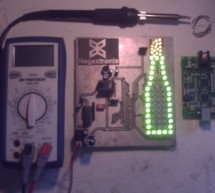 Create your own Beer Bottle LED Volume Unit Meter! This instructable will show you how to create a LED beer bottle VU Meter. A volume unit meter is a device that is used to display a relative volume of audio signals. Basically, sound gets converted into electricity, then amplified and run into a dedicated IC (Integrated Circuit). The IC then determines the level of sound and outputs it accordingly onto its ...
Read more

›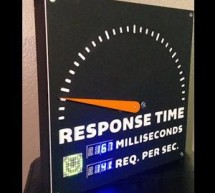 The Meter 2014-12-01 21:12:00 Been awhile since I posted anything here, so I thought I'd use this post to give some more detail on a project I just completed. The whole idea was to create a giant meter to show website response time almost like a speedometer would. The result is something that's both fun to watch and provides a meaningful 'heartbeat' of current status. After several revisions and different d ...
Read more

›
Capacitors are vital components in electronics, but sometimes they are broken, or the value printed on the cap has become unreadable. Because my multi-meter does not have a capacitance measurement, I decided to make one!The principle of measuring capacitance is quite simple. The voltage of a capacitor charging through a resistor increases with time T. The time it takes to reach a certain voltage, is related ...
Read more

›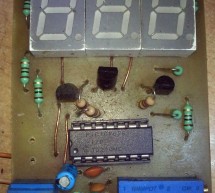 This is a simple application of internal 10-bit ADC(analog to digital  converter) of PIC16F676 microcontroller.you can use this  circuit  to measure  up to 30 v dc. the possible  applications are on bench top power supply or as a panel meter in various system. Circuit description              MICROCHIP'S PIC16F676 is the heart and brain of this circuit .the internal adc of the mcu with a resistor network vo ...
Read more

›