Our first chipKIT tutorial is about reading and writing digital data (0 or 1) from and to an I/O pin of the chipKIT board. Digital inputs are useful to determine whether an incoming digital signal is logic HIGH or logic LOW. A simple application of digital input is reading the state of a push-button switch and perform some action based on if the switch has been pressed or not. Similarly, digital outputs are ...
Read more

›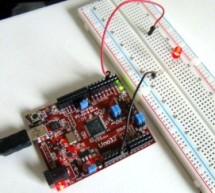 The PIC32 processor on the chipKIT Uno32 board provides two hardware serial ports. One of these is used by the on-board FTDI chip to create an USB-UART interface that allows the MPIDE tool running on the PC to communicate with the Uno32 board through an USB port. In this tutorial, we will use the same USB-UART interface to demonstrate a two-way asynchronous serial communication between the Uno32 and the PC. ...
Read more

›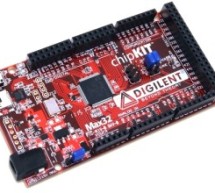 In order to understand the chipKIT platform, it is important to talk about Arduino first. Arduino is an easy-to-use and powerful open source environment for developing microcontroller based applications.Chipkit Development Board It has gained huge amount of popularity in past few years, specially among hobbyists. Arduino has been a wonderful tool, introducing many people to the world of embedded electronics ...
Read more

›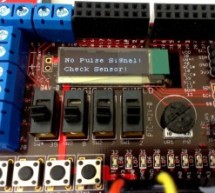 This is a third project in our chipKIT tutorial series and today we are going to construct a simple pulse rate meter using our Easy Pulse sensor with Digilent's chipKIT Uno32 board. Digilent's chipKIT Basic I/O shield is also used in this project for displaying the pulse waveform and the pulse rate. [caption id="attachment_12076" align="alignnone" width="580"] Pulse rate meter using chipKIT Uno32 and Easy P ...
Read more

›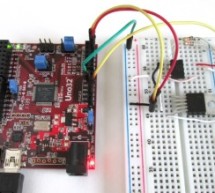 I2C or IIC (Inter-Integrated Circuit) is a simple bidirectional serial interface, which requires only 2 signal lines for data transfer. It was originally developed by Philips in 1980′s to provide easy on-board communications between a CPU and various peripheral chips in a TV set. Today, it is widely used in varieties of embedded systems to connect many low speed peripherals, such as external EEPROMs, sensor ...
Read more

›
Pulse width modulation (PWM) is a technique of controlling the amount of power delivered to an electronic load using an on-off digital signal. The key idea behind this technique is that the average DC value of the digital signal, and hence the power delivered to the load, can be varied by varying the duty cycle of the signal. This method is commonly used for controlling speeds of DC motors and brightness of ...
Read more

›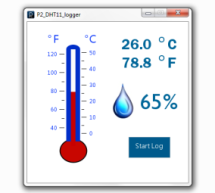 This project is about building a PC-based temperature and relative humidity logger using the chipKIT Uno32 board and the DHT11 sensor. The project setup requires no additional wires (other than the USB cable) and components; the DHT11 sensor is directly plugged into four I/O pins of the Uno32 board and the project is ready to go. This could be a handy and an easiest way to setup an ambient room monitoring s ...
Read more

›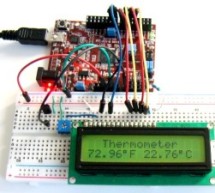 In Tutorial 3, we learnt how to use chiKIT ADC channels to read an external analog voltage and convert it into a digital number. We also discussed about interfacing a standard Hitachi 44780-based character LCD to the chipKIT Uno32 board in Tutorial 4. Now it's time to implement the knowledge we have gained so far to make our first practical application using chipKIT, which is a digital thermometer. Since te ...
Read more

›
Liquid Crystal Displays(LCDs ) are a very popular output device for displaying graphical and alphanumeric data in microcontroller based systems. They can also provide an interactive input interface to the users. The most common type of LCD controller used by hobbyists is the Hitachi 44780, which provides a relatively simple interface between a processor and an LCD. The purpose of this tutorial is to describ ...
Read more

›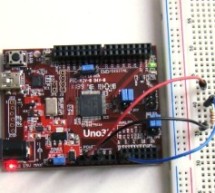 [caption id="attachment_12035" align="alignnone" width="570"] Analog-to-digital conversion[/caption] Theory Many embedded applications deal with physical variables such as motion, temperature, pressure, relative humidity, light intensity, and sound. A microcontroller cannot directly handle these entities because i) they are non-electrical signals, and, ii) they are analog quantities, which means they ...
Read more

›