A while ago I purchased a batch of 18F6620 TQFP PIC Microcontrollers at a ridiculously low price. The barrier to use of TQFP packages is, of course mounting these SMD packages effectively alongside the 'normal' components enthusiasts tend to use. At the time I set about and designed a header, and test motherboard for these chips, and although my header was successful, repeatability was variable using the ra ...
Read more

›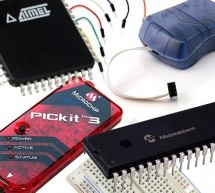 Many people using Arduino or some other development board in their projects, instead of making their own board with microcontroller because they simply don't know how to design PCB with microcontrollers. What microcontrollers need in order to operate? This time I will be focusing on two most popular 8 bit micro architectures: PIC Microchip . In reality what many people are afraid of is really simple to do. ...
Read more

›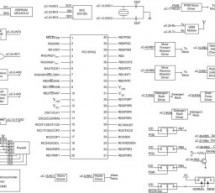 The design uses the PIC18F series microcontroller. All the control functionalities of the system are built around this. Upgradeability is the unique feature of this system. Control card hardware and software allows the manufacturer to add or remove the features as per customer requirement and model. Thus once the whole system is designed it is very economic in large quantity production. Single-phase motor i ...
Read more

›
The PIC 18 PIN (DIP) Development / Evaluations Board demonstrates the capabilities of Microchip's 8-bit microcontrollers, specifically, 18 Pin PIC16F1847. It can be used as a standalone demonstration board with a programmed part. With this board you can develop and prototype with all Microchip's 18 PIN PIC microcontrollers. The board has a Reset switch and status LEDs. On board 3.3 V and 5V DC regulators al ...
Read more

›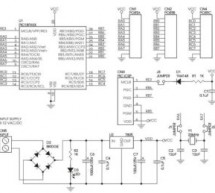 Description This is a versatile, configurable, and cost effective Development Board designed for the 18F – 28 pin series of Microcontroller from Microchip. The board is simplest form with all the Port pins terminating in a header connector for easy connection to the outside world. Power Supply 7-18V DC Rajkumar Sharma      http://www.rajkumarsharma.com 3756 This is a PIC18F Development board with ICSP conne ...
Read more

›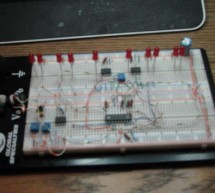 In a previous article I described how I designed the circuitry to control functions of the asparagus harvester.  After bread boarding up a test circuit and doing some initial programming I decided a re-do was in order. I found I had a lot of unnecessary redundancy and I also decided to put the air regulation function on a separate chip from the main controller chip.  I did so because I want the air regulati ...
Read more

›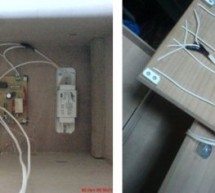 Introduction Tired of spending hours and hours in wire soldering? Do your circuits look ugly and you are looking for a way to produce professional-like PCBs? Then you had better try photoetching. And the first step to do that is to have the right equipment that is an Automated Exposure Box. Moreover if you like tinkering with microcontrollers, here is the challenge and it's high time you launched the design ...
Read more

›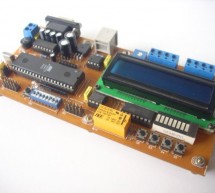 Introduction There are some 89Sxx development board, here is another one. I have designed this single side development board to be used as a tool for learning MCS-51 Microcontrollers, and for easy microcontroller project development. The 89Sxx development board features : 89Sxx 40-DIL based design, 89S51/52/53 In System Programming (ISP) through the 6-pin header RS-232 and RS-485 serial port (shared pin) fo ...
Read more

›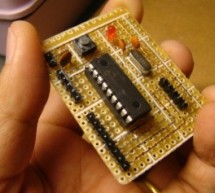 Here's another breadboard module that carries a PIC16F628A microcontroller. The power supply pins and the I/O ports of the PIC16F628A microcontroller are accessed through male headers. It can be easily plugged into a breadboard and is very useful for quick prototyping. It frees up a lot of space on the breadboard since the oscillator, reset, and ICSP circuits are already built on the module. It is different ...
Read more

›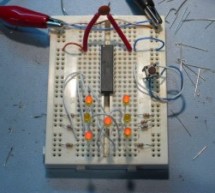 Built using a PIC16F84, about 4 hours worth of code and a few bits on a breadboard. This was the first time I've worked with PIC's so it was a learning exercise. I started with the 'Hello World' microcontroller equivalent i.e.  Blinking LED, then tried the 'Knight Rider' sequencing LEDs, and then hacked this together. The code is written and assembled using the Microchip MPLAP IDE V5.70.  I only did this as ...
Read more

›