A long while back I posted a version of the schematic for the electronics for my project to build a GPS-steered parachute for rocket recovery. Since then I've tweaked the board a bit, to the point where the hardware design is clean and bug-free (as far as I know). So here is the current version of the board schematic and layout, including the original Eagle PCB files as well as a PDF version of the schemati ...
Read more

›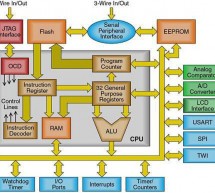 How to choose a MicroController It used to be that the number of different microcontroller chips available to the hobbyist was pretty limited. You got to use whatever you could manage to buy from the mail-order chip dealer, and that narrowed down the choice to a small number of chips. But times have changed. Digikey lists over 16000 different line items under a 'microcontroller' search. Which one should a h ...
Read more

›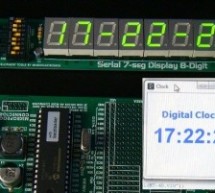 "Ready for PIC" is one of MikroElektronika's compact prototyping boards for 28 and 40 pin PIC microcontrollers. The board comes with PIC16F887 microcontroller which is preprogrammed with an UART bootloader firmware and thus eliminates the need of an external programmer. The on-board USB-UART module allows the serial data transfer between the PIC and a PC using an USB cable. It has also got a reasonable size ...
Read more

›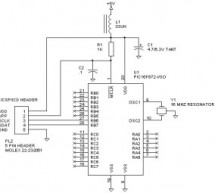 Implementing ICSP requires connections to a minimum of 5 processor pins: VDD, VPP (also MCLR\), SCLK (on RB6), SDAT (on RB7), and GND. VDD and GND are straightforward. In most applications, it is best to dedicate RB6 and RB& for SCLK and SDAT. This avoids potential complications when these signals are used during programming. Microchip shows a suggested circuit for MCLR\ involving a RC network and diode ...
Read more

›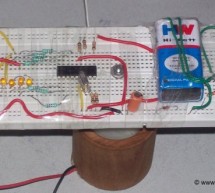 This is my first post Related to Projects and today i will describe 'Propeller Display' project. Me and my friend Rushi, we both made 'Propeller Display' project during our under-graduation. Below is the photo of the project. Project uses Microchip PIC16F84A Microcontroller. Below is the brief specification for same. 18-Pin, 8-bit microcontroller Operating Speed - 20MHz max. 1024 words of program memory (wo ...
Read more

›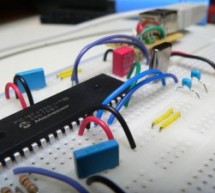 Introduction I get a number of emails every month asking about creating USB devices using the PIC18F microcontroller. After looking at projects such as my Atari Joystick USB Adaptor and C64 VICE Front-End there seems to be a demand for more information on how to 'hack your own'. In this article I will show how to breadboard a simple USB generic HID device, creating the PIC18F firmware and finally creating t ...
Read more

›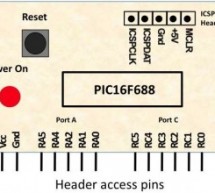 This module is based upon the basic setup circuit for PIC16F688 that I have described in one of my PIC lessons, Getting ready for the first lab. I thought of soldering this circuit on a general purpose ptototyping board and use male headers to access the power supply pins and I/O ports of the PIC16F688 microcontroller. This will free up a lot of space on the breadboard as the ICSP header and the reset switc ...
Read more

›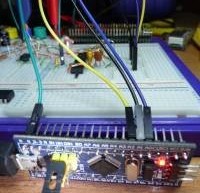 Mork is adaptation of Nanu nanu Microchip PIC ICSP for the STM32 based vcc-gnd or Maple mini. Both STM32 boards are inexpensive boards which don't cost much more than the Nano 3.0 yet they are far more powerful. One complication though for the vcc-gnd, is that it comes with a serial boot loader which is not accessible via it's USB port. This means that another device is required to program the vcc-gnd which ...
Read more

›
 Description This project is a 4 channel DMX512 driver board.  It features four power MOSFETs that can be configured to operate in PWM mode or as on/off outputs.  The driver can be configured to use any four consecutive addresses across the full 512 channel address range.  It can be used to drive LED arrays or low voltage lamps in PWM mode or operate relays in static mode. Feature list: 4 channels with low ...
Read more

›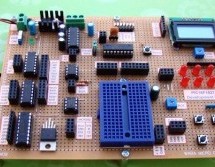 The PIC16F628A has always been my first choice for microcontroller-based projects. It is simple, inexpensive, and easily available. Due to its compact size (18 pins) it occupies lesser space on the circuit board, and meanwhile, it is powerful enough to serve most of a hobbyist's needs. It is a very well accepted successor of the classic PIC16x84, and therefore, the tons of resources available for PIC16x84 o ...
Read more

›