Digital frequency meter with LCD display  can be used to measure frequency of square wave. With little bit modification in this embedded systems project you can also measure frequency of sine wave. I will also discuss it at the end of this article.In this digital frequency meter PIC16F877A microcontroller is used to measure frequency with the help of external interrupt and 16 * 2 LCD is used for digital dis ...
Read more

›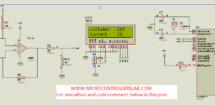 AC voltage measurement using pic microcontroller and op-amp.You have came across many online tutorials  on various websites about voltage measurement using different microcontrollers. But all these tutorials are about measurement of low  DC voltage.In this project, you will learn how to measure high AC voltage using PIC16f877A micrcontroller. Page Contents [hide] 1 Alternating voltage measurement : 1 ...
Read more

›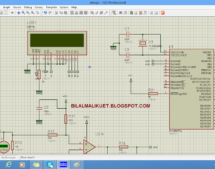 alternating current measurement using pic microcontroller. In this artcile I will discuss how to measure alternating current using current transformer and pic microcontroller. After reading this, you will be able to design AC Ammeter using PIC16F877A microcontroller. It is very important task in pic microcontroller projects. I have already posted a dc current measurement circuit with code. you can also read ...
Read more

›
A logic probe is considered as a stethoscope for engineers and technicians for debugging digital logic circuits that consists of logic gates, memories, registers, etc. A digital multimeter (DVM) can also be used for such analytical purposes but it gives you the numeric value of the voltage at a point instead of the logic state. Depending on whether the circuit is based on TTL or CMOS components, the voltage ...
Read more

›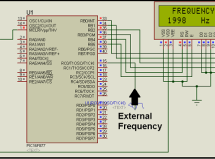 Here you will see how easily we can make Digital frequency meter by PIC microcontroller using timer 1. To make this project we need clear idea on timer 1 module of PIC16F877 microcontroller. We need to know how we can configure timer 1 module to do our desire work. For that I suggest please refer my previous post "Timer Modules in pic16f877 microcontroller". As we know frequency = Number of full circle per ...
Read more

›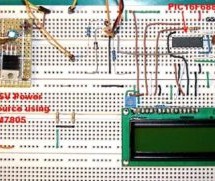 Introduction This project will describe how to make a simple digital voltmeter (DVM) using a PIC16F688 microcontroller. The range of this DVM is 0-20V, but you can easily increase or decrease the range of input voltage as your requirements after you understand the voltage scaling method described in this project. The PIC micro reads the input voltage through one of the 8 analog channels and convert it to a ...
Read more

›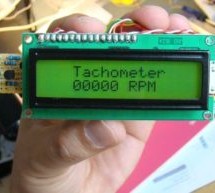 Tachometer is a device that measures the rotational speed of any shaft or disc. The unit of the measurement is usually revolutions per minute or RPM. The traditional method of measuring RPM of a rotating shaft was based on velocity feedback concept where a dc generator is hooked to the rotating shaft so that the voltage induced across the generator's terminals is proportional to the speed of the shaft. Toda ...
Read more

›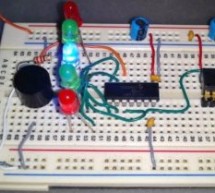 A bubble or spirit level meter is a handy tool to find whether a surface is horizontal or vertical. It is often carried by civil engineers, mechanical engineers, surveyors, carpenters, and many other professionals whose work involve precise alignments of horizontal and vertical planes. Original spirit levels had two banana-shaped curved glass vials at each viewing point and were much more complicated to use ...
Read more

›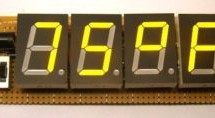 This project is about building a microcontroller-based digital room thermometer plus hygrometer that displays temperature and relative humidity on 4 large (1 inch) seven segment LED displays which adjust their brightness level according to the surrounding illumination. It consists of a closed loop system that continuously assesses ambient light condition using an inexpensive light-dependent resistor (LDR) a ...
Read more

›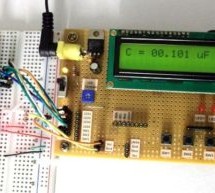 Capacitors are one of the most common passive electrical components that are extensively used in all kinds of electronic circuits. In this project, we will discuss a technique of building a digital capacitance meter using a PIC microcontroller. This project can measure capacitance values from 1 nF to 99 ?F, with a resolution of 1 nF. The technique is based on measuring the time elapsed when a capacitor is c ...
Read more

›