This PIC microcontroller based RC driver is able to control 4 RC Servo by on board independent 4 potentiometer , 4X3PIN header for RC servo interface, screw terminal for supply input, on board power LED, optional 4X3PIN header connector for external potentiometer. Features Microcontroller based design for greater flexibility and ease of control Individual servo controlled via onboard preset or external pote ...
Read more

›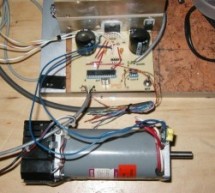 Project Description This project was developed as an inexpensive way to drive small dc brushed motors as positioning servos for use on a desktop sized CNC machine. The board is interfaced to the PC through 2 pins of a parallel port. The drive signal on these pins is known as quadrature drive. The power stage consists of a power op amp driven in constant current mode. The internal PIC processor ( a 30f4012 f ...
Read more

›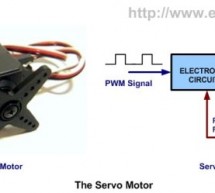 Servo motors are widely used in robotics and industries for motion control. They can be controlled by PWM signals where the required angle of rotation can be located by a particular PWM signal. So In this article we'll see in detail on PWM servo control and how servo motor control using pic16f877a is possible. Servo motors have an output shaft which is connected to an arm and the mechanical connections are ...
Read more

›
Versatile project has been designed to use in automotive application and industrial servo control application. This project provides all active necessary functions for closed loop servo system using Brushed DC Motor and potentiometer mounted on output shaft of DC Motor Gear. This project is ideally suited for almost any servo positioning application. Features POWER SUPPLY: 12-30V DC MOTOR LOAD: 800mA MAX P2 ...
Read more

›
0 – 5V Servo Controller project will control a hobby type servo motor connected to it via a preset or external DC source.  This kit will be ideal add on in animatronics and motion control application. Specifications Microcontroller based design for greater flexibility and ease of control Single Servo control via clearly marked berg connector Clearly marked jumper to select signal source to control the Servo ...
Read more

›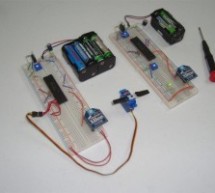 Searching for a reliable wireless solution for your project can be a real pain if you're not familiar with current wireless standards, data rates and reliability. The Xbee Modules that we will use in this article are widely available, use a very reliable wireless transmission protocol and have sufficient datarates for most hobby projects. This article will show you how to build a basic wireless input and ou ...
Read more

›
In many project like CNC machines people use stepper motors. They are probably always more expensive than servos. They can rotate 360°, 1 step = 1,8° (mostly). Servos can rotate only from 0° to 180°, 1 step = 1°. But why are they working this way, inside them we will find potentiometer which rotates as servo (up to 180°), but have 1024 steps. I've started to think about it. Step 1: What I have used Picture ...
Read more

›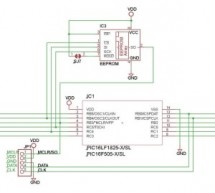 A Microchip PIC based servo controller offering many of the capabilities of digital servos for under $9! The controllers capture the r/c receiver output, optionally manipulate the samples, then regenerate new servo control signals. As such, they greatly enhance what is possible with cheap servos. They were created for my Steam Turret Tank Instructable. Here is a list of some of the things possible: Expand n ...
Read more

›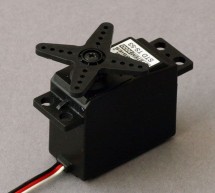 Use a PIC Microcontroller to Control a Hobby Servo This instructable describes how to integrate hobby servos (the kind used in RC planes, cars, etc.) into your microcontroller projects. How Servos are Different from Regular Motors In a regular DC motor, the amount of torque the motor exerts on the shaft is proportional to the amount of current flowing through the motor. A simple way to control it is by vary ...
Read more

›