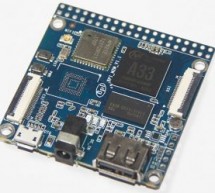 Sinovoip had announced its new board Banana Pi M2 Magic. At first, it is an ARM SoC development board that features a high computing performance in a 51mm square portable design. In addition to onboard WiFi and Bluetooth, M2 Magic offers 8GB eMMc storage and DDR3 SDRAM of 512 MB. There is also an SD card slot for more storage, to install an OS for example. Banana Pi M2 Magic specifications: SoC: Allwinner R ...
Read more

›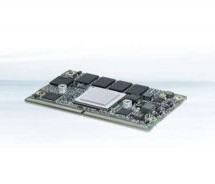 Kontron has introduced its SMARC-sAL28 module, which operates on Linux on a dual-core Cortex-A72 LS1028 SoC with -40 to 85°C temperature range. It offers up to 5x GbE ports with Time Sensitive Networking. We can see that this marks the first time Kontron has offered a module we have seen in any form factor with NXP's dual-core, Cortex-A72 powered QorIQ Layerscape LS1028 SoC. The SMARC-sAL28 is in accord wit ...
Read more

›
The pITX-iMX8M enables processor configurations on 8M QuadLite or 8M Dual in either industry or consumer versions. It has 32 KB L1 instruction cache and L1 data cache per core. The Cortex M4 coprocessor supports 16 KB L1 instruction cache and L1 data cache per core with 256 KB Tightly Coupled Memory (TCM). The SBC pITX-iMX8M features 4 GB LPDDR4 3200 MTps memory down storage and 64 GB eMMC Memory v5.1 Nand ...
Read more

›
At Spectra, Particle's annual conference, they announced three new products designed to improve enterprise-level IoT development. They are bringing IoT to maturity with total development, deployment, and maintenance platform that goes all through to the enterprise level by design. The 3 new products include: The Particle IoT Rules Engine, Particle Workbench, and Particle Mesh SoMs. The Particle IoT Rules En ...
Read more

›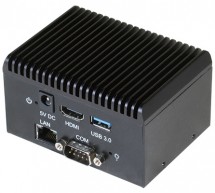 (Taipei, Taiwan – October 4, 2018) – AAEON, a leading developer of advanced IoT solutions, releases the UPC-GWS01, the world's smallest x86-based industrial computer. Just 91mm x 67mm x 55.2mm in size, the system is highly versatile and boasts onboard storage, WiFi, Bluetooth, and a comprehensive I/O interface. The UPC-GWS01, which has already won a Computex d&i Award, is built around AAEON's state-of-t ...
Read more

›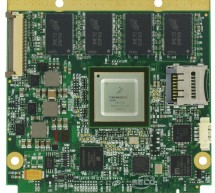 Seco Embedded Creators have launched the i.MX8M based Q7-C25 and i.MX8Quad based Q7-C26. Both can run Linux and Android, and are available in 0 to 60°C and -40 to 85°C models. The 5V modules have many similar features, but the Q7-C26 based on the more powerful, up to hexacore i.MX8Quad adds some extras such as SATA III support. The Q7-C25 utilizes NXP's dual- or quadcore, 1.5GHz Cortex-A53 i.MX8M. It facili ...
Read more

›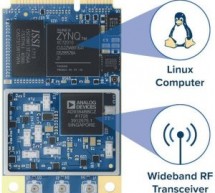 Epiq Solutions, a company from the USA, has included a new member of its Sidekiq line of Software-defined radio (SDR) add-on cards called the Sidekiq Z2. Dimensions of this card are only 51 x 30 x 5mm, the size of a full-size mini-PCIe card, the Sidekiq Z2 computer-on-module is advertised as "the world's smallest wideband RF transceiver + Linux computer in a product-ready module". The module is most suitabl ...
Read more

›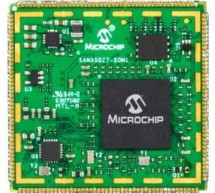 American microcontroller manufacturer company Microchip has unveiled an open source, mainline Linux ready "SAMA5D27 SOM" module. This module is based on a SiP implementation of its Cortex-A5-based SAMA5D27 SoC with 128MB RAM. The 40 x 38mm module is also compatible with a SOM1-EK1 dev board. The SAMA5D27 SOM is Microchip's first computer-on-module based on a Linux-ready application processor, and the first ...
Read more

›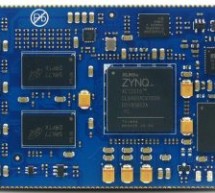 MYIR Tech has launched an $85 module, Xilinx Zynq-7010 or -7007S that runs on MYC-C7Z010/007S CPU Module. MYC-C7Z010/007S CPU Module is a part of their newly launched sandwich-style, $209 MYD-Y7Z010/007S Development Board. There's an open source Linux 3.15.0 based BSP for the module, and the MYD-Y7Z010/007S carrier board ships with schematics. Both the module and development board can withstand -40 to 85°C  ...
Read more

›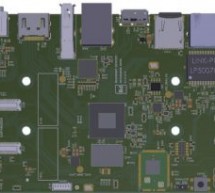 Boundary devices is the company who launched the i.MX6 based Nitrogen6 in 2012, a globally adopted i.MX 6 SABRE Lite development board (now BD-SL-i.MX6). The company has recently announced the availability of its new Nitrogen8M SBC (Single Board Computer) that runs Linux or Android on a quad-core i.MX8M processor. The NItrogen8M will be the first commercially designed and tested i.MX 8M based SBC solution t ...
Read more

›