The synchronizer ensures a contact-free, optical synchronization of external photographic flashguns. The triggering of the external flash is derived from embedded flashes of a camera. It can be used for both digital and "analogous" cameras or for a remote synchronization of the actual flash units. Its use is optimal especially with digital cameras (DC), where extraordinary adaptability for different systems will stand out. It is capable of eliminating the effect of any measuring pre-flashes. The synchronizer thus perfectly fulfils the role of a device often called the Slave Flash Trigger (SFT).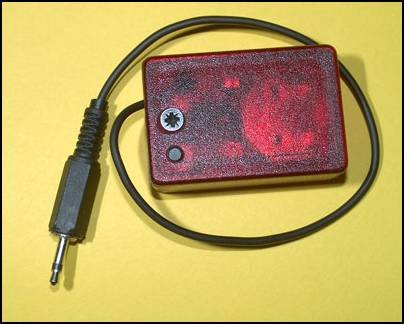 Thanks to an optical coupling, it enables safely to use even the oldest flashguns that could otherwise damage DC by high voltage ignition. The Slave Flash Trigger enables to place the external flashgun in the close proximity of DC, but thanks to high sensitivity the flashgun can be even tens of metres away from the camera, if needed. Having such sensitivity, the device is remarkable with high resistance against the effects of ambient lighting and the interference by varying light sources. Also, the operation outside under sunshine does not make problems for it thanks to an adaptation algorithm. Not a negligible advantage is the possibility of its simple and safe application with cameras to which otherwise the external flashguns cannot be connected at all.
THIS SOFTWARE CAN FREELY BE USED ONLY FOR NON-COMMERCIAL PURPOSES. THE AUTHOR PROVIDES THIS SOFTWARE "AS IS", ABSOLUTELY WITHOUT ANY GUARANTEES, AND DOES NOT ASSUME ANY RESPONSIBILITY FOR ITS QUALITY, FUNCTIONALITY OR ANY DAMAGES INCURRED BY USING THIS SOFTWARE. TO CLAIM ANY COMPENSATION FOR DAMAGES FROM THE AUTHOR IS THEREFORE FULLY EXCLUDED.
The program is in the HEX INTEL format and includes a configuration word.
Slave Flash Trigger Software version FL6318 for processor PIC 12F675
Copyright by Pavel Janko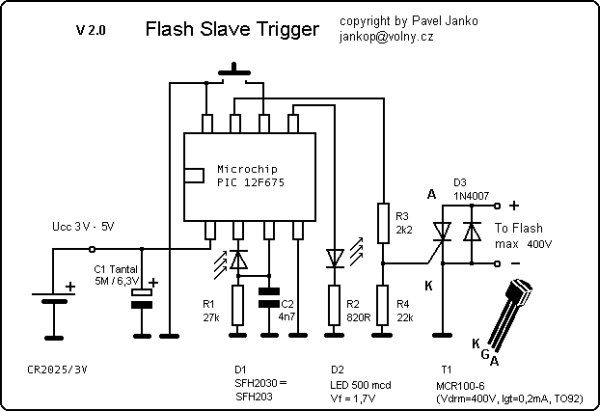 The Slave Flash Trigger in connection with the external flashgun helps solve the following problems:
It ensures a reliable synchronization even when measuring pre-flashes exist
It reliably eliminates the creation of light spots – "UFO" when photographing in the environment with dust particles
It reduces the creation of the effect of red eyes
It allows using a more powerful flash during demanding light conditions
It can be effectively used as a synchronization unit of the external flash for underwater photography or speleology
It excellently helps in the close-up of very near objects when the embedded flash of a camera cannot in many cases be used
For more detail: A Programmable Optical Slave Flash Trigger for Digital Cameras with Processor PIC 12F675