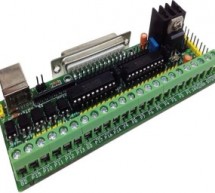 Parallel port I/O break out board designed for Hobby CNC, Routers and Motion controller ,  This Board is an easy solution to driver stepper Motor driver, AC Servo (with Step-DIR Driver) and DC servo (with Step-DIR Driver), The Board is compatible with various CNC software specially made for LPT port data out. The board has been tested with MACH3 CNC software.   All outputs are buffered, all inputs are optic ...
Read more

›
I really like the STM32 family of ARM microcontrollers. This breakout board is a narrow design that fits perfectly on a breadboard. Every pin is accessible. It has USB, a reset button, and a bootload button. The chip itself has a permanent USB bootloader that is activated by the bootload button. This means that no equipment is required to program this microcontroller, no expensive debugger, nothing at all e ...
Read more

›
This is an improved version of my 18-pin PIC16F series breadboard module that I have used in many of my PIC tutorials and projects published in this website. The new version has got a +5V power supply regulator on-board and a 2.1mm female barrel jack for DC input from a wall adapter. The 18-pin PIC16F series microcontrollers are still very popular among hobbyists and beginners because of their compact size, ...
Read more

›
The 12F series of PIC microcontrollers are handy little 8-pin devices designed for small embedded applications that do not require too many I/O resources, and where small size is advantageous. These applications include a wide range of everyday products such as hair dryers, electric toothbrushes, rice cookers, vacuum cleaners, coffee makers, and blenders. Despite their small size, the PIC12F series microcon ...
Read more

›