Here in this post/tutoriqal i am going to teach you how to display images on Graphical lcd using Pic Microcontroller(pic16F877). I am using JHD12864E graphical LcD in my Project. JHD12864E is 128×64 dimension lcd. 128×64 means it has 128 coulombs and 64 rows. So total dots it has is 128×64=8192. You can display an image of maximum size(Dimension = 128×64) with in this range. Some notable things before start ...
Read more

›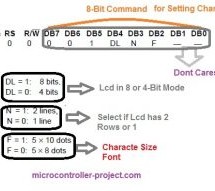 Character lcds can display character of font size 5×8 and 5×10. In 5xn, 5 represents number of coulombs and N represents number of rows. Character lcd's especially which are controlled by Hitachi HD44780 controller can display 5×8 and 5×10 size font character. Some lcd's can only display character in 5×8 font. In this project i am going to teach you how to display characters of font size 5×8 and 5×10 on cha ...
Read more

›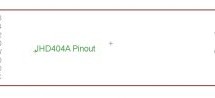 This post covers how to interface JHD404A 40×4 lcd with microcontroller (89c51, Pic16f877, Arduino etc). JHD404A is a 40×4 Character lcd. 40×4 means it has 40 coulombs and 4 rows. On each row of lcd we can display 40 characters/numbers etc. Total characters which we can display on 40×4 lcd is equal to (40×4=160) 160. Like all other character lcd's JHD404A also has a controller in it which controls its inter ...
Read more

›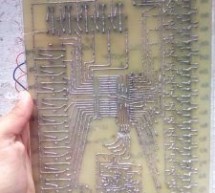 An year ago i made a plc (programmable logic controller) using microchip pic microcontroller. Its a 16 bit digital input and output programmable logic controller. Plc programming is done using a standard ladder logic language. The software that is used for plc programming and ladder logic design is an open source compiler written by Jonathan Westhues called LDMicro. Microchip pic microcontroller t ...
Read more

›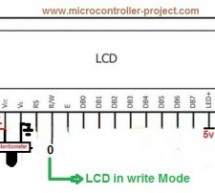 Displaying Text on 16×1, 16×2 or any size of character lcd is not a complex task. Once you know about the internal structure of the character lcd, lcd pin out, registers associated with lcd's and CG-RAM(Character Generated RAM) then its all on your finger tips. If you are really interested in lcd programming, and want to know about how to display text on lcd? First take a small tutorial on the Internal Stru ...
Read more

›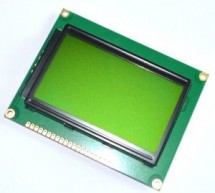 In this post/tutorial i am going to teach you how to interface graphical lcd jhd12864E with microchip pic16f877 microcontroller. I am going to display my website name "www.microcontroller-project.com" and a special pattern that displays thick lines on dotted graphical lcd display. In graphical lcd name "jhd12864" the number 128×64 means lcd has 128 coulombs and 64 rows. On graphical lcd's data(character, nu ...
Read more

›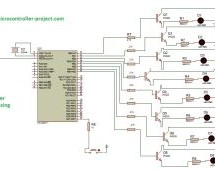 This is a simple tutorial/project on how to interface a transistor (2n2222), led and push button with Pic microcontroller. In the project i am going to switch on and off(blink) an led with the help of a push button. Since transistors are used at outputs we can drive heavy loads with the same circuit. Pic16f877 microcontroller is used in the project. Port-B of Pic16f877 is used as output port. Port-B of pic1 ...
Read more

›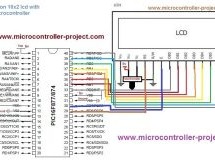 Displaying moving or scrolling text on lcd(16×2,8×1,16×4,8×2,16×1,20×1,20×2 etc) is very easy using any microcontroller. You just need to know how to efficiently use 16×2 lcd commands. In this project i am using pic 16f877 microcontroller to display text and then scroll it on the 16×2 lcd. The lcd which i am using is 16×2. Where 16 represents number of coulombs and 2 represents number of rows. Text which i ...
Read more

›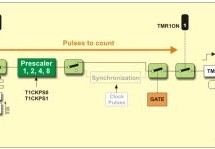 While working with microchip pic microcontrollers i came across a situation where custom delay is required in seconds. I was working with pic18f4580 microcontroller, Mplabx ide and xc8 compiler. I know that __delay_ms() and __delay_us() macros do exists for generating delays. But i want to see how the timer configuration is done for one second delay. I want to go through the whole process by my self. I read ...
Read more

›
PicKit2 is a programmer designed by Microchip to program its pic microcontrollers. PicKit2 supports many 8-bit pic microcontroller series. PicKit2 supports almost all Pic-10/12/16/18/24 and dspic-30/33 flash series microcontroller's. Pickit 2 is an ICSP (In-circuit serial programmer) programmer. In icsp interface, microcontroller can be programmed while its working in the circuit. An icsp programmer uses 5 ...
Read more

›