MYIR introduces a high-performance and cost-effective ARM SoM MYC-C8MMX CPU Module powered by i.MX 8M Mini which is NXP's first embedded multi-core heterogeneous applications processors built using advanced 14LPC FinFET process technology. The processor on this module features up to 1.8GHz quad-core ARM Cortex-A53 plus 400MHz Cortex-M4 processor. The module runs Linux, Android OS an ...
Read more

›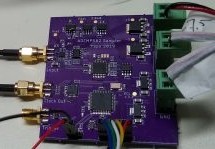 A basic open-source multi-GHz sampling oscilloscope for experimenters on a budget. Still a work-in-progress, with key pieces on separate PCBs, but showing bandwidths in the 7-8 GHz range with >= 100 GSa/s equivalent-time sampling, and around 500 k comparisons/second real time. So far. Note: this writeup is somewhat out of date, as it doesn't cover many results that I ended up discussing at Supercon 2019. ...
Read more

›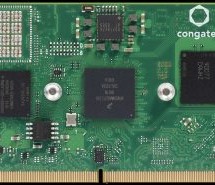 Congatec is introducing a new CoM, the Conga-SMX8-Nano that offers up to 4x ARM Cortex-A53 and 1x Cortex-M7 core along with 1,000's of different possible configurations. This SMARC 2.0 module based on NXP i.MX 8M Nano processor series can meet ultra-low-power requirements with high-level performance while being very cost-effective. Conga-SMX8-Nano module featuring the ...
Read more

›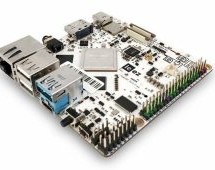 Lenovo has recently ventured into the community-backed SBC market, flagging off with a Rockchip-based board. They follow suit with fellow PC makers Asus. Their flagship Leez P710 boasts a more powerful, hexa-core Cortex-A72 and -A53 Rockchip RK3399 than that of the Asus Tinker Board's RK3288. The Leez P710 was announced last February at Mobile World Congress and has b ...
Read more

›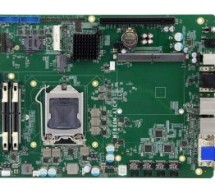 IBASE Technology Inc., a world leader in the manufacture of embedded boards and industrial computing systems, announces a new NVIDIA MXM compatible motherboard designed for AIoT applications. The MT800M-P supports the latest 8th Generation Intel® Core™ processor family, enabling customers to benefit from optimized processing and graphics performance and enhance I/O capability. With the increasing ...
Read more

›
With the UG85, ICP Germany launches an intelligent and compact indoor LoRaWAN gateway that can be expanded in many ways. The UG85 is offered with a 64-bit ARM Cortex A-53 with 800 MHz, 512MB DDR3 RAM and 8Gb eMMC flash memory. Eight LoRa channels based on the Semtech SX1301 chipset are available, which can be delivered in the frequency band for the respective target country. The UG85 supports version V1.0 C ...
Read more

›