The 'One Chip Spinning RGB POV Display' with conversion software. If you have been on the look out for a project that combines, RGB LED's, a motor, a microcontroller and a ridiculous amount of hot melt glue, then you have certainly come to the right place. Allow me to introduce the 'One Chip' Spinning RGB POV Display This project allows you to create (with minimal components) a fantastic customizable displa ...
Read more

›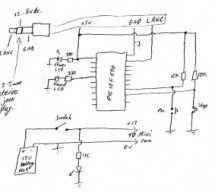 Cheap PIC controlled Helmet Camera using Sony LANC (Good for Extreme Sports) This Instructable will show you how to make a cheap Helmet Camera which can be controlled via a remote so your main camera can stay safely in your ruck sack. The controller can be attatched to one of the shoulder straps of you ruck sack, and will allow you to Record and Stop the camera as well as being able to switch the 'bullet' c ...
Read more

›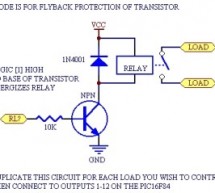 This article shows how to use the PIC16F84 microcontroller with PicBasic to design a quick & effective, serially controlled, I/O-Expander.  Using PicBasic makes developing handy single-chip devices like this extremely simple. If you're spending all your time programming in assembler, you'll appreciate how simple PicBasic is to use, and how easily you can create single-chip solutions like this one in mer ...
Read more

›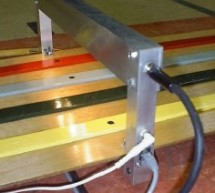 Introduction This project is for the hobbiest who wants to build a measurement and display unit for an Awana Grand Prix® track (also known as a Pinewood Derby track.) The racetrack for which I designed this unit is a 4-car track. A car is approximately seven inches long, is released by a gate at the starting line, rolls down the ramp by gravity, and crosses the finish line in approximately five seconds. Thi ...
Read more

›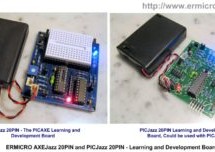 These days we are living and surrounding by many tiny computers called embedded products. Unlike the general purpose desktop computer that we use for browsing or typing our email, this tiny computer is designed to do only a limited specific task. We could easily found this embedded product just about anywhere such as home appliance (e.g. washing machine, refrigerator, microwave oven, TV/DVD), personal gadge ...
Read more

›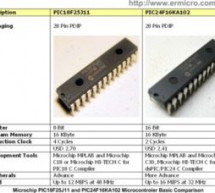 One of the commonly asked questions when we move to the bigger and powerful 16-bit microcontroller is do we really need it? As the 8-bit microcontroller is already suite almost all of our needs from a simple blinking LED to more sophisticated embedded application such as robotics. Despite the debate whether to use the 8-Bit or 16-Bit microcontroller or perhaps just go straight to 32-bit microcontroller in o ...
Read more

›
Openbench Logic Sniffer is an open source logic analyzer. It's designed to support the SUMP logic analyzer software at the lowest possible cost. Download the source and design files from the Gadget Factory project page. This project started in the comments on a post. Initial circuit design, PCB layout, development, and testing continued in the forum under the code name Project SUMP PUMP. Many, many people c ...
Read more

›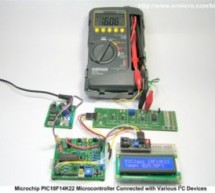 The Inter-Integrated Circuit or I2C (read as I square C) bus has been introduced in 1980 by Philips, and has become a de-facto world standard for data exchange between Microcontroller and various devices such as temperature sensor, ADC (analog to digital converter), DAC (digital to analog converter), I/O expander, EEPROM, and many more. With more than thousand different IC devices have been manufactured wit ...
Read more

›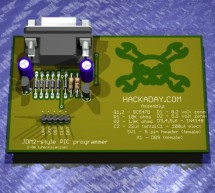 Business Card PIC Programmer This was my entry for the Hack A Day business card size circuit contest. I just zipped up the files and put them on my website. I'm posting it here because all the other entries seem to be on a blog for easy access. Hopefully this will make the project more accessible and reduce the load on my server. The attached archive is the contest entry as it was on my server, minus the im ...
Read more

›
A logic probe is considered as a stethoscope for engineers and technicians for debugging digital logic circuits that consists of logic gates, memories, registers, etc. A digital multimeter (DVM) can also be used for such analytical purposes but it gives you the numeric value of the voltage at a point instead of the logic state. Depending on whether the circuit is based on TTL or CMOS components, the voltage ...
Read more

›