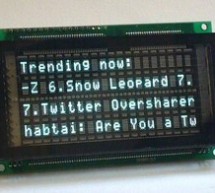 The #twatch scrolls the latest trending topics from Twitter on an LCD screen. It's a stand-alone network appliance that stays updated without a PC. It was awesome to watch #iranelection, Michael Jackson, and other historic events scroll by while we developed the #twatch. This Instructable documents the #twatch hardware and design. In addition to a Twitter trend ticker, the #twatch is also a generic ethernet ...
Read more

›
Frequency Detector using PIC 12F683 Processor This project describes hardware and software I have developed which allows a small 8 bit PIC microprocessor to function as a single frequency detector or tone decoder. Such a circuit can be used to detect the presence of a certain frequency within an analog signal, such as an audio signal.  I could be used in remote control applications, or to detect musical not ...
Read more

›
PWM Fan Controller You can see the PWM Fan Controller project here. The heart of the PWM Fan Controller is a PIC 12F675 microcontroller. This microcontroller is reading the analog output of a LM35 temperature sensor using a ADC (analog to digital converter) . The resulting digital value is converted to a temperature and a fan is powered proportionally to how hot the sensor is. The sensor is mounted against ...
Read more

›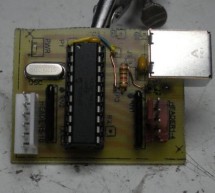 Quick Key Adapter, 10 Button HID Keyboard This Instructable covers creating a USB connected Human Interface Device Keyboard that has 10 button inputs which are mapped to key combinations in the firmware. Key combinations can be quickly accessed without using the keyboard which may be inconvenient to use. Such as with a MAME or similar machine where the keyboard may be stored or inaccessible or certain keys ...
Read more

›
Augmenting a Microcontroller Microcontrollers (MCUs) are fantastic little ICs that give an extra element of versatility to your electronics, robotics or other project. But they're really not much use on their own. To function, all MCUs need some sort of support components, and a board to live on — one example of course being the famous Arduino. These boards are called 'augmented microcontrollers'. And why n ...
Read more

›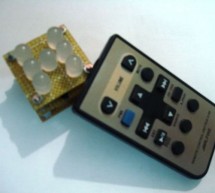 Remote controlled led dice I've always wanted to build an electronic led dice, but something different from what we see on the internet. Making it motion controlled... now that's new! I make remote controlled led dice please share with every one and like my projects Tools 1. soldering iron with stand 2. veroboard cutting tools 3. drill machine 4. helping hand Parts 1. 10mm led (7) 2. vero board (3 piece 15* ...
Read more

›
ECG on your laptop! That's right! This Instructable shows you how to build a device that enables you to do an electrocardiogram on yourself, your family or your friends! All you need is intermediate-level knowledge on electronics, access to Ye' Ol' Electronics Shoppe (or online shopping if preferred) and a laptop. The device is composed of an amplifier/filter and a microprocessor unit, everything surrounded ...
Read more

›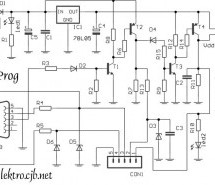 All pic programmer DO YOU HAVE A PIC PROGRAMER? NO. DO YOU NED A PROGRAMMER? NO. DO YOU NED A PROGRAMMER?(WITH ANGRY VOICE) I MEANT YES THAN THIS PROGRAMMER IS MADE FOR YOU Step 1: MICROCONTROLERS First something about microcontrolers: 1.Intro to microcontrolers 2 How to use the icsp headers 3 How to chose a microcontroler And if you have some(more) time sing up on eRepublik Step 2: Parts Ic1 - 78L05 T1,T3 ...
Read more

›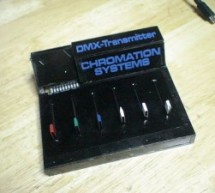 PIC18F Based 6 Channel DMX Transmitter Based on AN1076 - "Using a PIC® Microcontroller for DMX512 Communication". Modified and added to Microchip's code to use 6 AdC Channels for 6 channels of DMX data and the ability to offset its starting address via a 9-position DIP switch.Designed to demonstrate a simple DMX transmitter and to test DMX Controlled lights without having to adjust their address or change a ...
Read more

›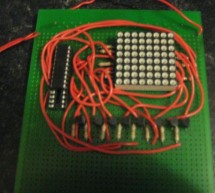 8x8 LED matrix This instructable will show you how to make a 8x8 LED matrix in witch you can control evry single LED and create your own patterns as long as they only need 64 pixels to show them in one color.Update 25.09.10 I've added a pattern generator to create patterns but not all of it's features are complete LED 8X8 Matrx pattern generator.rar193 KB Materials Materials you need: -8x8LED matris (can ma ...
Read more

›