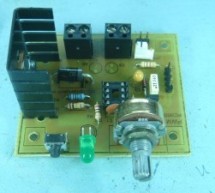 Description There are lots of designs on the Internet for DC power controllers using Pulse Width Modulation (PWM) to control the speed of a motor or power to a resistive load.  Most of these use analogue methods to generate the PWM signal which in turn drives a power MOSFET or transistor. When I wanted a speed controller for the PCB drill I use to make all my PIC Projects what else could I do but design a P ...
Read more

›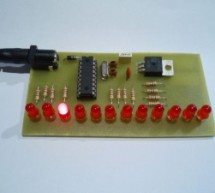 Description This simple circuit functions as a 12 LED chaser.  A single illuminated LED 'walks' left and right in a repeating sequence, similar to the effect seen on KITT, the car in the Knight Rider TV series. Fully commented source code and programmer ready HEX files are provided for the PIC 16F84A and 16F628A at the bottom of this page. The circuit has been constructed on a PCB but can easily be built on ...
Read more

›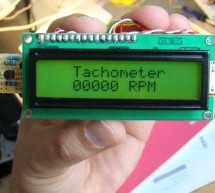 Tachometer is a device that measures the rotational speed of any shaft or disc. The unit of the measurement is usually revolutions per minute or RPM. The traditional method of measuring RPM of a rotating shaft was based on velocity feedback concept where a dc generator is hooked to the rotating shaft so that the voltage induced across the generator's terminals is proportional to the speed of the shaft. Toda ...
Read more

›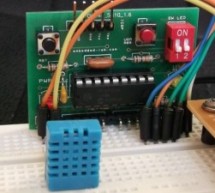 Measurement and control of temperature and relative humidity finds applications in numerous areas. These days devices are available which have both temperature and humidity sensors with signal conditioning, ADC, calibration and communication interface all built inside them. The use of such smart sensors greatly simplify the design and reduces the overall cost. We discussed in past about Humidity and tempera ...
Read more

›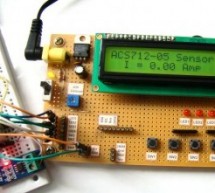 In the first part of this discussion, the features of ACS712 device were briefly discussed. Now we will use that theory to implement the ACS712 sensor to make a simple DC current meter. The analog output voltage from the sensor is measured through an ADC channel of the PIC16F1847 microcontroller. A voltage to current conversion equation will be derived and implemented in the firmware of the PIC microcontrol ...
Read more

›
Capacitors are one of the most common passive electrical components that are extensively used in all kinds of electronic circuits. In this project, we will discuss a technique of building a digital capacitance meter using a PIC microcontroller. This project can measure capacitance values from 1 nF to 99 μF, with a resolution of 1 nF. The technique is based on measuring the time elapsed when a capacitor is c ...
Read more

›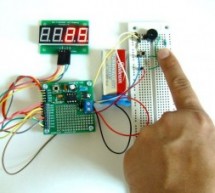 The goal of this project is to construct a simple 0-9999 seconds count down timer with an alarm and a display. The time is set through two tact switches and the count down seconds are displayed on a 4-digit seven segment LED display. The project uses PIC12F683 microcontroller for all I/O and timing operations and MAX7219 IC for driving the seven segment LED module. The time out condition is indicated by an ...
Read more

›
Introduction This project will describe how to make a simple digital voltmeter (DVM) using a PIC16F688 microcontroller. The range of this DVM is 0-20V, but you can easily increase or decrease the range of input voltage as your requirements after you understand the voltage scaling method described in this project. The PIC micro reads the input voltage through one of the 8 analog channels and convert it to a ...
Read more

›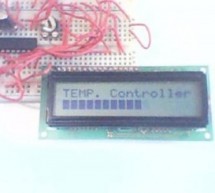 Ever needed to measure temperature and display it? This project details measuring temperature using a temperature sensor ,an ADC and a Microcontroller PIC16f84a with schematics,codes and illustrations. You can also get the following kit, although not based on the pic, which would make your life easier for your future projects. This project was done fairly long ago, so please excuse the quality of the pictur ...
Read more

›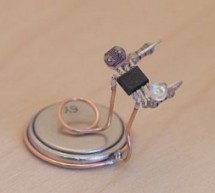 Alex Weber over at Instructables built a great programmable LED based on the AVR chip.  Since I am tooled for PIC, I thought it would be fun to replicate what he has done. This simple project is fun and it provides a great building block for playing with collective behaviors. This is a How-To for constructing a PIC-based programmable LED. Following Alex Weber's post on Instructables on 6 March 2007, I cre-a ...
Read more

›