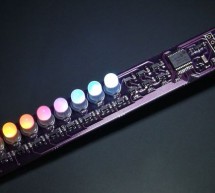 Aurora 9 bar - The Essence of Aurora Since the introduction of Aurora 9x18, I received many requests for the kits and PCBs. I'm still quite undecided about making those available for a few reasons. However I really want other LED lovers (ok that might sound too much to be able to build one themselves. So I came up with Aurora 9 bar. It's a bare essential version of Aurora 9x18. In fact the circuit is almost ...
Read more

›
PC Interfacing a GameBoy Camera Here's another past project of mine from a couple of years ago. At that time I was looking for a low-res camera for simple robotics image processing, and all I had experience with was PIC (12, 16, and 18) microcontrollers. So I didn't really get to work on the images real time (not enough RAM or speed, and I could not find any suitable SRAM around at that time). I think I'll ...
Read more

›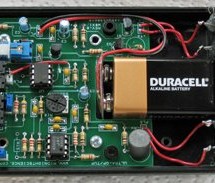 Imagine veterans and potential radio licensees gathered in a classroom, seated side-by-side facing the front, headphones on and a key at hand – both plugged into their QSO Party Rigs they each built the previous week - exchanging code as directed by designated net control! They're not just sending in a vacuum or listening to a code practice oscillator; they're communicating! Eric, 13 and a cell texting mast ...
Read more

›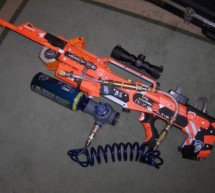 The first question I often get about this creation is "Why?." The answer is quite simple, I am an engineering student at Stony Brook University. We play a game on campus called "Humans vs. Zombies." That fact coupled with my over competitiveness, and my drive to engineer things most people wouldn't is what ultimately spawned this NERF gun. Although it may not be the first ever made, it certainly is one of t ...
Read more

›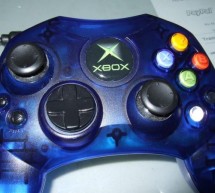 In this tutorial I show you step-by-step how I install a PIC microcontroller inside of an Xbox controller in order to provide custom functions. Now that you have the methods, all you have to do is go write some code and program a chip! Well, I know this is easier said than done, but check out my "5 transistor PIC programmer" if you are ready to go down that road. Step 1: Tools a small phillips screwdriver s ...
Read more

›
This project is not to introduce Tic Tac Toe. Everyone knows this game. It's to introduce two features. Bi-coloured LEDs, microcontrollers and the skill of writing an ALGORITHM. You can use the project to learn the skills of creating the Tic Tac Toe program or create animations on the 3x3 display. Tic Tac Toe is one of the simplest yet most-challenging games to be invented. With just a choice of nine locati ...
Read more

›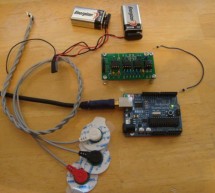 Measuring muscle activation via electric potential, referred to as electromyography (EMG) , has traditionally been used for medical research and diagnosis of neuromuscular disorders. However, with the advent of ever shrinking yet more powerful microcontrollers and integrated circuits, EMG circuits and sensors have found their way into prosthetics, robotics and other control systems. Yet, EMG systems remain ...
Read more

›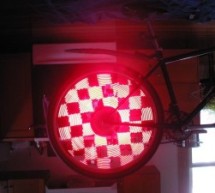 In February of 2007 I spent a little while prototyping a board that turns any bicycle wheel into a moving display billboard using a single string of LEDs. The idea was to do something that would be very visible, turn itself on and off automatically, have enough processing power to dynamically generate bike computer style displays, and have enough memory to store full resolution bitmaps. The first revision w ...
Read more

›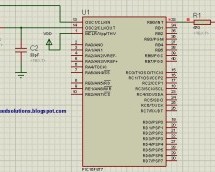 This post provides the code to make an LED blink using PIC16F877 microcontroller. This code is written in C language using MPLAB with HI-TECH C compiler. This code is intended to be the first step in learning how to use PIC16F877 microcontroller in your projects. You can download this code from the 'Downloads' section at the bottom of this page. Following figure shows the minimum circuit required to make an ...
Read more

›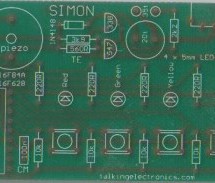 This article describes a game we all know. It is SIMON. It uses 4 switches, 4 colored lights and a speaker to produce a sequence of tones and flashes that has to be repeated. After each correct sequence, the computer adds another tone with its corresponding colored LED. The main purpose for presenting this project is not to deliver a game but to show programming routines. This program is more complex than y ...
Read more

›