It can be controlled through logic levels to set the speed and the direction of the rotation of CC brushed motors and stepper motors; outputs have LEDs indicating the rotation direction. The circuit board we are presenting this time is based on the dual-bridge driver L298N, in a traditionally mounted version in a Multiwatt container with 15 staggered pins; it has two terminal blocks for attaching to ...
Read more

›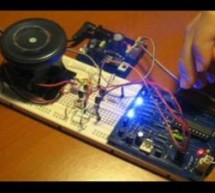 One of the advantages using the Microchip PIC microcontroller Pulse Width Modulation or PWM for short is; this PWM peripheral circuit is designed to control the DC motor using the full bridge mode PWM feature. The PWM peripheral works by supplying the correct signal to the H-Bridge DC motor circuit such as speed controlling and changing the DC motor direction. Therefore on this tutorial we will learn to use ...
Read more

›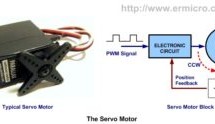 The servo motor is widely used in model hobbyist such as airplane R/C model for moving the rudder, ailerons, elevators and acceleration control or in the car R/C model for steering and acceleration control. In this tutorial we will learn how to control the servo motor as well as the simple close loop control algorithm for this servo motor. The servo motor basically is a high quality geared DC motor equipped ...
Read more

›
Dual Motor L298 H-Bridge Control project can control two DC motors connected to it.  The circuit is designed around popular dual H-Bridge L298 from ST. This board can be configured to drive a single motor with high current rating also. This can be achieved with the help of jumpers on the board.  An onboard 5V regulator can take a maximum of 18V of DC input. Should you wish to drive this board with higher vo ...
Read more

›
In this video, we cover how to breadboard and write the firmware for a motor controller (controlling a servo, 2 DC motors, and a stepper) with the PIC 18F4550. A few notes on this video: -I recorded most of the video during the evening of July 4th here in the U.S., there were fireworks going off in the background during most of the video. Also, there was a thunder storm at the beginning. I hope this does no ...
Read more

›
Features Enhanced Mid-Range Core with 49 Instruction, 16 Stack Levels Flash Program Memory with self read/write capability 256 Bytes of EEPROM Internal 32MHz oscillator 3 x PSMC (Programmable Switch Mode Controller)- Dedicated 16bit PWM- Digital and/or analog feedback control of PWM frequency- Dead-band control / auto-shutdown & restart 4 x Fast Comparators with selectable Voltage Reference 3 x Operatio ...
Read more

›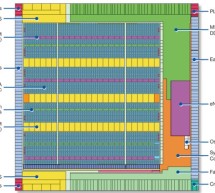 Microsemi is selling its SmartFusion2 SoC FPGA dual-axis motor control kit with a modular motor control IP suite and reference design for $599 for a limited period. The kit, which simplifies motor control designs using a single SoC FPGA, is scalable across multiple industries such as industrial, aerospace and defense. Typical applications include factory and process automation, robotics, transportation, avi ...
Read more

›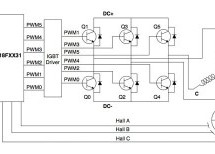 The brushless DC (BLDC) motor is becoming increasingly popular in sectors such as automotive (particularly electric vehicles (EV)), HVAC, white goods and industrial because it does away with the mechanical commutator used in traditional motors, replacing it with an electronic device that improves the reliability and durability of the unit. Another advantage of a BLDC motor is that it can be made smaller and ...
Read more

›
The module has been designed around LMD18200 from Texas Instruments. The LMD18200 is a 3A H-Bridge designed for motion control applications. The device is built using a multi-technology process which combines bipolar and CMOS control circuitry with DMOS power devices on the same monolithic structure. Ideal for driving DC and stepper motors; the LMD18200 accommodates peak output currents up to 6A. An innovat ...
Read more

›
Servo motors are widely used in robotics and industries for motion control. They can be controlled by PWM signals where the required angle of rotation can be located by a particular PWM signal. So In this article we'll see in detail on PWM servo control and how servo motor control using pic16f877a is possible. Servo motors have an output shaft which is connected to an arm and the mechanical connections are ...
Read more

›