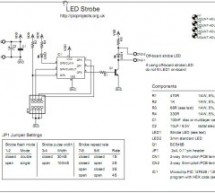 Description This project functions as a simple strobe for driving an LED.  The use of an output transistor allows it to pulse the strobe LED with a current up to 100mA. Four jumpers provide options for changing the pulse width, strobe repeat interval and single or double strobe flash.  The programmer ready code has default timings which are easily customised by editing values in the PIC's EEPROM at program ...
Read more

›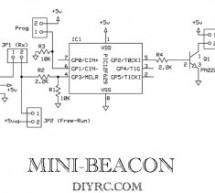 This project, called "Mini-Beacon", is a miniature programmable LED Flasher that is based around the PIC microcontroller.  This project grew out of an idea and recommendation posted on RunRyder.com.  The Mini-Beacon basically simulates the light emitted from a rotating light beacon such as those used in older police cars and fire engines.  As seen from the observer's perspective, as a real rotating beacon r ...
Read more

›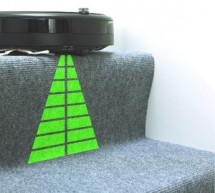 The Virtual Wallis a circuit to mimic the behaviour of the iRobot Virtual Wall/Lighthouse, provided with the robot. It produces the same infrared pattern and the robot sees it as another virtual wall, blocking its path, while vacuuming. This circuit was built mostly using SMD components to reduce its size, nearly to the size of a 9V battery (PP3/6F22/6LF22/etc). Design Considerations After examining the ori ...
Read more

›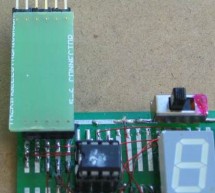 This project produces a number of effects on a set of three LEDs. You can also produce your own sequence and store it by using the 3 buttons. You can build the project on Matrix Board or buy a complete kit with pre-programmed chip. You can also program the chip yourself and use this project as the beginning to: "learning to write your own programs." This project takes the place of a number of flashing circu ...
Read more

›
Description The PIC 12F629 and 12F675 devices have an internal 4Mhz oscillator that enables the devices to be used without an external crystal or RC network.  This frees up one or two pins for I/O use and allows the device to be built into minimum component count designs. Problems arise if by accident or otherwise, the factory programmed oscillator calibration word, located at program memory address 0x3FF i ...
Read more

›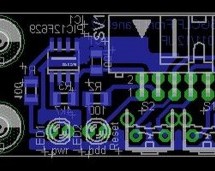 Description This is a simple circuit with two buttons and two LEDs to control the D945GCLF Intel motherboard. Both power and reset buttons are included as well as hard disc activity  LED and power status LED. The special feature included is the sleep effect of Apple laptops on the power LED! Design and Implementation The design goals were: simple to connect to the motherboard; power button; the reset button ...
Read more

›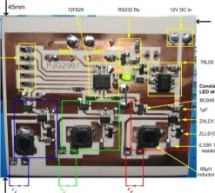 Description This project combines a PIC and three constant current 'buck' converters to produce an RGB LED controller that will operate with the the high power 350mA LEDs using PWM to control the LED brightness.  By driving the red, green and blue LEDs with varying pulse widths the controller can generate up to 16 million colours using fades, strobe and static effects. The use of surface mount components an ...
Read more

›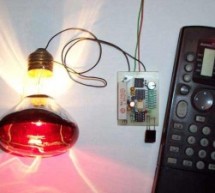 The meaning from this design is to build it in -i.e. a shaded lamp- and to switch this lamp on and off the normal way, just like it was switched before the dimmer was build in, then you could by exception dimming the lamp more or less with your TV remote control. When you switch the power on there will follow a soft-start till the lamp burns at the previously adjusted dim level. With the '0' button in TV mo ...
Read more

›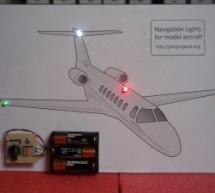 Description This project was inspired from a post on the Picprojects forum where a member had adapted the RGB Moodlight project for use as a strobe and beacon for a model aircraft. I thought this would be of interest to others so I've put this page together with schematic, examples and free code download.  You can also buy a PIC pre-programmed with the firmware from the Picprojects e-Shop The sequence data ...
Read more

›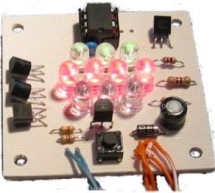 Description If you want to build your own multiple RGB LED display that you can control from either a PC or a dedicated controller then this project will let you do just that. The project on this page came about when while I was developing a more complex intelligent driver. During that work I put together a simple Red/Green/Blue Pulse Width Modulation LED driver that has a serial interface.  The RGB values ...
Read more

›