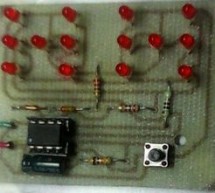 the PIC12F629 on a microcontroller based electronic dice. electronic DICE with 14 LEDs dual membranes prepared for application software mikroc used to give random results when a button is pressed for 3 seconds if... Electronics Projects, Electronic Dice Circuit With PIC12F629 "microchip projects, microcontroller projects, " the PIC12F629 on a microcontroller based electronic dice. electronic DICE with 14 LE ...
Read more

›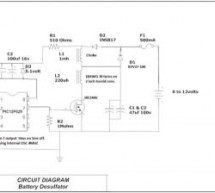 Hi everyone, After reading so many articles on Battery desulfator i've decided to come out with my version of Battery desulfator using Microchip base micro-controller using PIC12F629 or PIC 12F675. "Please pardon my english" .I don't really have time to check for minor grammatical errors. Before we begin this circuit although simple in design requires DIY builders to have at least basic PIC programming know ...
Read more

›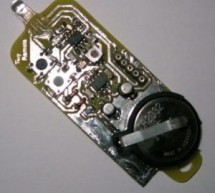 Description The Tiny Remoteis a very compact infrared remote control with only two buttons to control an iRobot Roomba. It produces three different infrared control signals that the robot interprets as Clean, Spot and Virtual Wall/Lighthouse. The circuit is built mostly using SMD components to reduce its size, nearly to the size of a keychain and is powered by a CR2032 coin battery. Design Considerat ...
Read more

›
All remote controlled projects from this site can be controlled with remote controls which use the RC5 protocol, like the TV-remotes from Philips. When all buttons from such a remote are in use then you could make a remote control by yourself. Your own build remote control with only one button or maybe you want to build a remote with more then hundred buttons. It is possible, however, you need the PIC Basic ...
Read more

›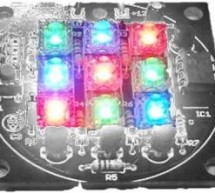 This project is an update to the original RGB LED PWM Driver.  The new version allows the use of either 5mm LEDs or the square bodied Superflux / Piranah style LEDs.  The circuit now uses bipolar transistors rather than MOSFETs which make it more suitable for novice constructors and for the first time this project is available as a kit with all parts required to assemble the PCB including the superflux LEDs ...
Read more

›
This article describes a 2-Digit Counter using a Microchip PIC12F629. It shows what can be done with an 8-pin chip having just 5 output lines and one input line. The chip drives two7-segment displays and this would normally require 7 lines to drive the segments plus another one or two lines to select the displays. We have shown how a single line can be used to drive two different segments by using the tri-s ...
Read more

›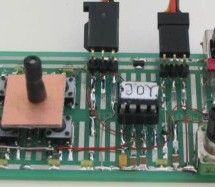 This project controls two servo motors - both clockwise and anticlockwise and has variable speed. You can use the Joy Stick to "pan and tilt" a remote camera or provide "left-right-up-down" action for a crane or an animation on your model layout. The project also tests servo motors. The CIRCUIT The circuit is fairly simple. The input from the Joy Stick has been separated into two sections to make detection ...
Read more

›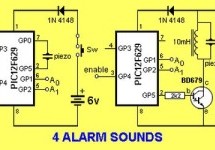 This project is a miniature 1-chip alarm. All you need is a tilt switch, battery and piezo to produce a complete alarm. If you want a very high output, you can add a Darlington buffer transistor, piezo tweeter and a 10mH choke. The chip does all the work. It sits in sleep mode (100 microamps) and waits for the enable line to go high via the tilt switch. It then produces a SPACE GUN alarm for approx 3 minute ...
Read more

›
Description This project functions as a simple strobe for driving an LED.  The use of an output transistor allows it to pulse the strobe LED with a current up to 100mA. Four jumpers provide options for changing the pulse width, strobe repeat interval and single or double strobe flash.  The programmer ready code has default timings which are easily customised by editing values in the PIC's EEPROM at programm ...
Read more

›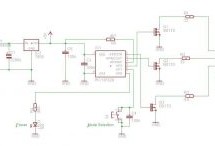 Description Power Pic RGB is a circuit that generates random RGB colors using a powerful 3W RGB LED and fades between them. The initial project goal was to develop the fading algorithm which was successfully achieved. This time the idea was to drive a Prolight 3 Watt RGB LED and place it inside a nice white globe! On the right is a picture of the first prototype board eith a small board attached that doesn' ...
Read more

›