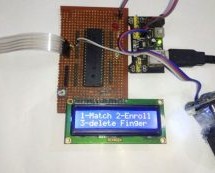 Finger Print Sensor, which we used to see in Sci-Fi movies a few years back, is now become very common to verify the identity of a person for various purposes. In present time we can see fingerprint-based systems everywhere in our daily life like for attendance in offices, employee verification in banks, for cash withdrawal or deposits in ATMs, for identity verification in government offices etc. We have al ...
Read more

›
Bluetooth module HC 05 interfacing with pic microcontroller: Hi Everyone, In this article I will explain you how to interface Bluetooth module HC 05 with pic16f877a microcontroller or any other microcontroller like 8051, AVR and Arduino. It is very easy to communicate with android mobile through Hc 05 Bluetooth module. It has many applications and this Bluetooth module Hc 05 is very popular in engineering s ...
Read more

›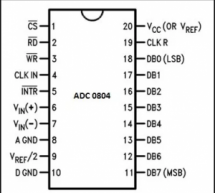 INTERFACING ADC USING 8051 MICROCONTROLLER: In this article you will learn how to interface, analog to digital converter with 8051 microcontroller. Unlike, pic microcontroller, Arduino and avr microcontroller, 8051 microcontroller do not have built in ADC.  if we want to interface any sensor with 8051 microcontroller, we have to use external ADC. For example, you want to measure temperature with 8051 microc ...
Read more

›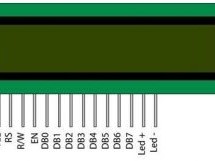 INTERFACING LCD WITH 8051 MIROCONTROLLER: In this article you will learn how to interface lcd with 8051 microcontroller. It is not very hard for interfacing lcd with 8051 microcontroller when you already know how to use kiel for programming of 8051 and how to used input output ports of 8051 microcontroller. LCD is used for displaying alphabets, numbers or some messages etc.  We already learnt about the use ...
Read more

›
DC MOTOR INTERFACING WITH 8051 MICROCONTROLLER: In many projects of embedded systems, we may need to control a DC motor using controller.  It is not good to connect DC motor directly to the microcontroller. Since the maximum current that can be sink from 8051 microcontroller is 15 mA at 5v. But a DC Motor needs much more currents. It also needs more voltages as 6v, 12v, 24v etc., (depending upon the type of ...
Read more

›
STEPPER MOTOR INTERFACING WITH 8051 MICROCONTROLLER: Stepper motors are type of DC motors. Stepper motor has multiple electromagnetic coils that are arranged in group called phases. Motor rotates when particular phase is energized. One step rotation occurs at a time by energizing a particular coil. We can also control the speed of motor. It can be interfaced with 8051 microcontroller but the same case is he ...
Read more

›
servo motor interfacing WITH 8051 MICROCONTROLLER: This article is about interfacing of servo motor with 8051 microcontroller. You will learn how to interface and control this motor using 8051 microcontroller. Servo motors are used in robotics, embedded systems and industries because they are very precise and reliable. They are used to operate remote control toy cars, airplanes or robots. Their motion can b ...
Read more

›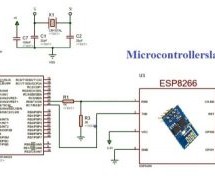 ESP8266 wifi module interfacing with pic microcontroller: Hi everyone I hope you are fine and doing well. In this tutorial, I will guide you how to interface ESP8266 wifi module with pic microcontroller. We will be using pic18f46k22 microcontroller in this tutorial. I have seen many tutorials on internet on various websites related to interfacing of ESP8266 wifi module with Arduino But I have not found a si ...
Read more

›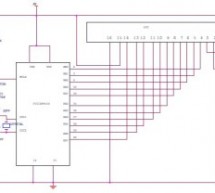 In this session we will see how to interface 16×2 LCD to PIC18F4550 microcontroller which is of family PIC18F. You can get information of 16×2 LCD in the session How to Interface 16X2 LCD with 8051 Microcontroller Features of PIC18F4550: PIC18F4550 belongs to the PIC18F family; PIC18F4550 is an 8bit microcontroller and uses RISC architecture. PIC18F4550 has 40 pins in PDIP (dual in line package) and 44 pin ...
Read more

›
This post provides the solution for using the PIC controller UART interface (e-g to connect PIC controller with PC using serial adapter). Complete code and simulation can be downloaded from the 'Downloads' section at the bottom of this post. The following figure shows the result of simulation of PIC UART in Proteus7.6. In the main function UART is intialized by calling the function InitUART (defined in the ...
Read more

›