We have been posting several latest and advanced PIC microcontroller based projects and here is another wonderful wireless home automation project for Engineering/ Diploma students, Android Bluetooth Home Appliances Control System. Android phones are very popular today due to their limitless possibilities, have you thought about controlling your home appliance from your android phone via Bluetooth?
This electronics engineering project is capable of controlling home appliances using your android device over Bluetooth. Only you have to install an android application in your android phone or tablet, then you can switch ON or OFF any electrical appliances by simply touching the screen of your android phone.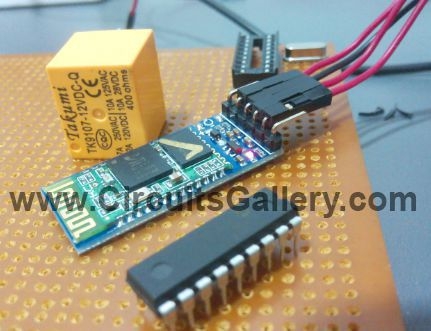 Though there are many home automation apps available in PlayStore we're gonna use Arduino Bluetooth Control. This App supports a maximum of eight devices to control, even it can be a high power water pump motor. I have been using this system in my office to control appliances like PC, A/C*, Room Light, Plug etc. So be ready guys let's build app controlled appliances.
Components Required for Bluetooth Home Appliances Control System
PIC16F628A
Bluetooth Module HC-06 or HC-05
Relay (12V x6)
Crystal (20MHz)
Capacitor (33pf x2; 10µF)
Resistor (10K)
IC ULN2003A
Push Button
Working of Android Home Automation Project
This smart home system using android application is built around PIC16F628A microcontroller to make the system smaller to accommodate inside a switch board case.
To connect android device with our embedded smart home automation system we use a HC-05 or HC-06 Bluetooth module.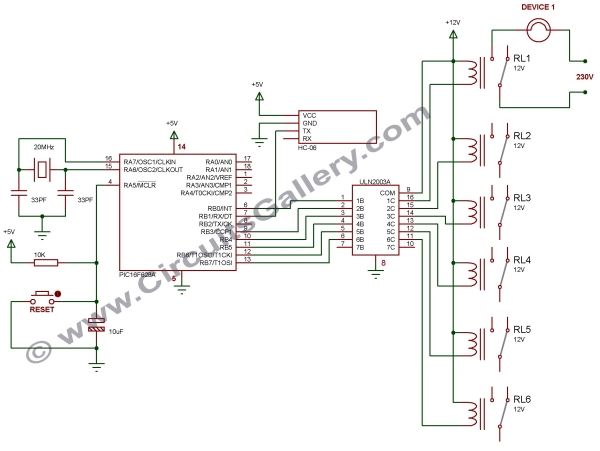 In the app, you can see eight device buttons. Names of these buttons can be edited as per your requirement like FAN, LIGHT, A/C*, MOTOR*, HEATER*, etc. and configure the App (see section configure Bluetooth App)
After launching the application you can connect your android tab or mobile device with the Bluetooth module using the default pass key "1234".
As the connection is established you can press the buttons, so it will send letters via Bluetooth, it will be available in the TX pin of Bluetooth module which is connected to RX pin of microcontroller.
For more detail: Android App Home Automation via Bluetooth Using PIC16F628A Microcontroller