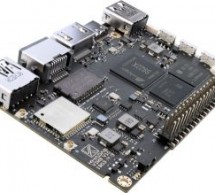 The VIM3 SBC is the latest iteration of the popular Khadas VIM series, that will be equipped with the new Amlogic S922X SoC. It is designed with the same form-factor as our popular VIM2 and VIM1, with up to 4GB of LPDDR4/4X RAM and 32GB of EMMC storage; this makes it compatible with existing accessories. 3 models of VIM3 are planned for release, however specifications for only the first model are available ...
Read more

›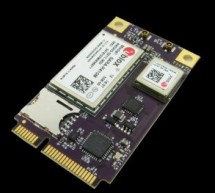 Mini-PCIe LTE Cat M1 Cellular Modem & BLE Radio. The GW16126 is a Mini-PCIe Radio card that provides cost-effective, low power cellular connectivity and Bluetooth Low Energy (BLE) for Internet of Things (IoT) networks. The GW16126 features a u- blox SARA-R410M LTE Cat M1 modem for low bandwidth cellular connectivity to the cloud. A nano- SIM socket is included with a Hologram IoT starter SIM. The GW1612 ...
Read more

›
Microchip PIC series microcontroller and Bluetooth module of the communication prepared for a sample module circuit eagle prepared by the PCB files and C programming examples are also over the mobile phone led, motor,... Electronics Projects, Microchip PIC Bluetooth Communication RN-41 "microchip projects, microcontroller projects, " Microchip PIC series microcontroller and Bluetooth module of the communica ...
Read more

›
Here is the list of related HC-05 Bluetooth module interfacing with PIC microcontroller projects: HC-05 Bluetooth link with zero code HC-05 Bluetooth link with zero code So you want to two HC-05 modules to automatically connect together, as soon as they're powered up and with zero code? Well this is your lucky day since this can be done using the AT+BIND command. c Let's do this thing! For this, you will ne ...
Read more

›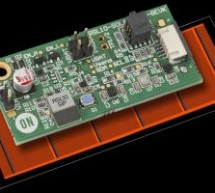 ON Semiconductor, driving energy efficient innovations, continues to enable battery-less and maintenance-free IoT with the introduction of its RSL10 Multi-Sensor Platform powered solely with a solar cell. This complete solution supports the development of IoT sensors using continuous solar energy harvesting to gather and communicate data through Bluetooth® Low Energy, without the need for batteries or other ...
Read more

›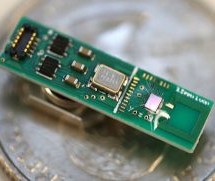 You're probably swimming in Bluetooth radio signals right now. But none of those are coming from the smallest, lowest-power end of the Internet of Things. These battery-powered and energy-harvesting millimeter-scale sensors are meant to last for years without needing replacement, but their radios can't muster the energy needed to communicate using even the lowest energy version of Bluetooth, called Bluetoot ...
Read more

›
Geniatech has posted about the launch of their DB3399 and DB3399 Pro SBCs equipped with the RK3399 and RK3399Pro SoCs, and their specifications. The Android 8.0-powered DB3399 Pro SBC runs the new AI-enhanced RK3399Pro version of the hexacore SoC.  A similar DB3399 SBC is also launched with the standard RK3399 SoC, as well as a smaller, RK3399-based Developer Board 9 (DB9) SBC. The DB3399 Pro is quite power ...
Read more

›
In IEEE 802.11ac-friendly mode, the WLAN operation supports MCS8 (256 QAM) in 20MHz channel for data rate up to 78Mbps. The CYW43012 implements highly sophisticated enhanced collaborative coexistence hardware mechanisms and algorighms, which ensure that WLAN and Bluetooth collaboration is optimized for maximum performance. Teaming with Cypress allows us to leverage our combined expertise in delivering break ...
Read more

›
Introducing one of the smallest, most upgrade-able, most complete SBC's on the market sporting the Allwinner H5, the Prime Series 1. The H5 Quad Core SOM (System on a Module) in our dev kit is perfect for makers and developers. The SOM Module is loaded with features and the complete kit makes those features easier to access. The system is powered by a 64-bit ARM Cortex-A53 and a ARM Mali 450 MPR GPU. It has ...
Read more

›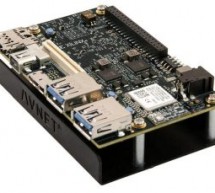 Just one year after introducing its successful Ultra96 development board, Avnet, a leading global technology solutions provider, has released the new Ultra96-V2 to power industrial-grade Artificial Intelligence (AI) and Internet of Things (IoT) applications. Complete with an updated radio module that enables engineers to extend their reach into new markets, Avnet's Ultra96-V2 is an ideal platform for smart ...
Read more

›