With my Grandma's birthday fast approaching I wanted to put something together that was not too complicated but still sweet enough to make for a cool widget gift. Since fading LEDs never seem to go out of style and grandmas always love to see a heart, putting two and two together here was a no-brainer. The concept for this small birthday present was to create a small heart shape with red LEDs and then to dr ...
Read more

›
Description This neat little circuit provides 8 LEDs directly driven from the PIC along with a single mode control switch.  The firmware elsewhere on this page drives the LEDs with a 5 bit PWM signal providing each of the 8 LED channels with four levels of intensity; off, dim, mid, bright.  A number of sequences are programmed into the firmware to provide some interesting visual effects and chase sequences, ...
Read more

›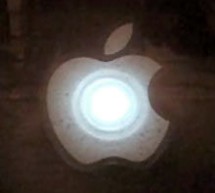 Throbbing Apple Logo Sticker This little gizmo adds the iconic "sleeping Mac throb" to an ordinary Apple logo decal. The idea for this came about when passing by the Apple Store in Palo Alto, California late one night. After hours, when the store is "asleep," the lighted logos out front pulsate just like the power indicator on a sleeping Mac, and I just about fell over laughing. Unrelated, the following day ...
Read more

›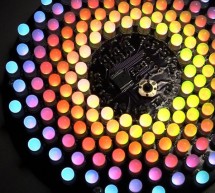 Aurora 9x18 RGB LED art *** Check out my blog for updated version of this project and more! *** My obsession of LEDs has led me to this. Aurora 9x18 is a thing of beauty (if I can say so myself) - has 162 RGB-LEDs in a circular configuration. The color of each circle is controlled by a microcontroller using a twisted form of PWM. The microcontroller (PIC24F08KA101) only has one PWM module, yet Aurora is cap ...
Read more

›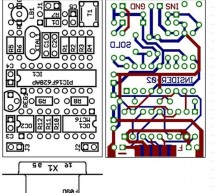 This project was sent by Electrical Engineer Atanasios Melimopoulos (Copyright (c) June 15, 2007) INTRODUCTION: In-Circuit-Debuggers, as you may already know, have become the PIC's debugging standard tool for many programmers because it's easy use and handy interface to the target picplaced- board. They come with MPLAB plug-ins that provides a full rich set of commands and functions in order to debug your c ...
Read more

›
Hello friends here is a proteus simulation of speed control of DC motor with the help of Pulse width modulation (PWM) control, PWM signals are generated by 8051 microcontroller. As we have discussed earlier that proteus is a really good simulation software for beginners and 8051 is the most basic among all microcontroller so this can be a very good project of motor control if you are doing it for first time ...
Read more

›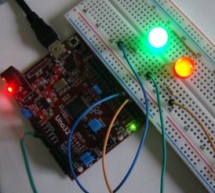 Pulse width modulation (PWM) is a technique of controlling the amount of power delivered to an electronic load using an on-off digital signal. The key idea behind this technique is that the average DC value of the digital signal, and hence the power delivered to the load, can be varied by varying the duty cycle of the signal. This method is commonly used for controlling speeds of DC motors and brightness of ...
Read more

›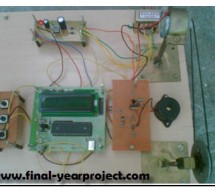 This is a good Electronic project report on Speed Control of DC Motor using Microcontroller by using PWM. In this system, a micro controller is interfaced with a LCD, Keypad and DC motor driver. The Micro controller is used for controlling the DC motor by producing the PWM pulses. These pulse widths are produced according to the key pad register values which are allotted by MC. You can also Subscribe to FIN ...
Read more

›
In our last PIC online tutorial we have covered PWM generation using PIC Microcontroller. As I told earlier PWM has wide application in electronics and robotics engineering.In this article I'm gonna show you one of the important applications of PWM in Robotics, it is called Pulse Width Modulation motor speed control. The method of generation of PWM signal is the same as before and this signal is applied to ...
Read more

›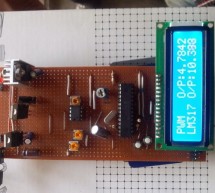 In our lab I saw many DC power supply which have a variable knob to regulate the output. I was dreaming to make such a project where I can regulate the voltage using push button.As I am not an industrial level expert so this project is just about a digital DC power supply of small range(5V-12V). You can press push buttons to increase or decrease output voltage.Here we use LM317 to regulate the output voltag ...
Read more

›