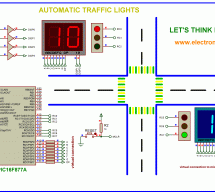 The objective of this project is to design a traffic light control system. This traffic light controller is used at the intersection that consists of a main road and two side roads. A four way traffic light control system with count down timers is to be designed and constructed. The system is to be developed with the PIC16f877A chip being the microcontroller that is programmed to do the task of controlling. ...
Read more

›
Alphanumeric LCD generally HD44780 model is very popular display . This LCD use 8 pins for data display and three pin for control and AL together 16 pin . There will be problem on project if we have to connect numbers of components in single micro-controller to make a compact type of device . To reduce number of pin used in this tutorial we are going to make a serial LCD using data shifting technique. In Th ...
Read more

›
I was thinking about making a resistor decade box, but I found the rotary switches that are used in these most of the time rather expensive and a bit old fashioned. That's why I decided to use a rotary encoder and select the resistors with a microcontroller. Now I only had to find a way to "make" the resistance. Switching resistors with transistors or mosfets gives a high switch resistance and can't handle ...
Read more

›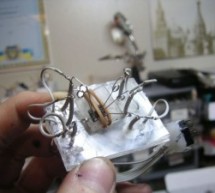 This is a homemade adapter I made for programming SOIC/QFN size microchips that I use in my micro airplanes (http://maxoffsky.com/tech-blog/rc-micro-spitfire-airplane-build-log/). I had trouble connecting the chips any other way so I made my own universal adapter. This could also be used to do In-Circuit programming without removing the chip from the PCB. If you want an adapter to connect and fit any size m ...
Read more

›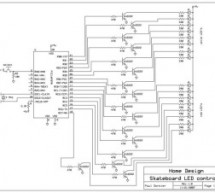 What do you get when an Electrical Engineer builds a Skateboard from scratch for a 13 year old's Christmas present? You get a skateboard with eight white LEDs (headlights), eight red LEDs (tailights) all controlled via PIC microntroller! And I might add, one very happy 13 year old, well as happy as a 13 year old can be. Following is how I modified a skateboard kit (from ROAROCKIT.COM), added LEDs to the fro ...
Read more

›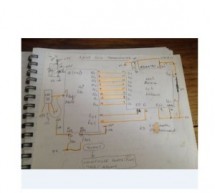 I got to thinking that an interest in hi-fi can be a bit geek ( in a good way ) so I thought one of my latest geek projects might be of interest to some of you. You could build the project 'as is' without learning embedded C programming or you could use the project as a spring board to extra geekiness and weekend fun – I'll leave that to you Learning embedded C can be hugely rewarding and creative. The tool ...
Read more

›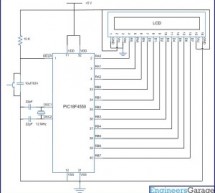 Several automated and semi-automated devices require a message to be displayed in order to indicate their working status. In continuation to LCD interfacing with PIC18F4550, this article explains how to display a message or string on a 16x2 character LCD. Programming steps: ·         Configure the LCD. ·         Store a string in a character array. unsigned char data[20]="EngineersGarage"; ·         Run a l ...
Read more

›
The Microchip PIC32 is a family of complex and powerful microcontrollers that can be purchased for less than $10 in quantities of one. This microcontroller offers many peripherals useful for mechatronics purposes, such as several channels for analog-to-digital conversion, digital I/O, synchronous and asynchronous serial communication, pulse width modulation, etc. For our purposes, the primary advantages of ...
Read more

›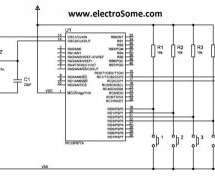 PWM is a technique used to generate analog output signal using digital signals. It is commonly used to control average power delivered to a load, motor speed control, generating analog voltage levels and for generating analog waveforms. CCP Modules are available with a number of PIC Microcontrollers. CCP stands for Capture/Compare/PWM. Using PWM module is far more easier and cost effective than using extra ...
Read more

›
This project is pretty cool for a few reasons, and driving a huge LED matrix with a single 8-bit controller is just one of them. The idea was born when I bought 120 LEDs of the wrong type, and decided to do something with them. With that many LEDs, there are only a few things you can do, and a matrix is the natural first-place-winner in the competition of those ideas. One of the LEDs did not work, so a 12x1 ...
Read more

›