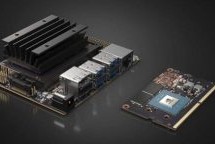 NVIDIA today announced the Jetson Nano™, an AI computer that makes it possible to create millions of intelligent systems. The small but powerful CUDA-X™ AI computer delivers 472 GFLOPS of compute performance for running modern AI workloads and is highly power-efficient, consuming as little as 5 watts. Unveiled at the GPU Technology Conference by NVIDIA founder and CEO Jensen Huang, Jetson Nano comes in two ...
Read more

›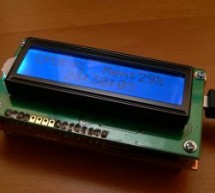 For the first version of my Open Source Framework for USB Generic HID devices based on the PIC18F and Windows I made a USB interface for an LCD. Now that I've finished the second version of the library I thought it would be fun to enhance the LCD project into a fully self-contained LCD module which fit in a 5.25 inch drive-bay of a PC case. This project explains how the LCD module can be built together with ...
Read more

›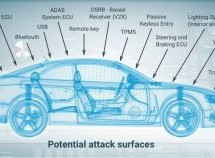 There was a time when the only types of theft automobile manufacturers worried about were patent infringements or vehicle theft as it impacted the end user. They strove to keep their latest designs safe from Intellectual Property Theft while ensuring that they fitted vehicles with the latest anti-theft technology for drivers seeking that extra level of protection. In fact, companies dealing with this issue ...
Read more

›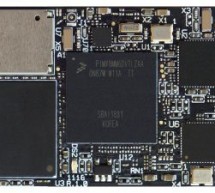 CompuLab has unveiled its UCM-iMX8M-Mini computer-on-module with NXP's new i.MX8M Mini SoC. The Linux-driven, 38 x 28mm module features i.MX8M Mini, WiFi/BT, and up to 4GB RAM and 64GB eMMC. The COM also ships on a sandwich-style "SBC-iMX8M-Mini" SBC. The company aims to apply its new module for applications like professional handheld devices, autonomous drones, and wearables (medical and nonmedical). The d ...
Read more

›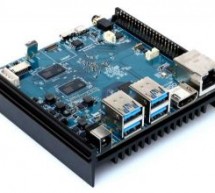 The ODROID-N2 SBC is a new generation single board computer that is more powerful, more stable, and faster performing than ODROID N1. The main CPU of the N2 is based on big.Little architecture which integrates a quad-core ARM Cortex-A73 CPU cluster and a dual core Cortex-A53 cluster with a new generation Mali-G52 GPU. Thanks to the modern 12nm silicon technology, the A73 cores runs at 1.8Ghz without thermal ...
Read more

›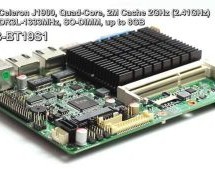 Acrosser Technology has recently released a brand new entry-level 3.5" single board computer (SBC). This new AMB-BT19S1 single board computer is powered by an Intel Bay Trail SoC. It features 8GB RAM, dual display support, plus SATA, mSATA, mini-PCIe, serial, USB 3.0, and GbE ports. As the SBC market has already seen newer Atom processor families such as Cherry Trail, Braswell, Apollo Lake, and now Gemini L ...
Read more

›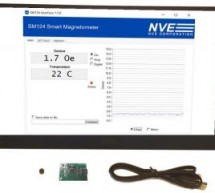 NVE Corporation announced the new SM124-10E Smart Magnetometer. The new sensor combines a Giant Magnetoresistance (GMR) sensor element with elegant digital signal processing. The versatile product can be used for current or proximity measurements. Unlike awkward, old-fashioned Hall-effect sensors, GMR is sensitive in-plane for optimal current sensing and easy mechanical interfaces. A Slick, Elegant Data Str ...
Read more

›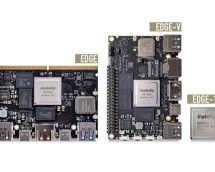 Three open-spec SBCs have been launched on Indiegogo. They are the RK3399-based Khadas Edge SBC, a new Edge-1S model that uses the AI-enhanced RK3399Pro SoC and an Edge-V model that replaces the Edge's MXM3 connector with 40-pin GPIO and adds MIPI-DSI and -CSI. Shenzhen Wesion's Khadas project exhibited the Khadas Edge SBC in July, which runs Linux or Android on Rockchip's hexa-core RK3399 SoC. Now Khadas i ...
Read more

›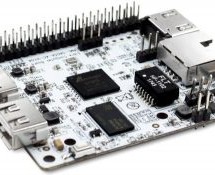 Libre Computer has successfully launched a smaller, less powerful follow-up to its Le Potato SBC, the "La Frite SBC. The La Frite SBC is a small version of the Le Potato SBC, that has a quad -A53, HD-only Amlogic S805X, a Raspberry Pi A+ footprint and GPIO connector, and mainline Linux support. The 64 x 55mm La Frite is roughly modeled on the 65 x 56mm Raspberry Pi Model A+. The new board has a different la ...
Read more

›
Kontron a global provider of IoT/ Embedded computer Technology (ECT) introduces its Linux friendly "COMe-cVR6" Express Type 6 module, that comes with a Ryzen embedded V1000 SoC with up to 24GB DDR4, including 8GB soldered on board. The board also comes with a quad- display support and optional- 40 to 85-degree Celsius operation and security features. The COM Express compact module's smaller form factor sign ...
Read more

›