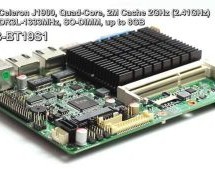 Acrosser Technology has recently released a brand new entry-level 3.5" single board computer (SBC). This new AMB-BT19S1 single board computer is powered by an Intel Bay Trail SoC. It features 8GB RAM, dual display support, plus SATA, mSATA, mini-PCIe, serial, USB 3.0, and GbE ports. As the SBC market has already seen newer Atom processor families such as Cherry Trail, Braswell, Apollo Lake, and now Gemini L ...
Read more

›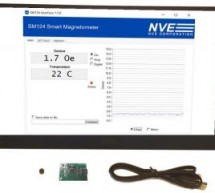 NVE Corporation announced the new SM124-10E Smart Magnetometer. The new sensor combines a Giant Magnetoresistance (GMR) sensor element with elegant digital signal processing. The versatile product can be used for current or proximity measurements. Unlike awkward, old-fashioned Hall-effect sensors, GMR is sensitive in-plane for optimal current sensing and easy mechanical interfaces. A Slick, Elegant Data Str ...
Read more

›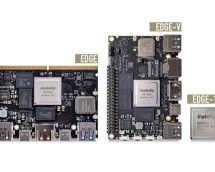 Three open-spec SBCs have been launched on Indiegogo. They are the RK3399-based Khadas Edge SBC, a new Edge-1S model that uses the AI-enhanced RK3399Pro SoC and an Edge-V model that replaces the Edge's MXM3 connector with 40-pin GPIO and adds MIPI-DSI and -CSI. Shenzhen Wesion's Khadas project exhibited the Khadas Edge SBC in July, which runs Linux or Android on Rockchip's hexa-core RK3399 SoC. Now Khadas i ...
Read more

›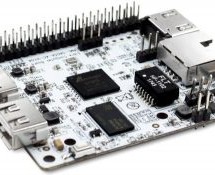 Libre Computer has successfully launched a smaller, less powerful follow-up to its Le Potato SBC, the "La Frite SBC. The La Frite SBC is a small version of the Le Potato SBC, that has a quad -A53, HD-only Amlogic S805X, a Raspberry Pi A+ footprint and GPIO connector, and mainline Linux support. The 64 x 55mm La Frite is roughly modeled on the 65 x 56mm Raspberry Pi Model A+. The new board has a different la ...
Read more

›
Kontron a global provider of IoT/ Embedded computer Technology (ECT) introduces its Linux friendly "COMe-cVR6" Express Type 6 module, that comes with a Ryzen embedded V1000 SoC with up to 24GB DDR4, including 8GB soldered on board. The board also comes with a quad- display support and optional- 40 to 85-degree Celsius operation and security features. The COM Express compact module's smaller form factor sign ...
Read more

›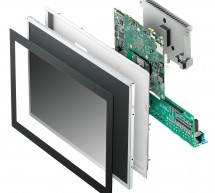 Adlink, a provider for embedded and computer solutions has launched a new panel computer to the market. Adlink has been known for providing different types of panel computers for the different markets from the general industry, consumer market and to the health sector. Adlink's new panel computer has been tagged as smart panel that offers rapid human-machine interaction device development. The new Adlink pa ...
Read more

›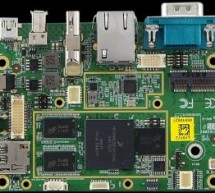 iBase, an industry leader in embedded solutions and services has now unveiled a new SBC that targets the ARM market. The new SBCs (Single Board Computer) launch will make a new shift for iBase from its traditional Intel-based SBC such as their recent Apollo Lake driven IB818. These new set of SBCs are called the Pico-ITX and are powered by NXP i.MX6 SoC. iBase launches the 2.5-inch Pico-ITX (IBR115) and 3.5 ...
Read more

›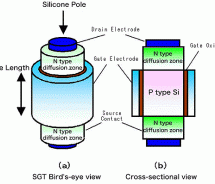 Intel co-founder Gordon Moore predicted in 1965 that the number of transistors per silicon chip would double every two years. This came to be known as Moore´s Law which has been proven accurate for the last fifty years. Many scientists argue that the law is soon to be broken because of physical limitations. The end of Moore´s law would mean a stagnation in computer processing and power and could cause econo ...
Read more

›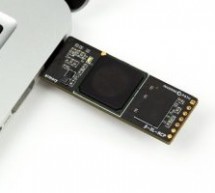 An open source USB stick computer for security applications. The USB Armory is full-blown computer (800MHz ARM® processor, 512MB RAM) in a tiny form factor (65mm x 19mm x 6mm USB stick) designed from the ground up with information security applications in mind. Not only does the USB Armory have native support for many Linux distributions, it also has a completely open hardware design and a breakout prototyp ...
Read more

›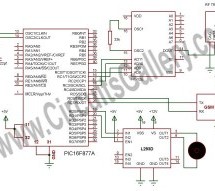 After a short break, we're back to the DIY robot projects series and I am sure you'll love this one too. Before that I suggest you to go through all our earlier simple robotics projects for engineering students as well. This time, major difference is the added security to access the robot; you can control the robot only after you speak your password. The robot can move in four directions and can be controll ...
Read more

›