ScioSense's ENS210 is a high-performance digital output sensor that monolithically integrates one relative humidity sensor and one high-accuracy temperature sensor. The device is encapsulated in a QFN4 package and includes an I²C slave interface for communication with a master processor.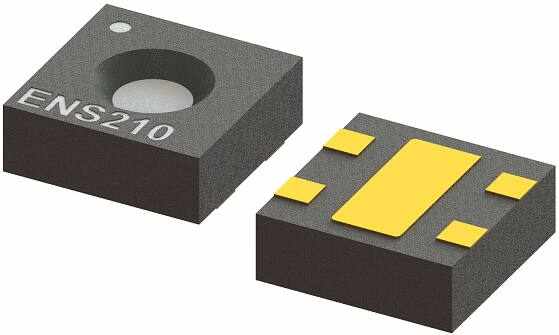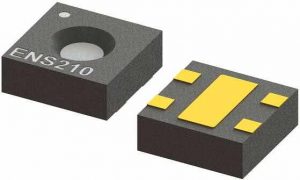 Features
Compact size: 2.0 mm x 2.0 mm x 0.75 mm
Typ. accuracy: temperature sensor ±0.15°C, relative humidity sensor ±2.0% RH
Digital pre-calibrated output in K and %RH
Wide operating range: 1.71 V to 3.60 V
Ultra-low power: standby current 40 nA, active current 6.6 μA @ 1 Hz (1.8 V)
Low drift: 0.25% p.a.
Fast response: τT < 1 s, τRH < 3 s
Applications
Home appliances (dryers, cookers, hoods, refrigerators)
Home and building climate control systems
Transportation condition monitoring
Wireless sensor nodes
Personal health and wellness monitoring
Industrial automation (e.g., server rooms)
Available Tool: Evaluation Kit For ENS210
The ENS210 Evaluation Kit is a combination of an ENS210 shield and a USB-to-I²C dongle. The evaluation kit connects to a Windows PC via USB port, and the sensor is powered via the USB connector. It can be controlled by a Windows PC-based application, which demonstrates the relative humidity and temperature values measured by the sensor. The PC application can also be used for logging sensor data and monitoring the I²C transaction. The evaluation kit can also be used for quick integration into the end customer's application. The ENS210 evaluation kit comes with an extensive set of documentation such as a quick start guide, a user manual, application notes, and others, and reference drivers for easy design-in.
Read more: SCIOSENSE'S ENS210 RELATIVE HUMIDITY AND TEMPERATURE SENSOR WITH I²C INTERFACE