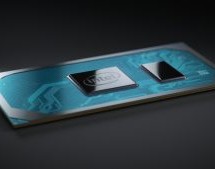 10th Gen Intel Core Processors: Highly Integrated; Broad-Scale AI to the PC Intel announced the first 10th Gen Intel Core processors, bringing high-performance AI to the PC at scale with Intel® Deep Learning Boost (Intel DL Boost). The processors are built on the company's 10nm process technology, new "Sunny Cove" core architecture and new Gen11 graphics engine. 10th Gen Intel Core processors will range fro ...
Read more

›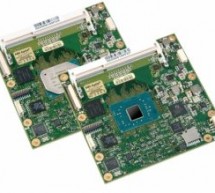 Avnet Integrated has incorporated AMD's R1000 embedded processor family, based on the Ryzen core architecture, into its COM Express Type 6 modules. The ready-to-use computer on modules (COMs) enable developers to quickly implement the new processor technology in compact embedded systems for a rapid introduction of innovative end products, claims Avnet. The desired performance data can be easily scaled via t ...
Read more

›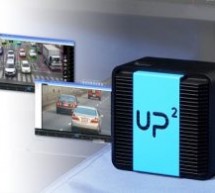 AAEON, an award winning developer of embedded AI solutions, is partnering with a leading developer of edge AI solutions, Gorilla Technology Group, to showcase the capabilities of edge AI computing. As part of AAEON's series of live demos, the AIOT-AIVD AI Gateway with Intel® Movidius™ Myriad™ X will feature IVAR™ from Gorilla, an OpenVINO™ optimized facial recognition software. Dr. Spincer Koh of Gorilla Te ...
Read more

›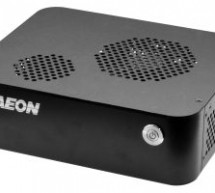 AAEON, an industry leader in embedded computing systems, announces the EPIC-KBS9-PUC barebones embedded system. Built upon our success and knowledge, the EPIC-KBS9-PUC offers the power of 6th and 7th Generation Intel Core Processors, four Gigabit Ethernet ports, and a range of expandability and customization to support your application. The EPIC-KBS9-PUC is a barebones system based on our successful EPIC-KB ...
Read more

›
Espressif announces the release of the 
ESP32-S2 Secure Wi-Fi MCU, which is a highly integrated, low-power, 2.4 GHz Wi-Fi Microcontroller SoC supporting Wi-Fi HT40 and 43 GPIOs. Based on Xtensa® single-core 32-bit LX7 processor, ESP32-S2 can be clocked at up to 240 MHz. ESP32-S2 is a highly integrated, low-power, 2.4 GHz Wi-Fi Microcontroller SoC supporting Wi-Fi HT40 and 43 GPIOs. Based on Xtensa® single-c ...
Read more

›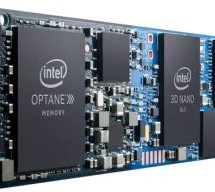 A leaked Intel roadmap reveals launch plans for Intel Core and Atom processors through the end of 2021. Of interest is a hybrid Lakefield processor design that combines a 10nm Ice Lake core and 4x Atom Tremont cores. The roadmap contains several surprises, like Intel's plans for a market launch of its 10nm U- and Y-series Ice Lake chips, and also its partially Ice Lake-based Lakefield processors by the end ...
Read more

›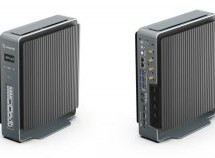 Compulab is introducing Airtop3 – a ruggedized small-form-factor fanless IoT edge server powered by an 8-core Intel® Core™ i9-9900K Processor and Nvidia Quadro RTX 4000, both passively cooled using Compulab's Natural Airflow technology. With a footprint of just 7.5 liters, Airtop3 can passively dissipate up to 300W and operate at a wide temperature range of -40°C to 70°C. Airtop3 ships with a 5 year warrant ...
Read more

›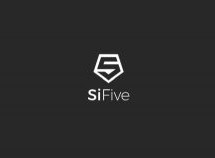 RISC-V Leader brings unmatched advanced 64-bit Core IP capability to embedded space. SiFive, the leading provider of commercial RISC-V processor IP, yesterday announced the launch of the S2 Core IP Series at the Linley Spring Processor Conference in Santa Clara. The S2 Core IP Series is a 64-bit addition to SiFive's 2 Series Core IP and brings advanced features to SiFive's smallest microcontrollers. The S2 ...
Read more

›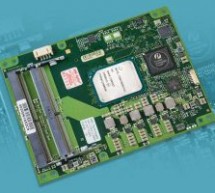 MSC Technologies Presents First COM Express Type 7 Module With Intel Atom C3000 Processor For Server Applications Stutensee, Germany – MSC Technologies, the technology brand of Avnet Integrated Solutions, presents the MSC C7B-DV, its first COM Express™ module in accordance with the new Type 7 standard, at the embedded world 2018 in Hall 2, Booth 238. COM Express™ Type 7 was introduced in the current COM.0 R ...
Read more

›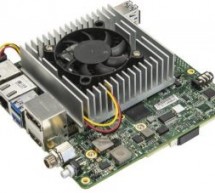 AAEON launched their UP board family back in 2015 with the original board featuring an Atom X5 Cherry Trail processor. Since then they've launched more models all based on processors with 10W or lower TDP (Thermal Design Power) such as UP Squared Apollo Lake development board. Now, they have introduced an Intel Core-U series Whiskey Lake processor (15W TDP) based SBC named "UP Xtreme" that will feature some ...
Read more

›