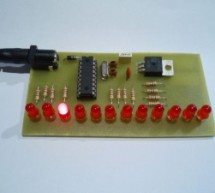 Description This simple circuit functions as a 12 LED chaser.  A single illuminated LED 'walks' left and right in a repeating sequence, similar to the effect seen on KITT, the car in the Knight Rider TV series. Fully commented source code and programmer ready HEX files are provided for the PIC 16F84A and 16F628A at the bottom of this page. The circuit has been constructed on a PCB but can easily be built on ...
Read more

›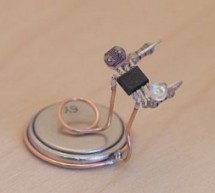 Alex Weber over at Instructables built a great programmable LED based on the AVR chip.  Since I am tooled for PIC, I thought it would be fun to replicate what he has done. This simple project is fun and it provides a great building block for playing with collective behaviors. This is a How-To for constructing a PIC-based programmable LED. Following Alex Weber's post on Instructables on 6 March 2007, I cre-a ...
Read more

›
This project uses the Simple LED Animation Kit (SLAK post or page) with the LEDs arranged in a circle around the PIC16F628A. I decided to do this project after picking up some red SMD LEDs at HSC in Santa Clara, CA, last week. Although the only difference from the basic SLAK is the board design, I find that this layout to be have the potential to be more useful. It could easily be a medallion on a necklace. ...
Read more

›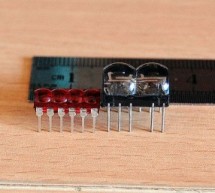 Just recently I have been addicted to old LED displays as they are small and bright and I love the classic look. We can see them in vintage calculators and vintage led watches. However these displays consume significant amount of power, so they are not used in watches and calculators anymore. As they are replaced by LCD, these LED 7-Segment displays are not in production anymore and difficult to obtain. Now ...
Read more

›
This LED clock may not be the easiest to build but surely it is the one with fewer parts that you can find, for that reason I call it "The ANP LED Clock". (ANP stands for Almost No Parts.) Using the micro controller PIC 16F84A or the 16F628 (same pinout), this clock have more and improved features than my previous LED Clock. Here are the features on this ANP LED Clock: Can use common cathode or common anode ...
Read more

›
Description PicPOV is a project based on "persistence of vision".  A PIC microcontroller blinks 8 LEDs on and off so that when waved through the air, a message appears to float in front of the viewer. Design and Implementation The design goals were: be simple to use; capable of storing multiple messages; simple to change between messages; simple to load new messages. A small microcontroller like the PIC18F1 ...
Read more

›
I started to develop what I call my "next generation of microcontroller projects" (I have to find a name for that), so I needed a character set fully compatible with ASCII using only 7 segment displays. When I started to determine how many characters and which ones I will use, I thought only 64 characters were enough; 28 Letters, 10 digits, 22 symbols. After a while I did realize that I will need a full set ...
Read more

›
LED Binary Clock This is the second revision of my PIC based LED binary clock. The original version was the first PIC project I attempted, it used a PIC16F84A to do both the timekeeping and control the display matrix, unfortunately it didn't keep good enough time and gained about a minute every week. This second version is based around a PIC16F628A running at 4MHz to control the display, it also uses a DS13 ...
Read more

›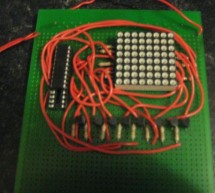 8x8 LED matrix This instructable will show you how to make a 8x8 LED matrix in witch you can control evry single LED and create your own patterns as long as they only need 64 pixels to show them in one color.Update 25.09.10 I've added a pattern generator to create patterns but not all of it's features are complete LED 8X8 Matrx pattern generator.rar193 KB Materials Materials you need: -8x8LED matris (can ma ...
Read more

›
3x3x3 LED Cube Here is my 3x3x3 LED Cube project. It runs using a PIC16F690. Along with the brief explanation of how to make it, I have also included the .asm file for the PIC and a piece of software written in VB.NET that you can create your own LED patterns. These can be exported as .asm files and put into the main .asm code. Building Each layer of 9 LEDS are connected with all of the cathodes together. T ...
Read more

›