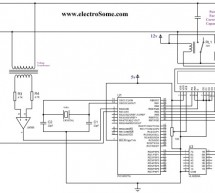 The 230 V, 50 Hz is step downed using voltage transformer and current transformer is used to extract the waveforms of current. The output of the voltage transformer is proportional to the voltage across the load and output of current transformer is proportional to the currentG'throughG'the load. These waveforms are fed to Voltage Comparators const visit page. ructedG'usingG'LM358G'op-amp. Since it is a zero ...
Read more

›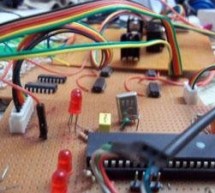 First Time Programming a Microcontroller In my previous post we have carried out the construction of the base Circuit board for our USB demo Interface Board.So lets begin with out next part for little but more info about the pic18f USB on PCB. (If wish then you can also review my pic18f4550 tutorial for beginner) . So lets get on with usb board now. Simply connecting the USB cable from your computer to the ...
Read more

›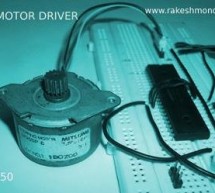 Stepper Motor Tutorial In this tutorial we are going to drive a Single unipolar stepper motor using PIC18F4550 Microcontroller in various different stepping modes. The source code and Project files are free to download at the end of this page. Stepper motor due its excellent features is very famous in between hobbyist for various robotic applications. Running DC, Stepper motor and servo is the most basic re ...
Read more

›
Microcontrollers with USB interface are common nowadays. Manufacturers provide source codes for USB device classes like CDC, HID, Mass storage and DFU. . Even in this case, programming USB communications may not be a trivial task. If it is only required to replace RS232 serial interface to USB, is worth considering using of FTDI TF-X series USB to serial bridge. Advantages: ● Entire USB protocol handled on ...
Read more

›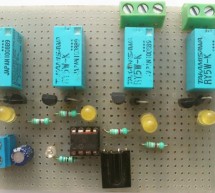 Introduction  This little project will demonstrate how you can use your old NEC IR protocol based TV,DVD or VCR remote control to control you home appliances like fan bulb or virtually anything. Consumer IR protocols There are a number of consumer Infrared protocols out there and they have been used for every single purpose possible i guess, like PDA laptops and other consumer appliances. RC-5 & RC-6 by ...
Read more

›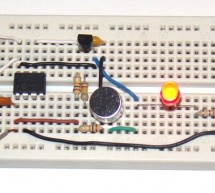 This is a simulation project that shows how to write program in assembly language for PIC16F84A microcontroller that turns on a single LED and use it in Proteus VSM to stimulate the working of the microcontroller controlled LED. To do this start by creating a new project in Proteus, give some name and save it to some folder. Click Next. We require a schematic so select Create a schematic from the selected t ...
Read more

›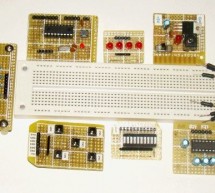 Breadboards are a great tool for prototyping and testing electronics circuits. Here I am sharing with you some plug-in modules that I once made to make my breadboarding life easier. I have used these modules many times in the PIC experiments described in this blog. These modules  serve very common functions that are required in most microcontroller circuits. Their use not only reduces the number of wire con ...
Read more

›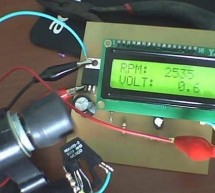 Hey friends, I should have posted this project last month itself  but there was some problem with the circuit. [link], author of this project did an exellent job. I have been watching him learning on this website. He came as a total noob but now he is well versed with 8051 and PIC microcontroller. earlier he has submitted Microcontroller Based Home Security System This project is about A Contactless Digital ...
Read more

›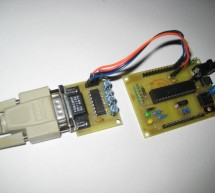 Description This article shows how to do a simple communication via a RS232 interface with a PIC microcontroller. RS232 is a standard for a serial communication interface which allows to send and receive data via at least three wires. With the RS232 interface it is possible to setup a connection between a microcontroller and a PC (via PC's COM port) or between two microcontrollers. The RS232 interface can b ...
Read more

›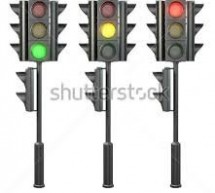 Hi friends, today we are going to make a four way traffic light controller using a PIC16F84 microcontroller. In this project we will operate three LEDs (RED, YELLOW, and GREEN) according to the traffic rules. Illumination of the green light allows traffic to proceed in the direction denoted, Illumination of the yellow light denoting, if safe to do so, prepare to stop short of the intersection, and Illuminat ...
Read more

›