VIA Technologies known for its array of embedded boards and solutions has announced the release of a Linux Board Support Package (BSP) based on the Yocto 2.0.3 for the VIA SOM-9×20 module.
The VIA SOM 9×20 module was custom designed and meant for the Android platform and so migrating to a Linux framework was something that was inevitable and less tedious to achieve as compared to migrating to a different framework.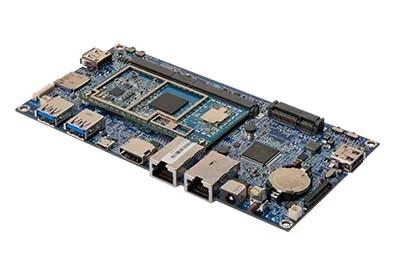 According to the Richard Brown, the Vice-president of International Marketing at VIA, he says that –
The release of the Linux BSP gives our customers an additional option for the development of Edge AI systems and devices powered by the Qualcomm® Snapdragon™ 820E Embedded Platform
The Linux BSP is expected to provide features like:
Supports UFS boot
Supports HDMI display
Supports AUO MIPI capacitive touch panels through the USB interface
AUO 10.1" B101UAN01.7 (1920×1200)
Supports COM as debug port
Supports two Gigabit Ethernet
Supports Mic-in and stereo 2W speaker
Supports built-in Wi-Fi 802.11 a/b/g/n/ac, Bluetooth 4.1, and GPS
Supports MIPI CSI camera OV13850
The VIA SOM 9×20 module is one of those modules you can't afford to pass you by. At the heart of the module is the powerful Qualcomm Snapdragon 820E embedded platform, the high performance embedded platform designed to power the next generation of mobile devices and applications with low power consumption, and an array of possible connectivity.
The SOM 9×20 module measures at about 82 x 45mm in a SODIMM styled form factor. It features four Cortex-A72-like cores Kryo cores: two at 2.2GHz and two at 1.6GHz. The SoC is boosted with an integrated Adreno 530 GPU at 624MHz, Hexagon 680 DSP, and 14-bit Spectra ISP. The module ships with an inbuilt 64GB eMMC Flash memory, 4GB LPDDR4 in a POP package, rich I/O and display expansion options through its MXM 3.0 314-pin connector.
It supports USB 3.0, USB 2.0, HDMI 2.0, SDIO, PCIe, MIPI CSI, MIPI DSI, and multi-function pins for UART, I2C, SPI, and GPIO through the MXM connector. Other possibilities include interfaces for  MIPI-CSI and LCD touchscreen, dual speakers, and a mini-PCIe slot.
VIA also announced a $569 price for the evaluation kit package, which combines the Snapdragon 820 based module with its SOMDB2 Carrier Board. In order to simplify the design, testing, and deployment of intelligent Edge AI applications, VIA is making the SOM 9X20 module to be available as part of its Edge AI Developer Kit, which features a SOMDB2 Carrier Board and optional 13MP camera module that is optimized for intelligent real-time video capture, processing, and edge analysis.
Read more: VIA Snapdragon 820 Based SOM now compatible with Linux