The Module-Driver Interface Special Interest Group (MD-SIG) has released its specification for a universal electrical interface between LED lighting modules and their power supplies. The standard has the support of Osram, Panasonic, Philips and Tridonic.
Called LEDset1 edition1.0, it is a three wire interface (see diagram): power, 'Iset' and a return for both. The specification also allows for separate returns for main and set currents to avoid setting errors due to return voltage drops.
Iset has nothing to do with dimming. It is provided so that the LED module can indicate its maximum working current to the driver. It does this by drawing Imax/1,000 from Iset.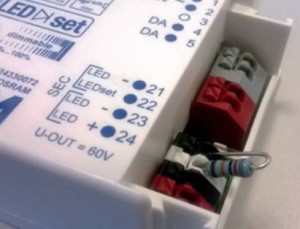 In detail, the PSU is required to hold 5V on Iset, and a resistor in the LED module or separately connected to the PSU (see photo) draws the setting current. The driver then provides 1,000x this current to the LEDs.
The only time any modulation of Iset is allowed is if the LED module is over-heating, when it is permitted to reduce its own supply current by reducing Iset.
LEDset1 works with paralleled LED module providing voltage requirements match, and series configurations providing current requirements match (see diagrams below).
What about dimming?
At this point it is useful to know LED lighting power supplies are also known as 'drivers' and 'electronic control gear' (ECG) – and occasionally as 'ballasts' following fluorescent lighting practice.
"The LEDset1 information interface is not meant to be used for dimming. It is focusing on setting the drive current for nominal 100% operation and enables thermal de-rating," said MD-SIG. "The reason is that the LED control gear may respond to changes in the setting current at a low rate. Accordingly, the scaled output current may lag the setting current by many seconds." LEDset1 allows up to 10s for response.
Dimming through a separate interface to the driver is under discussion for a future LEDset specification, as is colour steering.
The official names of the three terminals are: LED+, LEDset and LED-. The optional Iset return is 'GRNset'.
LED module and driver must be marked accordingly, and recommended wire colours are: red, white, black and black respectively.
Although LEDset1 specifies a universal analogue signalling protocol, it does not cover the matching of driver output voltage and current capability with LED module needs.
For more detail: Standard release for lighting LED-driver interface