The PS9000 family of laboratory power supplies from Elektro-Automatik offers a reliable and user-friendly solution for every electronics engineer. Opt for high quality, safety and compact size.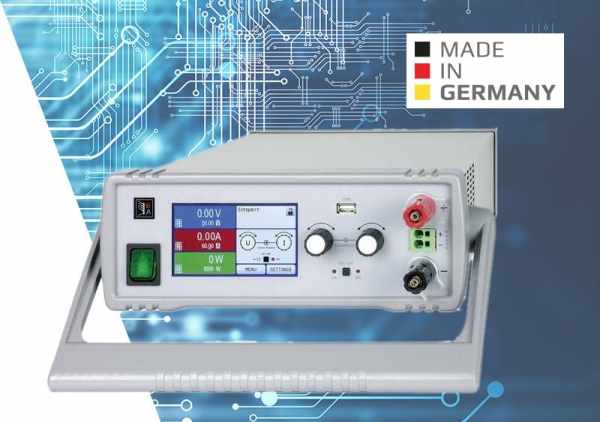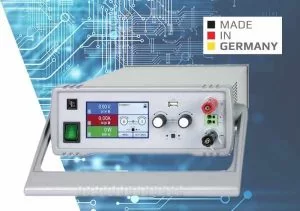 General Description
The microprocessor-controlled laboratory power supplies of EA-PSI 9000 DT series offer a user-friendly, interactive handling concept, along with an extensive set of standard features, which can facilitate their operation. Configuration of output parameters, supervision features and other settings is smart and comfortable.
The implemented supervision features for all output parameters can reduce test equipment and make it almost unnecessary to install external supervision hardware and surface.
The clear control panel with two knobs, one pushbutton, two LEDs, and the touch panel with a colour TFT display for all important values and status enables the user to handle the device with a few fingers touches easily.
The device offers a set of interfaces (analogue and digital) on its rear panel for integration into semi-automatic and remotely controlled test and automation systems.
AC Power Supply Input
The device uses an active Power Factor Correction (PFC), enabling worldwide usage of a mains input from 90VAC up to 264VAC. Models with 1,5kWwill derate their output power to 1kW below input voltages 150VAC.
Auto-Ranging Power Stage
All models are equipped with a flexible auto-ranging output stage which provides a higher output voltage at lower output current, or a higher output current at lower output voltage, always limited with a maximum output power curve.
Read more: PS9000 FAMILY OF DESKTOP SPACE SAVING INSTRUMENTS