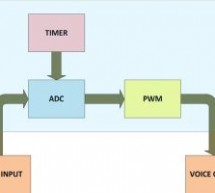 Microcontrollers are purely digital devices which work on logic0 and logic1 voltages; still they are widely used for analog signal processing. There are specialized signal processors chips available which are custom made for particular applications; however a general purpose microcontroller is more than enough for small kind of signal processing applications like audio signal input and output. The microcont ...
Read more

›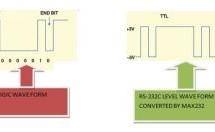 Here is a simple project on How to transmit serial data to pc using built in usart(universal Syncronous-Asyncronous receiver transmitter)of PIC 16f877 microcontroller. The data Transmitted by PIC microcontroller is received by computer through its (Serial)DB-9 Port and is displayed on Hyperterminal window. Since microcontrollers works on TTL  wave form and standard PC(Personal Computers) works on RS-232 wav ...
Read more

›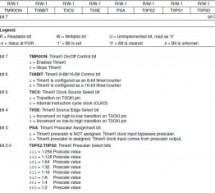 In this tutorial i am going to count the number of rising and falling edges of a square wave signal that is input to the pic microcontroller. The rising and falling edges are useful in generating time delays from external clock sources. They can be used to determine the frequency of the square wave input signal. They can be utilized to pop up an event. We can also use edge detection information to determine ...
Read more

›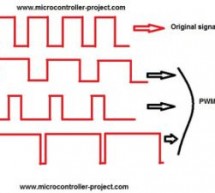 Here is a simple project on how to control fan or dc motor speed with microchip pic16f877 microcontroller. There are numerous ways to control the speed of motor(or fan). Varying current, voltage and resistance etc. But when it comes to controlling the speed using microcontrollers. Then the PWM (Pulse width modulation) technique is most effective one. Pulse width modulation reduces the direct current/voltage ...
Read more

›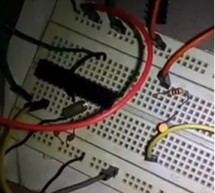 This is a simple project aims to start with microchip pic 18 series USB built in microcontrollers. Before going to use USB feature of pic microcontroller i thought to first start with blink led program. Simple Blink led will introduce us with the configuration bits of pic microcontroller. It took me 2 days to study about the architecture of Pic18f2550 and set the configuration bits. After many trials i fina ...
Read more

›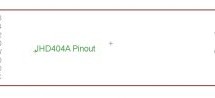 This post covers how to interface JHD404A 40×4 lcd with microcontroller (89c51, Pic16f877, Arduino etc). JHD404A is a 40×4 Character lcd. 40×4 means it has 40 coulombs and 4 rows. On each row of lcd we can display 40 characters/numbers etc. Total characters which we can display on 40×4 lcd is equal to (40×4=160) 160. Like all other character lcd's JHD404A also has a controller in it which controls its inter ...
Read more

›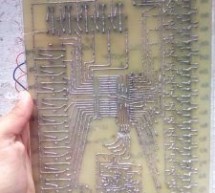 An year ago i made a plc (programmable logic controller) using microchip pic microcontroller. Its a 16 bit digital input and output programmable logic controller. Plc programming is done using a standard ladder logic language. The software that is used for plc programming and ladder logic design is an open source compiler written by Jonathan Westhues called LDMicro. Microchip pic microcontroller t ...
Read more

›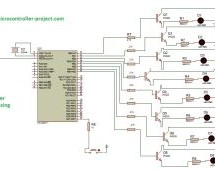 This is a simple tutorial/project on how to interface a transistor (2n2222), led and push button with Pic microcontroller. In the project i am going to switch on and off(blink) an led with the help of a push button. Since transistors are used at outputs we can drive heavy loads with the same circuit. Pic16f877 microcontroller is used in the project. Port-B of Pic16f877 is used as output port. Port-B of pic1 ...
Read more

›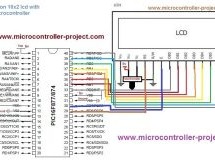 Displaying moving or scrolling text on lcd(16×2,8×1,16×4,8×2,16×1,20×1,20×2 etc) is very easy using any microcontroller. You just need to know how to efficiently use 16×2 lcd commands. In this project i am using pic 16f877 microcontroller to display text and then scroll it on the 16×2 lcd. The lcd which i am using is 16×2. Where 16 represents number of coulombs and 2 represents number of rows. Text which i ...
Read more

›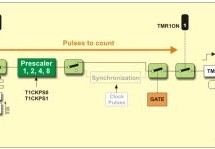 While working with microchip pic microcontrollers i came across a situation where custom delay is required in seconds. I was working with pic18f4580 microcontroller, Mplabx ide and xc8 compiler. I know that __delay_ms() and __delay_us() macros do exists for generating delays. But i want to see how the timer configuration is done for one second delay. I want to go through the whole process by my self. I read ...
Read more

›