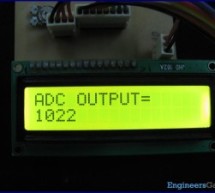 This post provides the ADC code using PIC16F877 microcontroller. This code is written in C language using MPLAB with HI-TECH C compiler. You can download this code from the 'Downloads' section at the bottom of this page. It is assumed that you know how to interface LCD with PIC16F877 microcontroller. If you don't then please read this page first, before proceeding with this article. The result of simulating ...
Read more

›
Code to make a 12F675 operate as a D-type or JK-type flip flop Since I implemented a D type flip flop using the PIC Logic Elements I thought I might go the other way and implement an entire D type flip flop in a single PIC.  This uses the edge triggered and port change status interrupts and was an opportunity to have a play with interrupts on the PIC. As written this code will cause a PIC to function as a n ...
Read more

›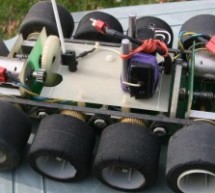 Introduction Real world applications often call for controlling small to medium sized DC motors from digital circuits. For smaller motors it is usually economically infeasible to buy a commercial speed controller as the cost of the controller will far outstrip the cost of the motor itself. The PIC's high speed, low cost, and low power requirements lend it to being an inexpensive "smart chip" controller for ...
Read more

›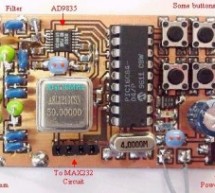 Background DDS stands for Direct-Digital Synthesis. This synthesizer is simply a circuit that can create a sine- wave signal from a reference crystal and a programable frequency-register. All this circuit needs is a reference oscillator (crystal) and some filter. See fig above: A crystal oscillator (50MHz in my case) is connected to the input (Clock in) of the DDS. The phase accumulator calculate the freque ...
Read more

›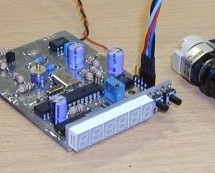 DDS (Direct Digital Synthesized) VFO seems to be very popular among amateurs in last few years, mainly thanks to cheap and easy available single-chip DDS synthesizers. There are plenty of different amateur designs, some of them also available in a KIT form. They mostly use Analog Devices AD9850 or AD7008 single-chip DDS system to generate RF output directly. Such solution is acceptable and welcome as a VFO ...
Read more

›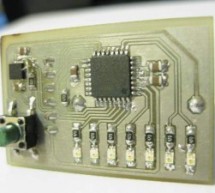 A simple rotating display. Just spin and enjoy. While the "Air display" is rotating, it writes the message on the air. Because the "persistence of the vision", you will be able to read the message. Here is the circuit: Download the HEX file HEREProgram the PIC with this HEX file. (Use right-click and "Save as") UPDATE: Nov 6, 2005 - Algorithm is available. You can create your own program in any langu ...
Read more

›
Power Pic RGB with voltage controlis a circuit that generates many colors using a RGB LED and those colors can be changed using two independent voltages, supplied by some external device, in order to select the color (Hue) and its intensity (Value)! The idea originally came from Artur Grycuk who wanted to interface his Theremin Music Controller with RGB Leds. The controller has two output voltages, one for ...
Read more

›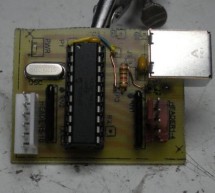 Quick Key Adapter, 10 Button HID Keyboard This Instructable covers creating a USB connected Human Interface Device Keyboard that has 10 button inputs which are mapped to key combinations in the firmware. Key combinations can be quickly accessed without using the keyboard which may be inconvenient to use. Such as with a MAME or similar machine where the keyboard may be stored or inaccessible or certain keys ...
Read more

›
Augmenting a Microcontroller Microcontrollers (MCUs) are fantastic little ICs that give an extra element of versatility to your electronics, robotics or other project. But they're really not much use on their own. To function, all MCUs need some sort of support components, and a board to live on — one example of course being the famous Arduino. These boards are called 'augmented microcontrollers'. And why n ...
Read more

›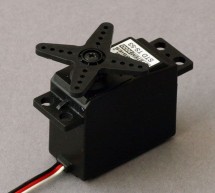 Use a PIC Microcontroller to Control a Hobby Servo This instructable describes how to integrate hobby servos (the kind used in RC planes, cars, etc.) into your microcontroller projects. How Servos are Different from Regular Motors In a regular DC motor, the amount of torque the motor exerts on the shaft is proportional to the amount of current flowing through the motor. A simple way to control it is by vary ...
Read more

›