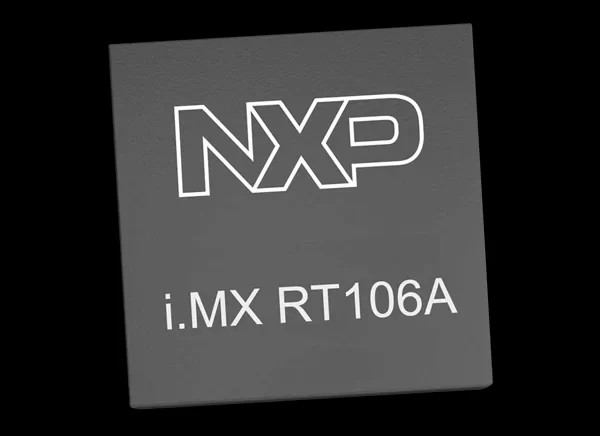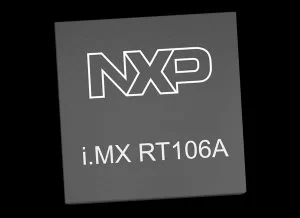 NXP Semiconductors i.MX RT106A Crossover Processor is a solution specific variant of the i.MX RT1060 family of MCUs, targeting cloud-based embedded voice applications. It features NXP's advanced implementation of the Arm® Cortex®-M7 core, which operates at speeds up to 600MHz to provide high CPU performance and best real-time response. i.MX RT106A based solutions enable system designers to easily add voice control capabilities to a wide variety of smart appliances, smart home, smart retail, and smart industry devices.
The i.MX RT106A is licensed to run NXP turnkey voice-assistant software solutions, which may include:
Far-field audio front-end softDSP

Acoustic echo cancellation
Ambient noise reduction
Beamforming
Barge-in
Playback processing
Codecs

Wake-word inference engine
Media player / streamer
MQTT, lwIP, TLS
Discovery and onboarding
All drivers, including Wi-Fi® and Bluetooth™
The i.MX RT106A is offered in a 196-ball Molded Array Process Ball Grid Array (MAPBGA) package, with a 0°C to +95°C consumer-grade temperature range.
Features
High-performing Arm Cortex-M7
3020 CoreMark/1284 DMIPS @ 600MHz
1MB On-Chip SRAM – up to 512KB configurable as Tightly Coupled Memory (TCM)
Real-time, low-latency response as low as 20ns
Low dynamic power with an integrated DC-DC converter
Low-power run modes at 24MHz
Advanced multimedia for GUI and enhanced HMI

2D graphics acceleration engine
Parallel camera sensor interface
LCD display controller (up to WXGA 1366×768)
3x I2S for high-performance, multi-channel audio
Extensive external memory interface options

NAND, eMMC, QuadSPI NOR Flash, and Parallel NOR Flash

Wireless connectivity

Wi-Fi, Bluetooth, Bluetooth Low Energy, ZigBee, and Thread

Supported by MCUXpresso SDK, IDE and Config Tools
Package

Type: MAPBGA-196
Dimensions: 10mm x 10mm, 0.65mm pitch
Applications
Consumer electronics

Home appliances system control
In-home display
Room air-conditioning system
Smart-connected appliances

Secure transaction and retail payments

Bluetooth beacons
Electronic shelf labels
Post terminals