AAEON, an industry leader in AI solutions, announces the BOXER-8150AI, the latest in the BOXER-8100AI family of compact embedded AI Edge solutions powered by NVIDIA Jetson TX2. Featuring eight USB 3.0 ports, the BOXER-8150AI is designed to maximize framerates by providing higher bandwidth for USB connected cameras.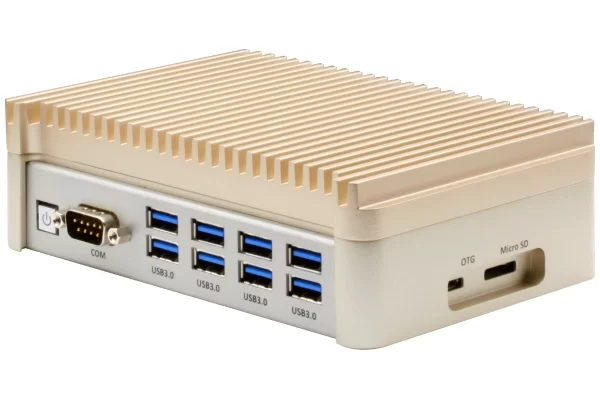 The BOXER-8150AI features the powerful NVIDIA Jetson TX2 CPU paired with 8GB LPDDR4 memory and 32GB eMMC storage onboard. The NVIDIA Jetson TX2 utilizes a unique design to provide 6-cores of processing power by pairing the Dual Denver 2 and Quad ARM 57 processors into a single SOC. The NVIDIA Jetson TX2 is capable of supporting up to 256 CUDA cores and supports AI frameworks such as TensorFlow and Caffe, and can be configured to utilize the customer's own AI inference software.
The BOXER-8150AI stands out from the crowd with its unique configuration of eight USB 3.0 ports. The BOXER-8150AI is designed with four USB chips, each controlling a pair of USB 3.0 ports. By dedicating one chip to one pair of ports, each chip handles less data traffic overall, improving bandwidth from connected devices and allowing the BOXER-8150AI to maximize processing speeds and framerates. Higher framerates allow for AI software to process images faster, more reliably and with greater accuracy.
With this configuration, the BOXER-8150AI is able to support up to eight USB connected cameras or devices, each operating independently of one another. This powerful configuration is perfect for a wide range of computer vision applications like visual inspection, quality control, and facial recognition.
The I/O features of the BOXER-8150AI doesn't just stop with its USB ports. The BOXER-8150AI features a COM port for easy integration into industrial systems. It also features a Gigabit Ethernet port and two antenna ports for easy connection to any kind of network, or even as a mobile device. Other I/O features include two HDMI 2.0 ports, an SD Card slot, USB OTG, and remote ON/OFF.
Read more: BOXER-8150AI: AI AT THE SPEED OF SIGHT