Athletes have started relying on fitness trackers to monitor their daily exercise and to improve their performance. After a series of developments in smart trackers for athletes, Bosch has now released its new self-learning AI smart sensor – BHI260AP specially designed for fitness tracking, navigation, machine learning analytics, and orientation estimation.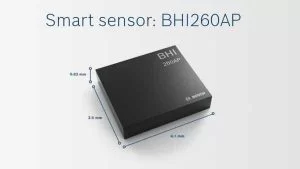 The self-learning AI sensor will change how users interact with their fitness devices from a mere one-way approach to an interactive way of training", says Dr. Stefan Finkbeiner, CEO at Bosch Sensortec. "This new sensor combines Bosch Sensortec's long-term experience in smart motion sensors with its strong competence in innovative software development.
The company uses the term "One piece of software – four features" indicating that it is a self-learning sensor that can be personalized and features auto-tracking with enhanced ability. Auto-track is the automatic tracking of fitness activities without user intervention. This comes with self-learning AI software that is provided with more than fifteen pre-learned fitness activities.
The AI sensor is based around Synopsys's popular ultra-low-power DesignWare ARC EM4 processors with ARCv2 16/32-bit instruction set clocked up to 3.6 CoreMark/MHz. The EM4 processor supports the floating-point unit and comes along with the memory protection unit. BHI260AP has an integrated 16-bit 3-axis accelerometer and gyroscope sensors.
Read more: BOSCH'S BHI260AP SELF-LEARNING AI SMART SENSOR FOR FITNESS TRACKING