Artila Electronics, which specializes in the development and manufacture of Linux-ready Arm embedded industrial computers, is glad to announce SBC-7530, an ARM based Cortex-A7 turnkey single board computer, delivers stable, strong system performance in a low power platform; it's designed specifically for applications which require multiple I/O connection, networking connectivity and high performance graphic interfaces. With arm processor coupled and the open Linux operating system provides the backbone for innovative smart IoT solutions.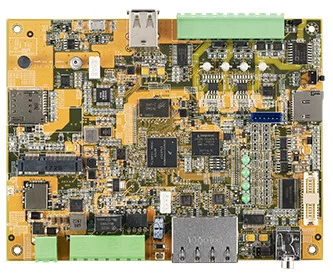 Artila brings SBC-7530 as ready solution for industrial HMI, an ideal single board computer based on Arm cortex-A7 for different automation and display applications. The use of our turnkey single board computer systems minimizes development risks for reliable, rugged design with arm processor also it's compact size allow to be embedded in devices where space is very limited. The computers are also very efficient, giving them an edge where saving on power is concerned. Artila's SBC-7530 is self-contained that generally less capacity than a multi-board computer. It makes a cost effective solutions for industry and, because they are it is relatively easy to swap one out for the other if a computer needs to be replaced.
Specs:
NXP i.MX6ULL Cortex-A7 CPU, Up to 800MHz
Linux kernel 5.4.x with boot loader & file system
Toolchain: gcc 9.3.0 + glibc 2.31
512MB DDR3/LvDDR3 SDRAM & 16GB eMMC
Dual 10/100MHz Ethernet interface : 1x CAN,2x OTG/HOST USB, 4 x UART & I2C / I2S/GPIO
Wifi 802.11b/g/n, 2.4G single band
Supports Microsoft .NET Compact Framework 2.0
24bits RGB display interface
Reserved Touch sensor interface
Reserved 1 x mPCIe slot & 1 x SIMcard socket
Reserved 1 x SD card socket
Single Power +12VDC operation
Compact size, 150mm x 115mm
To fulfill all requirements for industrial applications, it supports one miniPCIe slot that easily deploy connectivity technology / RF modules to achieve wireless network communication and position. Such as LTE/4G, Lora both wired / wireless LAN. It is also equipped 4 x UART ports with RS-232/485 support, 1 x CAN bus 2.0, 2 x OTG/HOST USB , 1 x SD card slot. SBC-7530 demonstrates it is not only the best hardware solution for industrial markets, but also flexible enough to be applied to various applications such as automation control, human-machine interfaces, industry controllers, and IoT device related applications.
Read more: ARTILA'S TURNKEY PRE-INTEGRATED EMBEDDED SINGLE BOARD COMPUTER SBC-7530