Acme Systems recently launched a series of systems-on-modules (SOMs) based on the Microchip SAMA5D27 microprocessor, which is ideal for extreme-low-power projects that still require a full Linux kernel and operating system, dubbed the RoadRunner. At the core of the RoadRunner is a Microchip MPU, which is designed for low power consumption, and it features an optimized PMIC [Power Management Integrated Circuit], a low-power RAM, and the Quad-SPI [flash] memory. The module is designed for even heavy industrial use, that is why the ten-layer board operates between -40 and 85°C (around -40 to 185°F) and boasts of a 10mW "freeze mode" sleep with full wake-up clocking around a second.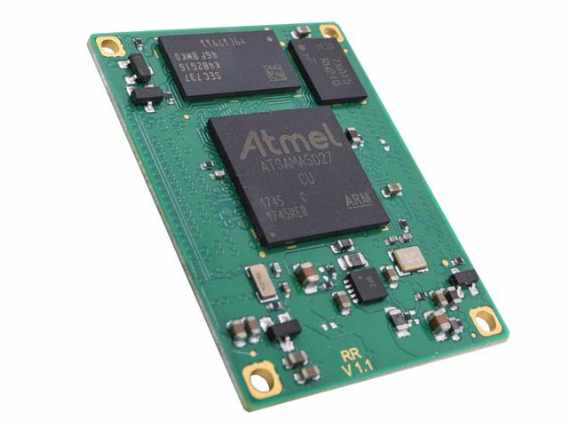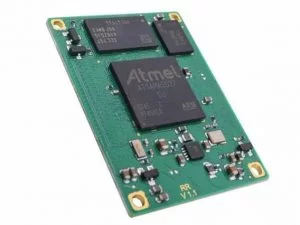 The SAMA5D27 microprocessor is a high-performance, low-power Arm cortex-A5 CPU embedded microprocessor running up to 500MHZ with the integration of multiple memories such as DDR2, DDR3L, LPDDR2, LPDDPR3, e.MMC Flash and QSPI. This microchip offers advanced security functions like Arm Trust Zone, tamper detection, secure boot, and secure data storage with full integration of robust peripherals for connectivity and user interface applications as well as high-performance crypto accelerators AES, TRNG, and SHA. The SAMA5D2 series is packaged with free Linux distributions, MPLAB X IDE, MPLAB Harmony v3, and bare-metal C examples. The SAMA5D27 has an added industrial temperature range operation (-40°C to 105°C external temperature).
The SAMA5D27 features 128kB L2 cache which can be configured as an internal 32-bit single-cycle static RAM (SRAM), 5kB of internal scrambled SRAM of which 4kB are automatically erasable on tamper detection, and 256 bits of scrambled and erasable registers. It also enables 256MB of DDR3L memory, up to 128MB of QSPI flash, an Arm NEON coprocessor, hardware floating-point unit, and hardware cryptographic acceleration including a FIPS-compliant true random number generator. The module is connected to a carrier board via two Hirose 100-pin connectors which relays signals including 10/100 Ethernet, an 24-bit RGB LCD interface, resistive and capacitive touch interfaces, SSC/I2S, I2C, SPI, QSPI.
It also features a stereo audio amplifier, peripheral touch controller, PDMIC, CAN-FD MCAN, up to 128 GPIO lines, and up to 12 12-bit analogue-to-digital converters (ADCs). it enables five USART, five UART serial ports and an additional receive-only UART, and two USB High Speed hosts or one host and one device. Additional features include; USB High-Speed Inter-Chip HSIC interface, SDIO, SD, or MMC hosts, image sensor controller, timers, PWM, up to three programmable clocks, a JTAG port, serial debug port, and a battery input for the internal real-time clock.
Read more: ACME SYSTEMS ROLLS OUT SAMA5D27 BASED SOMS