TD-USB-02 interface with touchpad sensor board and WinAmp interface.
This is an example USB project showing how to interface a touchpad sensor (the AD7142ACPZ) with a standard XP/Vista computer.
The TD-USB-02 board with a PIC18F2550 communicates with:
the PC: USB 2.0 through a mini-B connector.

the touchpad sensor board: SPI over 8-wire flatcable.

PC WinAmp application controls

(start/stop, next/previous track, volume up/down).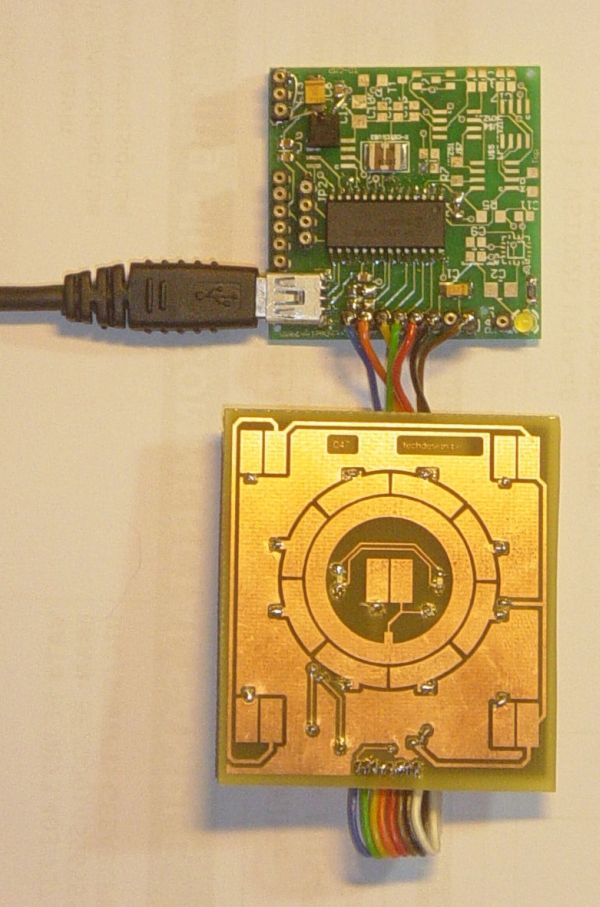 ---
Here are the technical specifications:
PC Win XP/Vista interface application with Visual C# 2008 Express: free download.

TD-USB-02 (green pcb on top) with PIC18F2550 USB HID setup.

TouchPad sensor board (047) with AD7142ACPZ.

USB Bus powered, no external power supply needed.

Activation of central wheel scrollpad and three buttons from any distance between 2-5mm.

Works from within a plastic enclosure, thickness up to 3-4mm.

Two LEDs (right above and under the centre button) blink when a pad is activated.

Custom command activated by top right button (example: "c:\windows\explorer.exe" )

TD-USB-02 software is 100% upgradable with a simple RS232 bootloader.

RS232 interface for raw data readings.

PCB Dimensions: TD-USB-02 40 x 41 mm or 1″57 x 1″61
---
These assembled boards are available from our online shop.
Source code (CCS C and Visual C#) can be purchased separately.
Sensor example Source code (CCS C) , sensor board pcb layout and schematics (Eagle) available. 
Last update: May 3, 2009.
TouchPad Board (047): Eagle PCB layout: 047_v005.brd  – Apr. 24, 2009.
 TouchPad Board (047): Eagle Schematics: 047_v005.sch  – Apr. 24, 2009.
 AD7142ACPZ: CCS c source code: touchpad_v01.c  – Apr. 24, 2009.
 TD-USB-02:Hex file: 047_v002.hex bootloading for the PIC18f2550  –  May 3, 2009.
 Windows interface application setup: 047_app_setup.zip  –  May 3, 2009. Written in Visual C# 2008 Express, compatible with Windows XP and Vista.
For more detail: TD-USB-02 interface with touchpad sensor board and WinAmp interface using PIC18F2550