Cheap PIC controlled Helmet Camera using Sony LANC (Good for Extreme Sports) This Instructable will show you how to make a cheap Helmet Camera which can be controlled via a remote so your main camera can stay safely in your ruck sack. The controller can be attatched to one of the shoulder straps of you ruck sack, and will allow you to Record and Stop the camera as well as being able to switch the 'bullet' c ...
Read more

›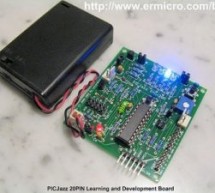 The PICJazz 20PIN board from ermicro is designed to be used both as the Microchip PIC microcontroller learning and development board. The PICJazz 20PIN board is stand alone microcontroller module equipped with the latest 8-bit class Microchip midrange and high performance such as PIC16F690 or PIC18F14K50 microcontroller that could be used for wide range of applications including embedded controller, remote ...
Read more

›
The PIC16F690 microcontroller is one of Microchip midrange 8-bit microcontroller that has a build in 10-bit resolution of Analog to Digital Converter (ADC) peripheral. The ADC is one of the important features that enable us to digitize our analog world. Usually we use the electronic sensor to convert the analog value to the voltage level value. Some of the basic sensor such as LDR (Light Dependent Resistor) ...
Read more

›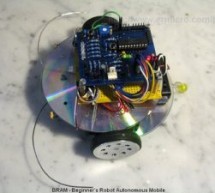 Have you ever thought that most of our perception about the robot is based on the Hollywood movie! The famous 3CPO and R2D2 from Star Wars until the little cute garbage compacting robot named WALL-E; all of these machines are example of our dreams or should I say our quest to what we all think about the robot should be. Although the robot that we are going to build here is still far away from the technologi ...
Read more

›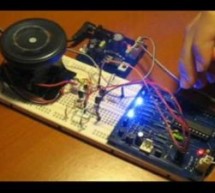 One of the advantages using the Microchip PIC microcontroller Pulse Width Modulation or PWM for short is; this PWM peripheral circuit is designed to control the DC motor using the full bridge mode PWM feature. The PWM peripheral works by supplying the correct signal to the H-Bridge DC motor circuit such as speed controlling and changing the DC motor direction. Therefore on this tutorial we will learn to use ...
Read more

›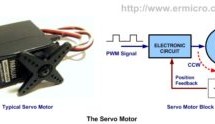 The servo motor is widely used in model hobbyist such as airplane R/C model for moving the rudder, ailerons, elevators and acceleration control or in the car R/C model for steering and acceleration control. In this tutorial we will learn how to control the servo motor as well as the simple close loop control algorithm for this servo motor. The servo motor basically is a high quality geared DC motor equipped ...
Read more

›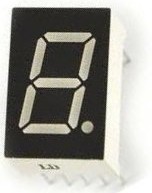 In this article, we will show how to drive a 7 segment LED Display using a PIC16F690 microcontroller. This PIC16F690 microcontroller chip is actually a part of the PIC2 Starter Kit, so we will actually be using this starter kit to drive the LED Display. A 7 Segment LED Display is an electronic device that contains 8 individual LEDs. Each of the LEDs can either be on or off. Depending on which LEDs are lit d ...
Read more

›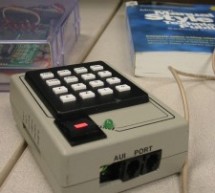 The company I work for recently upgraded their phone system. They got a new IP phone system that can supposedly do everything - the new phones have big LCD screens with fancy menus, lots of different modes, PC connection for remote control of the phone, e-mailing voice messages, and tons of other features. All that said, there was a critical piece missing from the picture - a way to dial a stored number whi ...
Read more

›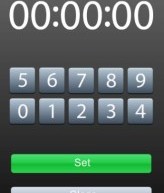 This is a simple countdown-timer-on-a-chip project - you program the PIC, attach some buttons and a pair of 2-segment LEDs, and you are done. I used this timer for one of my projects, but I tried to make that timer as generic as possible, so it can have other applications. On this site I describe only the timer itself - code, pinout, and operation. If you want to see something built with the timer, check my ...
Read more

›
This device is a must-have for any respected professional. Any time the need arises, you will have an original, freshly-generated excuse ready in seconds. One press of the button can get you out of a tight spot ensuring smooth sailing toward retirement and guaranteeing that you don't have to perform any actual work. How does it work Simple: The device continuously monitors and decodes the brain waves coming ...
Read more

›